Back to Info Center
Choosing Granite for Grave Markers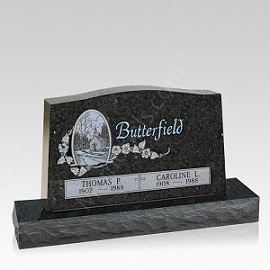 When trying to memorialize a lifetimes worth of memories, especially when creating a memorial monument to a lost loved one, the buyer, of course, must ensure that the materials used are not only beautiful, but long lasting. This stands to reason, without arguement in fact, becuase these monuments are final, permenant remembrances left behind. It is not only important for the family who is commisioning the memorial though, but for all future generations. Monuments are, in a way, ties with our ancestors of days past, and it is no secret that a large portion of what we know of human history today we have learned from the monuments and tombs that have been discovered throughout time.
Granite stone stands as one, if not the, most popular materials for creating headstones, grave markers, or any type of memorial monument, in the funeral industry today. Granite stone is an excellent choice for any memorial as it is long lasting and takes well to most any type of personalization. When exploring their options of granite for their grave markers, customers may end up feeling a little overwhelmed by scientific terms that granite experts often use to describe the differences in the various types of granite.
Terms like "modulus of rupture," "compressive strength" and "bulk density" can intimidate even someone with a high IQ who is not overly keen on physics. For those consumers, and all others, we have one important piece of advice - "relax". While this information is nice to have, it is almost relatively useless to those who are simply trying create a memorial monument or tombstone.
While different types of granite do have various technical measurements of strength and quality, the differences are all but meaningless for the purposes of building a long lasting memorial tribute. Bridge builders and skyscraper architects will definitely want to be sure of their granite's compressive strength and rupture modulus, but headstone shoppers need not worry so much with these technicalities. If a piece has met the minimum requirements to be officially called "granite," then it will, without a doubt, be perfect for a memorial that will weather the elements for years, if not, centuries, to come.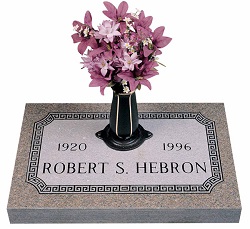 All grave marker granite will be heavy, strong, and sturdy. The question that should most concern consumers, then, is simply, color. Granite is available in a huge variety of colors – from green, to shiny black, to speckled white to, well, just about any color and shade – and the choice is up to your tastes and your budget. While some cemeteries do have some regulations in place regarding the color of the granite that is permissible on their grounds, most consumers have the option of color entirely up to their choosing.
Pricing of the various colors is usually a function of, simply, how readily available a particular color is. Following the laws of economics, if a color is commonly found in the world, its price is, generally speaking, going to be low. Colors that are more rare will almost always cost more. Demand, of course, sometimes plays a role in how much a particular granite color will cost, but this is rare. For example, colors such as Moonlight Gray Granite are extremely popular, but because of the availability of the stone, the demand for this color does not affect the price. More often than not, the price of granite is usually based on its availability. The highest priced granite types typically can be found in just one part of the world and, often, in just one quarry. With luck, the perfect granite color for you will be one that is readily available across the world.
For those who are optiong for all-granite memorials, the color choice may be a little more significant. For those large monument, or grave marker, seekers, the granite is usually the main focal point, as the marker is usually composed of a two-part construction, and both pieces are, as one would guess, granite. Then, it really is a matter more of personal preference and budget. However, just like for the bronze on granite, flush, memorials, we recommend starting off by contacting the cemetery where the marker is to be placed to confirm that they do not have a color restriction in regards to the granite, and to assure that they allow the larger memorial. From there, if the do not have any such restrictions, the color choice is entirely up to the family.
When considering purchasing a bronze on granite marker (memorial where a bronze plaque is the main focal piece, which is mounted onto a granite base), it's best to find a granite that will blend well with your plaque. But what does the word "blend" mean, exactly? That can be a tricky question because it depends on your taste. Blend, for some, can mean that the plaque will stand-out from the granite but still be color coordinated. For others, blend could mean that the plaque, more or less, matches the color of the granite. Generally, most families are happy with granite bases that, in some way, compliments the oxidation color selected for the bronze plaque. Popular color combinations are, for example: Dark Bronze Bronze on Moonlight Gray Granite, Black Bronze on Sierra White Granite, or even Red Rose Bronze on Mountain Red Granite. In the end, it really comes down to the customer's taste and preference. What some may find aesthetically pleasing, others may not care for at all.
When choosing a granite color, then, the best thing to do is decide on your plaque color, then decide if you're a "stand out" or "match" person, and, finally choose your granite. Of course, it's always good to solicit opinions from other family members before deciding upon your granite color. For granite only memorials, think about the person's personality, for whom the memorial is for. Were they cool and collected, in which a cool color such as sierra white may be appropriate, or were they a little more rambunctious or care free, in which case a warm color such as rustic mahogany may be a good selection. Whatever the case, remember that regardless of the color, your granite memorial will truly stand the test of time, so select a color that you and your loved ones truly feel comfortable with.