Back to Info Center
Purchasing Tips for Headstones
Getting the Best Deal for Your Time and Money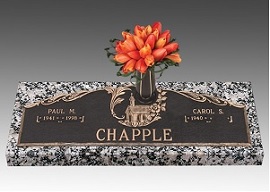 Below are a few things customers should consider about purchasing a headstone. (We will add tips to this list from time to time. Please let us know if you have any suggestions to include.)
Differences between Bronze and Granite Headstones:
Granite headstones remain the most common, but bronze is also very popular. The choice of which to use depends, largely, on your taste and on the regulations of the cemetery where it is to be set. Both materials have been used for centuries to mark graves and for many other purposes in which withstanding the elements is a chief aim. And both make for beautiful memorials to your loved-ones. Bronze headstones are typically attached to a 4-inch granite base before they are mounted on the grave. Bronze on granite memorials are quickly becoming more and more popular as they are easy to maintain for the cemetery, and offer an elegant and sophisticated tribute. We do offer the option of purchasing the bronze plaque without the base, however. Bronze vases are also available, for an extra charge, to compliment all bronze headstones we sell.
Adding a picture to a headstone:
We offer a wonderful selection of ceramic portaits that can be utilized with any of our grave markers or headstones. Please see our Ceramic Pictures information for more information on how you can do this. The Ceramic Pictures Installation Guide also offers great information on the installation process for these elegant portraits.
Custom Orders:
Unfortunately, we are usually unable to satisfy requests for headstone designs not appearing on this website. If you need a custom-designed headstone, we recommend you consult a monument dealer in your local area.
Cemetery Regulations:
Policies regarding headstones vary greatly among cemeteries, and we will contact your cemetery before we process your order to make certain your headstone will be delivered properly. Our Headstone Issues article provides great tips and useful questions to ask your cemetery when purchasing a memorial.
Delivery Issues:
Shipping charges are included in the price of all our products, including headstones. We can generally ship headstones to any cemetery (or business address) in any U.S. state except Alaska and Hawaii. In some cases (such as deliveries to rural cemeteries) additional charges may be necessary. We will notify you of these charges before accepting your order. In most cases we will deliver your headstone directly to the cemetery 4-8 weeks after we have received approval from the cemetery. Specially ordered headstones can take up to two months longer. We recommend you review our list of cemetery issues before placing your order.
Orders shipped out of the Continental U.S.:
If you need a headstone sent to a foreign cemetery – or to one in Alaska or Hawaii – we can help arrange for it to be delivered by a different company. We do not include overseas shipping in our services, however.
Pre-need vs. at-need purchasing:
There are some advantages to buying a headstone while you (or your loved one) are still alive. First, you can prevent paying a higher price in the future, and, of course, you can have the peace of mind that comes from knowing, well in advance, how the headstone will look. Please note that the date of death can be added to the headstone after it has been made. See our engraving tips for more about this. Despite the advantages of pre-need buying, it remains common to buy headstones after a person has died. We are able to process both types of orders equally as well, and both will usually arrive at your cemetery 4-8 weeks after we have accepted your order.
Catalog Ordering:
Upon request, we can mail you print literature about our headstones. Please contact us at support@memorials.com to request a package. In your request, please tell us if you are interested in a single headstone or companion markers. Also, tell us if you are interested in bronze or granite or, perhaps, both. If you have any questions or would like to see the mail-in order form for the grave markers, please visit our Help page.
Memorials.com Reputation:
We, Memorials.com, have been in business since 2002 and are a member of the Better Business Bureau. Please see the numerous customer testimonials throughout the site for more about our qualifications to serve you, and feel free to contact us with any questions or concerns. All of our headstones are guaranteed: if your order arrives at the cemetery damaged, we will replace it for free.
Manufacturers Reputation:
Our headstones are made by Granit-Bronz, one of the leading memorial manufacturers in the United States. The company is a division of the Cold Spring Granite Company, which has been in business for more than 100 years. Cemeteries often use this same manufacturer, but charge higher retail prices than we do.
Payment Options:
We accept all major credit cards and personal checks. You can pay using our secure web server at the time you place your order, or you can mail us a personal check. If you prefer, you may pay for your order in monthly installments, but we will not process your order until the account is paid. We do offer a discount if you buy more than one headstone. Please ask us for details.
See all your Headstones choices