Back to Info Center
Purchasing Tips for Headstones
Getting the Best Deal for Your Time and Money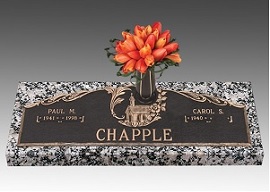 Below are a few things customers should consider about purchasing a headstone. (We will add tips to this list from time to time. Please let us know if you have any suggestions to include.)
General Headstone Questions:
What should I ask the cemetery before ordering a headstone?
There are three important questions you should ask the cemetery before ordering.
1. What size can my grave marker be?
2. What color can I select for the granite?
3. Should the grave marker be bronze on granite or only granite?
Can you tell me the difference between a pre-need and an at-need headstone?
Pre-need headstones are when the person is still alive. The main reason being to secure today's price and to get everything in order and decide themself on their last resting place.
At-need headstones are once someone has died and the headstone is purchased.
Can I trust you with my order?
Yes, you can trust us.
1. We are a proud member of the Better Business Bureau since 2005.
2. We have many business alliances in the cemetery and funeral industry.
3. Please read our testimonials and hear what our customers have to say about us.
Can you mail me a catalog?
Yes; we can mail you a printed catalog (brochure). Please state what you are looking for (single or companion and bronze or granite). Please click here to request a brochure support@memorials.com.
What is your Guarantee?
Our guarantee is if the headstone arrives broken, dented, missing parts or with any defect at all, we will repair or replace it for FREE at no additional cost to you.
Can the cemetery refuse the headstone I purchased?
No, as long as the headstone meets their requirements they are legally bound to accept the headstone. It is your right to purchase from the place of your choice. If you are experiencing a problem with the cemetery you can always file a complaint with the Federal Trade Commission. We will go through an approval process and get the cemetery approval first.
Does the cemetery have to install the headstone?
Yes, the cemetery has to install the headstone if they install their own headstones. There will be an installation fee for the installation which should be the same as if purchased from the cemetery (by law). In case you are having problem's with the cemetery the Federal Trade Commission loves to hear about cemetery problems and you can file a complaint about the cemetery by clicking on this link Federal Trade Commission.
What is the bronze content of the bronze headstones?
The bronze content is govenment regulated and is:
Not less than 87% Copper
Not less than 5% Tin
Not more than 5% Zinc
Not more than 2% Lead
All other elements not to exceed 1 1/2%

Headstone Questions:
Can I change the design?
We offer over 1000 emblems, so you can personalize your headstone. The basic design cannot be modified but we will work with you so you can get the result you are looking for.
Do the bronze headstones have a granite base?
All bronze headstones come standard with a granite base. We have many choices of granite colors and have many premium colors available for your selection. In case you do not need a granite base we have the option for you to order the headstone without the granite base.
Do I have to purchase the granite base with the bronze headstone?
No, you can select the option of bronze only and it will deduct the amount of the granite base automatically.
Do you sell headstone pictures?
Yes, please click on this link for our Ceramic and Bronze Headstone Pictures they are shipped seperatly. When ordering a headstone please let us know in the field special insructions and we will leave space for the picture on the headstone.
What do I do with the bronze vase when not in use?
You would turn the vase upside down and into the headstone and it would go flush into the headstone.
Can I purchase a vase by it self for an old headstone?
We offer a bronze vase unit mounted to a granite base by it self; this unit can be placed above or below an old headstone. Please check with your cemetery before ordering.
Can I order the bronze plaque only?
Yes you can; our bronze headstones come standard with a granite base but you are also given the option of purchasing one without the granite (bronze plaque only). To select this option you can do so from the Granite Colors option on the order form. At the bottom of the pull down menu you can select No Granite and the specified amount will be deducted from your total automatically.
Who will add the death date?
We recommended for you to let a family member know about the following:
1. For the bronze headstones your family should contact us and order a death scroll for the bronze headstone, this is easy to do because we set the headstone up for that.
2. For the granite headstones you would let your family contract the cemetey which will let you know who does the final engraving locally.
Can you make a headstones in a different language?
Yes, we can do some foreign languages that use the English alphabet sometimes without any additional cost. For an addtional cost we can do almost any language.
Who will install the headstone?
The cemetery will normally install the headstone for an installation fee.
Should I install the headstone?
We recommend the headstone being installed by the cemetery.
Headstone Delivery Questions:
Do you charge a shipping fee?
All of our headstones come with FREE Delivery in the continous 48 United States (Alaska & Hawaii might have an addtional delivery charge).
Is the price I see the Final Price?
Yes, the price you see is your Final Price, No Hidden Fees (there is an installation fee from the cemetery).
Can I order a headstone in Canada?
Yes, we deliver to most places in Canada, send us an e-mail and we will gladly check (there might be an addtional delivery charge required).
How long will it take to deliver my headstone?
Once we receive cemetery approval it will take approximately 4 - 8 weeks for delivery.
Can I ship the headstone to my house?
We deliver to the home, business and cemetery (which is preferred) we can deliver to almost any place in the US all with Free Delivery (only Alaska and Hawaii might have an addtional delivery charge). For more information on our delivery policies click here.
Do you ship headstones Internationally?
We can ship our headstones to Canada (in most cases) but this might require an addtional shipping fee. We do not ship headstones to any other location but we have shipped them to freight terminals and recommend to you to find a freight company which ship's International and we can deliver the headstone directly to the freight terminal.
What do you include with the headstone?
Details what is included are listed directly on each headstone page.
What payment options do I have?
We accept all major credit cards and personal checks. You can pay using our secure web server at the time you place your order, or you can mail us a personal check. If you prefer, you may pay for your order in 4 easy installments, but we will not process your order until the account is paid in full.