Back to Info Center
Urns made from Wood
When faced with the task of selecting a cremation urn, many families are often put off with the idea searching for the final resting place of a loved one. They often have a similar fear of picking an urn that, in the end, does not pay proper tribute to their dearly departed. This is understandable, as this is one of the most important decisions in life that one will make. For those who are having trouble finding an urn that seems to be 'the right fit' we would like to suggest a wooden cremation urn. Wooden urns are truly the underdogs of the memorial urn line, as many have the idea that they are not as unique, or wouldn't stand out as well as say, an urn made of bronze or glass. This is simply untrue. Wood Urns are unique memorials in just about every imaginable way, and that's what makes them perfect for paying tribute to any unique personality. Wood cremation urns are available in a wide variety of styles made from many different types of woods, and they are available for a huge number of memorial purposes, ranging from indoor displays to burial in environmentally-friendly grave sites. And the designs offered by wooden cremation urns are just as extensive. They can range from elegantly turned vessels for ashes, to elaborate, three-dimensional scenes created from different types of woods, such as the urn above. The manufacturing processes used to create wood urns are also the most varied of any type of urn, and that is what makes wood urns, perhaps, the most unique of all cremation urns. Wood cremation urns are often made by hand, but beautiful pieces are also carved by machine and then hand finished. Below we list some of the more important highlights of these amazingly unique features that have made wood cremation urns the perfect tribute to generations of family's precious memories.
Wood Cremation Urn Designs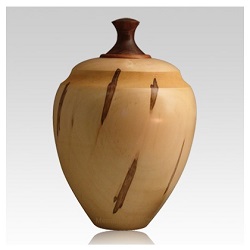 Wood urns can and do take on a vast array of differing designs, ranging from the very simple to the very complex. These designs often play a factor in the cost of an urn, with the more simple designs often costing far less than the more complicated ones. But that rule does not necessarily hold true in each and every case. It is often the situation that a very expensive or rare exotic wood may be used to create a wood cremation urn that is very simple, such as the elegant turned vase to the right, and, therefore, that non-complex design would result in an overall price of an urn that is far more expensive than a complicated design on a less expensive piece of wood. Many wood cremation urns are simply elegant pieces of fine, rare wood that are to more complicate than smooth cube. In fact, many of America's finest military hero's are remembered with an elegantly designed military urn that is simply a block of gorgeous wood that has been hollowed out to make room for the remains. On the contrary, wood cremation urns can also be great for remembering loved ones with more flamboyant personalities. A wood cremation urn's ability to be customized with hand-made adornments means that it can be crafted to reflect the life and attitude of just about any special life.
Types of Wood for Wood Cremation Urns
Wood cremation urns are available in just about any type of wood available. Many people have been known, for example to find a special type of exotic wood while on a foreign vacation and to bring a piece back to be carved into a vessel. Just about any wood will translate well, when treated to a marvelous finish by a caring hand, into a wood cremation urn. But that said, a wood urn does not necessarily have to be made of exotic wood in order to be special (and, in fact, many environmentally conscious people who are eager to protect the world's rarest trees may wish to avoid exotic woods altogether). Some of the most elegant wood cinerary urns available, including those mentioned in the previous section meant to honor many military hero's, are made from very commonly found, but elegant, woods such as oak, walnut, cherry or mahogany. These standard woods, when properly carved and finished, make for wood urns that will last for generations and become precious heirlooms for any family.
Uses of Wood Cremation Urns
Wood cremation urns can be used for just about any memorial display imaginable, so long as the display is not dependent upon stable whether elements. At first, it may seem appropriate to say that wood cremation urns are not suitable for outdoor use, for example. But that is not entirely true: many families have left wood urns outdoors in settings that have proved quite suitable. Burying a wood urn (whether at land or at sea) is perfectly acceptable, so long as it is done with the understanding that the urn will likely decompose fairly quickly, and will, therefore be unrecoverable in a short time. (For those that are interested in interring a wooden vessel, but wish to prolong the composure of the piece, a cremation urn vault can be very useful.) This apparent setback has not stopped many families over the years from choosing an elegantly designed wood cremation urn for a funeral service and then burying it in a grave afterword. All that said, however, the most common use for a wood cremation urn is in a setting in which it will be a part of an indoor memorial display. Wood urns have the look of a high quality piece of furniture and therefore will typically match the elegant design of most any interior design. The large variety of wooden vessels offered by Memorials.com will help ensure that there is the right urn to suit any taste or need.
See all your Wood Cremation Urns choices