Back to Info Center
Angel Memorials
Angels have long since been referenced throughout our history, even since the earliest days of our development, and for good reason. Angels, while admittedly a religious ideal, have always been seen as guardians, ment to protect and guide us through the labyrinth that is life. This offers great solace in the idea that while we may face various situations that may seem arduous, we are never really alone. On the otherhand, the concept of an angel, or guardian angel, as they are often referred to, looking over our children, friends, or other loved ones is greatly comforting as we know that they are, in a sense, protected from harm peril. In reality, there are several ways that the idea of an angel can be interpreted, from a guardian that watches over us, to even a loving and generous person. Often those that seem selfless in every aspect are referred to angels among men. This only enforces the idea that one does not necessarily have to be of any religious connotation to believe in the power of angels, as an angel can simply be a person who is of a giving nature.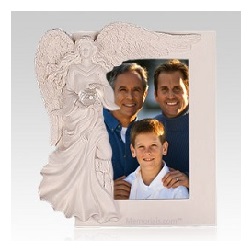 This later view of angels brings to mind the interesting dedication in best selling author Kurt Vonnegut's famous 1976 novel Slapstick. Using the little-known real names of the famous comedic film team Laurel and Hardy, Vonnegut dedicated the book "to the memory of Arthur Stanley Jefferson and Norvell Hardy, two angels of my time." While this dedication is somewhat famous, it certainly serves as one of the more unique angel dedications of all time. The entire book is, more or less, a tribute to the film careers of the comedy duo and a philosophic reflection on what their humor meant to Vonnegut himself as a child. In this sense, the 'angels' may not have been of a religious reference, but simply to describe how the two individuals who positively influenced Vonnegut's life were of great importance to him, therefore, in a sense, his angels. While some may frown upon the idea of calling two humans angels, to an extent, we often view some people in our lives with the same admiration, for example, a child their mother, or a patient their doctor. With that said, it can go to say that an angel can serve as more than a religious ideal, but also a beautiful symbol of a person with a beautiful outlook on life, and of a helping nature. The image of Laurel and Hardy, who were forever getting whitewashed by buckets of paint falling on their heads from ladders, as angels may be somewhat strange, but it's also comforting. The idea of those two stammering around Heaven in the eternal service of almighty God gives hope, not to mention a bit of a chuckle, to every human that angels can be born from the meekest of spirits: a good-hearted soul is all that's required. They demonstrate the human belief that all good people, those who, as Vonnegut says of Laurel and Hardy, consistently "bargain in good faith with destiny, are angels at heart. This is a beautiful and touching idea, in that, while we may not all be perfect, we still have a chance at eternal happiness, and such is the blessed role of the angel memorial.
Angel memorials, in other words, are simply celebrations, no matter what the form, of all that is good, and in a sense, godly, in mankind. This simple understanding is what makes angel memorials particularly comforting to families who have lost a loved-one. They can symbolize that the lost individual is guarded by angels in their eternal rest. On the otherhand, the angel can simply stand as a beautiful symbol of the good-hearted. For those who prefer a religious conotation, imagining all that is good in a man or woman (or even child) being forever transported to heavenly glory where it will reign with God for eternity is an incredibly powerful way to put a grieving heart and mind at ease.
While angels do conjure up images of elegantly elaborate paintings, angel memorials do not have to be as ornamented as that. A simple picture of an angel on a gravestone or urn will be enough to forever remind the world that, while the angelic spirit may be temporarily lost to those on Earth, it is part of the eternal beauty of eternal goodness. On the other hand, angel figurines are quite popular, and those that are offered on in our keepsake selection are made of a durable, weather-resistant material that allows them to be placed outdoors, such as next to the gravestone of a lost loved one. These touches are even more heartwarming, in the thought that they can be added and replaced on the grave, a beautiful symbol that while the loved one is not here physically, they are certainly still in the hearts and thoughts of their friends and families. Some even use a beautiful angel-themed photo frame, also available in the keepsake section, with the addition of angel figurines as well as small, personal memorabilia, to create a tribute in the home, which can create an unforgettable visual tribute to the beloved. While it is true that an angel memorial does not have to be elaborate, the addition of one of these heavenly figures in the form of a image, figurine, or even an angel statue, which are commonly seen in many cemeteries across the globe, will certainly add an air of grace and elegance to any final remembrance.
Angel memorials are most interesting in that they bring to life the famous Beatitude "Blessed are the meek, for they shall inherit the Earth." Angel memorials, historically speaking, are often reserved for memorials in honor of the meek of our world. Powerful kings and presidents and other leaders (except those such as revolutionaries who lived their lives as underdogs) are not typically memorialized as angels. No, angel memorials more often adorn the memorial displays of the average person (in other words the meek) who simply lived a good life, without all the earthly advantages that accompany fame and fortune. So, angel memorials then are a wonderful demonstration that, in the end, the meek not only inherit Earth, but heaven and eternal bliss as well.
Angel memorials are an everlasting reminder of the glory that will always come from living the best, most angelic, life possible. Whether the angel dominates the design of a monument, or simply is added in the form of a small statuette, there is no doubt that it will help create a serene atmosphere for all to appreciate.
See all your Angel Memorials choices