Over + 10,000 Cremation Urns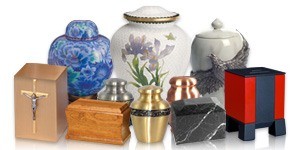 Wood Urns, Bronze Urns and many more...
Free Delivery with each Funeral Cremation Urn
See All Cremation Urns

Cremation Keepsake Jewelry
Starting at $19.95
Keep your loved one close to your heart with our Cremation Ash Jewelry Pendants. We offer one of the largest online selections.
See more Cremation Jewelry
Headstones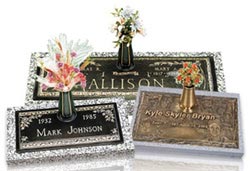 Cemetery Headstones in Bronze and Granite
Direct Delivery!
Headstones
Grave Markers & GraveStones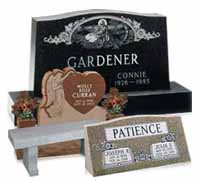 Grave Markers at Amazing Low Prices
Huge Selection !!!
Grave Markers & Gravestones
Flag Cases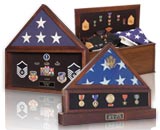 Military Veteran Flag Display Cases for your lost Hero's!
Flag Cases
Cemetery & Funeral Products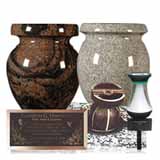 Granite Vases, Bronze Plaques, Grave Stone Products all around the
Cemetery and Funeral Home
Caskets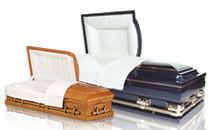 Large selection of Wood Caskets and Steel Casket Styles directly delivered to the Funeral Home.
Caskets
Memorial Rocks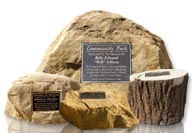 Replica Rocks, Trees with bronze
memorial plaques for cemetery or home.
Garden Memorial Rocks
Cremation Art

A modern piece of Art, an oil painting capturing the life of your loved one.
Cremation Art with Ashes
Statues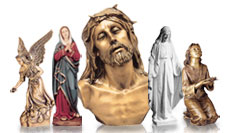 Bronze & Marble Statues of Jesus, Mary, Saints and Angels and more.
Bronze & Marble Statues
Ceramic Pictures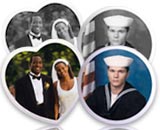 Ceramic Pictures
Keepsakes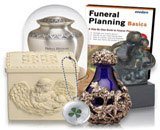 Keepsakes
Pet Urns & Pet Memorial Products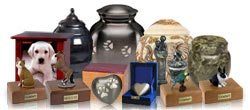 Pet Urns
Pet Urns for the cremation ashes of your best friend, many styles dog and cat urns are just a few.
Pet Cremation Urns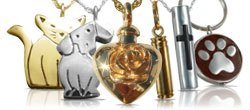 Pet Cremation Pendants
Pet Cremation Pendants
Pet Caskets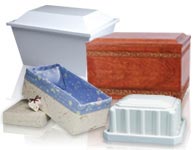 Pet Caskets
Pet Memorials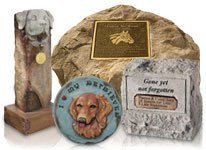 Pet Memorials
Pet Keepsakes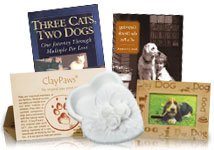 Pet Keepsakes
Pet Grave Markers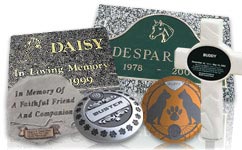 Pet Grave Markers
Pet Marker Pictures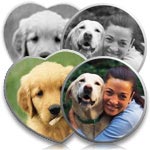 Pet Marker Pictures
Cremation Urns, Headstones and Cremation Jewelry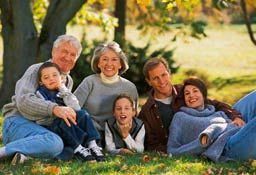 Memorials.com is "Your Premier Online Source for all your Funeral and Memorial needs!"We offer the largest selections available worldwide of memorials, urns, headstones, grave markers in bronze and granite, cremation urns, caskets, cremation jewelry, flag cases, memorial rocks, keepsakes, statues, cremation art as well as pet memorials, pet urns, pet cremation jewelry, pet keepsakes, pet grave markers and pet caskets and many other memorial and funeral related products for humans and pets. We will create a memorial of your loved one for eternity.
The loss of a loved one is one of the most difficult and emotionally trying experiences that will affect all of our lives at one point or another. While the grieving process may be different for everyone, many will agree that a befitting and dignified farewell will not only honor the life of the departed, but can also help bring closure to the surviving family. We at Memorials.com understand the importance of creating beautiful, long lasting, and unforgettable memorial tributes. That is why we have gathered an impressive collection of items that will help not only create an elegant final remembrance, but celebrate a lifetime of love, laughter and memories. This website features a variety of different categories, which help to quickly and easily search and find your memorial need. Each different category is broken up into sections to further enhance the search experience.
We offer a large variety of funeral cremation urns, which are all crafted to the highest of standards and feature an endless amount of design and personalization options. Our basic rule of thumb regarding the capacity of any urn is one cubic inch per pound of a person's healthy weight. For example, if the loved one weighs 200 pounds, a funeral urn should hold about 190 cubic inches.
The cremation jewelry holds a small amount of cremation ashes, or earth from the gravsite, or even hair or crushed flowers. These elegant pieces of jewelry are not only easy to fill, but will hold a small part of your loved one close to your heart at all times. Some jewelry urn necklace pendants can have the cremation ashes fused into the glass.
Our section with display flag case, called shadow boxes by veterans offers a selection of elegantly made tributes that will contain and protect the legacy of any fallen hero. For those who are in need of a casket, we offer elegant and durable caskets made of wood, metal, or steel, and even sustainable materials for natural burials or cremations.
We also offer an elegant assortment of top quality grave markers, headstones, and even cemetery benches and memorial rocks, at unbeatable prices. We provide a wide variety of personalization options for these pieces, to ensure that the selected memorial will properly reflect the personality of the dearly departed. The addition of a long lasting ceramic photo to any new or existing monument will enhance the beauty of the piece with the likeness of a loved one. Also offered is a variety of bonded marble, granite, and even fiberglass statues, which can be added to a cemetery grave site, or used to accent any garden.
There is also a large keepsake and memorial art section, which offers items to help bring comfort through the mourning period, as well as long after. The keepsakes include funeral planning books, angelic figurines, cremation teddy bears, or even worry stones and comfort coins, which can help with meditation to clear the mind. The cremation art section features a wide array of artistically made keepsakes, many of which will permanently contain the cremated ashes of a loved one, for an astounding and unforgettable visual memorial.
Our pet memorial sections include a collection of items that will help preserve the memory of any loyal companion. The pet urns section features categories, just like those for people, but the urns within feature whimsical and elegant themes to help preserve the happy memories the pet left behind. The pet casket section offers both durable and biodegradable pieces to provide a peaceful final resting place. The pet memorial jewelry offers a variety of designs to help capture the personality of any dog or cat and contain a small remembrance of them such as ashes or fur, so they will always be with us. The pet grave markers and memorials help ensure that the final tribute of a pet will be as long lasting as it is beautiful; and, just like for the human section, we also offer pet ceramic photos to capture any happy memory and preserve it for all eternity. The pet keepsakes offer a variety of ways to create a tribute to a pet to honor their memory.
We offer Free ground shipping for many of the items, and expedited options for those who need them a little sooner. If you have any questions, give us a call, and our memorial team will be happy to help.
All our Products come with FREE Delivery in the United States. We can shipped directly to your home or funeral home of choice. We have a Price Guarantee in place so you can feel save. We have the Worlds Largest Selection of Memorial Products. Our goal is to provide needed information, Excellent Customer Service and Outstanding Products.
Our Memorials.com Team is looking forward to helping you!


5 Star Customer Excellence Program

Our Company was featured in:
Newsweek:
"Thinking Outside The Urn"

TIME:
"The New American Way of Death"
Featuring Memorials.com Cremation Urns

MSNBC: "More Americans Look to Death to Save Money"