Back to Info Center
Bronze Cemetery Grave Marker Refinishing Instructions
A Detailed Guide on "How To Refinish Your Bronze Grave Marker"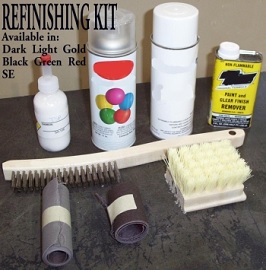 Our Grave Marker Refinishing Kit
It certainly goes without saying that the appearance of a memorial is of great concern to both the family of the loved one it memorializes, as well as the cemetery staff who overlooks the grounds where it is set. Bronze is one of the most popular materials used to create long-lasting and elegant tributes to the dearly departed today, and while the material is resilient to the elements, the finish may be subject to them. When left in the elements, bronze naturally gains a green patina, which is actually one of the most sought after qualities of this metal (so much so, that some artists and bronze workers chemically age the metal, to give it the famous weathered look). While that is so, many families who are utilizing this material to memorialize the grave of their loved one often prefer the polished, elegant look that the newer bronze plaques offer. For those families, and anyone else interested in restoring a bronze cemetery headstone to it's original shine, this informative guide can offer a solution:
Preparation Process:
To obtain professional looking result, the surface of the bronze must be completely free from oil, dirt, and old paint. This can be accomplished by a number of methods.
Step 1: Remove all loose dirt and debris from surface with air or brush.
Step 2: Apply a generous coat of Cleaner A*. Allow reaction to take place (5-10 minutes). Rinse with water and scrub brush. Repeat Step 2 if paint is not removed.
Step 3: Add warm water (approximately 3/4 full) and dissolve powder. Apply the solution of Cleaner B* scrubbing surface thoroughly with scrub brush. Rinse.
Step 4: Using a household detergent, preferably dish washing liquid, scrub the entire surface of plate. Rinse and allow to dry.
Step 5: Using wire brush, (supplied in kit) brush entire surface of bronze to remove any remaining paint.
Step 6: Using the fine emery cloth, 240 grit, polish all raised surfaces that are to be hi-lighted. this includes letter and number surface (The coarse emery cloth, 80 grit, will be used to remove small scratches, etc.).
Step 7: Blow or brush off all debris.
Re-Finish Process:
After the bronze has been thoroughly cleaned and dried, you may begin the re-finishing process:
Step 1: Mix the color coat thoroughly and apply to entire surface. Spray at 45 Degree angle to bronze holding can 8 - 10 inches from the surface. Use smooth, slightly overlapping strokes.

Note: Apply four light coats (one from each direction) to assure complete coverage. Allow to dry completely.
Step 2: Using wire brush, gently remove the paint from hi-lifted polished areas to obtain desired contrast. Remove debris with air or soft brush.
Step 3: Apply clear sealer coat as in Step 1. Allow to dry.
Note: For best results, refinishing should be performed under warm, dry, and windless conditions and all exposed surfaces near bronze should be masked.
Note*: Care should be taken to avoid contact with eyes and skin, gloves and face mask should be worn.