Back to Info Center
Buying Headstones Online
Buying headstones or grave markers online can seem like an intimidating task. A family may have concerns of purchasing such a personal item from the internet, or that they will not be informed or have control over the order. Actually, purchasing a memorial online is not only a great way to save money in your time of need, but also to ensure that you get a memorial that represents your loved one to the fullest. We at Memorials.com hear stories nearly every day from customers whose cemeteries have quoted them prices hundreds, or even thousands of dollars higher than those we are able to offer, for markers that have substantially less personalization options. Customers regularly ask if this dramatic price difference is a sign that cemeteries offer higher quality headstones than those available online, and we have two answers to that question.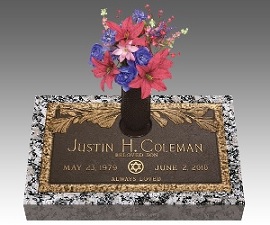 First, headstones and grave markers from Memorials.com come from one of the largest, and most trusted, grave marker manufacturers in the United States. In fact, this same company also serves many – if not most – cemeteries nationwide, and most of these cemeteries follow the same procedure we do for ordering the grave marker or headstone. So, in many cases, when purchasing a marker from Memorials.com, customers are purchasing the very same product that is also available at a cemetery – for a substantially higher price. And for those who have heard that the manufacturer produces lesser quality memorials for us since we are an internet company, that is simply not true. We have had families contact us concerned with this, or a similar issue, after being told this information by the funeral home or cemetery that they have been dealing with. We can no more than assume that this is a cemetery marketing strategy on the cemetery or funeral home's end, albeit a dishonest one. Our marker manufacturer is, again, a very long-standing and reputable company and do all that is necessary to ensure that the memorial tribute produced is one that the family can be proud of, and visit, fore many generations to come. We can even provide a cemetery with a certificate of Bronze Content if they so request it, affirming that the marker produced for Memorials.com is up to memorial industry standards.
This brings us to the second part of our answer: the reason for the price differences is a reflection of the history of the memorial industry. In years past, cemeteries (and funeral homes for that matter) have held a monopoly-like grip on the industry by requiring their customers to buy all accessories (headstones, caskets, etc.) from them when planning arrangements for their memorial services. The prices of the accessories, therefore, was usually subsidized into the cost of the traditional cemetery service, and typically, the customer, who simply paid one lump-sum bill, never knew the itemized costs for each product or service. In addition, some cemeteries or funeral homes would also tag on unnecessary services that were not requested by the family, and since the bills were not itemized, the family would never be the wiser. It is a truly a shame to think of all of the families that were taken advantage of in their time of greif by the company that they had placed their trust in, especially considering their need for the memorial.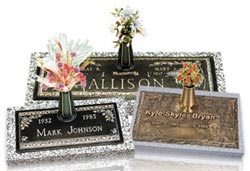 Fortunately, in relatively recent years, the United States Federal Trade Commission set the Funeral Rule, part of which has required that cemeteries offer customers an itemized bill for all products and services. More importantly, they have also required funeral homes to allow customers to purchase their accessories elsewhere, for example, from an online memorial dealer. These rules were intended to improve competition in the memorial industry, and thus lower prices of the accessories for the consumer. The intended effect, however, seems still not to have taken full hold, as it is difficult for these rules to be enforced, especially with the number of memorial businesses throughout the nation. While the prices are generally much lower when customers buy headstones online, many cemeteries still hold to their traditional practices of charging a premium price for accessories or services in exchange for "one-stop shopping" convenience for customers. This is very unfortunate as the last thing a family wants to think about when losing a loved one is finances, so no questions are usually asked when they are presented with the final bill.
While most cemeteries do not violate FTC laws by blatantly discouraging from buy headstones and other accessories elsewhere, they are also, of course, not prone to encourage customers to look elsewhere. So often time, families wanting to dispense with the emotionally difficult task of funeral service and burial planning as quickly as possible never even think of buying headstones online. There is no doubt, however, that many of these customers end up grimacing at the final price they pay their cemetery.
The most important thing to take into consideration is to make yourself informed of the options available for purchasing a headstone or grave marker. By taking just a few extra moments to find an Internet headstone dealer and buying a headstone online, you are not only saving yourself a lot of money; you are also helping to improve the market and drive prices down for everyone. As more and more consumers begin opting to buying headstones online at substantial savings, cemeteries will certainly lower their prices to stay competitive.
There may be some out there that are concerned that the cemetery where the marker is going will give them issues because they have purchased the marker from an outside company. We just want to stress that You are their customer as well, as you have purchased the property at least from the cemetery. In this case, the cemetery, or funeral home, should still treat you with the same dignity and respect that they would any other customer. For more information on potential cemetery issues, or useful questions to ask a cemetery before ordering a marker, please see our Cemetery Issues article.
In the end, the "one-stop shopping" convenience offered by cemeteries who sell headstones may have a little value, but online companies such as Memorials.com are also equally as concerned with providing no less than excellent customer service. We strive to make buying headstones online a very simple process. For example, at Memorials.com, a representative works personally with the cemetery on each order to assure that the headstone matches cemetery's regulations and arrange for installation (which is usually charged separately by the cemetery). Buying a headstone online is typically very easy. All that's required is fpr a customer to take the time to look up a dealer on the Internet.

How to Choose the Right Company
Buying Directly from a Cemetery:
In today's age of "one stop" shopping for a family's funeral and burial needs (in most cities, the largest, most popular funeral homes also operate cemeteries, thereby allowing customers to make all of their final arrangements for a loved one in one place, possibly even in one meeting) many, if not most, families will be tempted to buy a headstone directly from the funeral director handling their loved one's memorial services. Because of federal anti-trust laws, however, this is not likely to be legally permissible from the funeral home's perspective. Most current interpretations of federal case law conclude that, since funeral homes and cemeteries were once not allowed to legally merge under the same owner, it is best for the operations to remain as separate as possible now that they can finally, legally merge. It is for this reason that funeral directors will usually defer to a separate cemetery salesman – someone from a whole different division of his or her company – when a customer begins inquiring about headstone sales. Despite this matter, mostly of logistics, though, it is still possible to buy a headstone directly from the cemetery run by the same company as the funeral home.
The important question to ask, though, is this: is it advisable. And that answer to that question is this: mostly likely not – unless the deceased was a member of the United States military and eligible for a free or discounted headstone from the United States government.
See, cemetery personnel are typically trained and experienced in working with the government agencies (mostly, the department of Veteran Affairs, but other entities are sometimes consulted) to get families all that they are entitled to under federal law for the burial of their loved one – including the headstone. In most government run military cemeteries, all of the headstones are paid for by the government, but even in private cemeteries, the government will reimburse the customer for some or all of the cost of the grave marker. Most reputable private cemeteries will help families submit paperwork to the government to seek these reimbursements and many will even wait for their payment until the government's check has arrived (making it not a reimbursement after all but, in effect, a direct payment). From a consumer's stand point, the benefits of the cemetery's knowledge may be very helpful for people who qualify for free or reduced cost headstones on account of their military service. But, for all others, it may be best to simply consider buying a headstone from another establishment. Cemeteries tend to sell headstones for among the highest rates in the industry.
If you should make a decision to buy a headstone from a cemetery, it is advisable – even if you are a family member of a military personnel – it is advisable to get price quotations from a variety of difference sources before placing an order. It is perhaps possible that pressure from competitors may convince a cemetery sales person to reduce his or her offer to you in order to make a sale.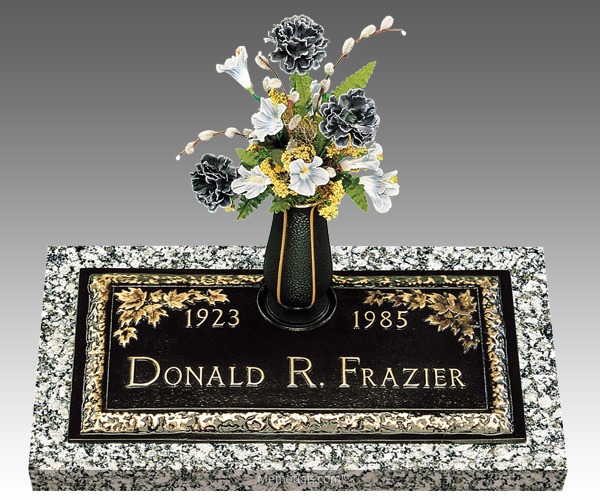 From an Headstone Retailer
Many companies exist in today's competitive "memorial products industry" who can sell you a headstone or grave marker. You really do have many more options than, simply, a large cemetery nearby your home. In many cases, there are "monument" companies that operate as traditional brick-n-mortar headstone retailers, but more common still in today's world is the many internet-only retailers that sell headstones or grave markers.
Many people have discovered over the years that buying a grave marker via the internet is a great way to save a lot of money. (Hundreds of dollars, at least, in many cases.) But there are a few things to keep in mind about buying from an internet headstone retailer that we hope to impart in this section.
First, we must strongly suggest that you consult the Better Business Bureau's records before dealing with any online site. Reputable companies take great pride in keeping their record entirely clean – resolving disputes well before a customer even thinks of calling the BBB – so any business with more than, say, 1-2 disputes filed against it per year might not be the best choice. (In fact, there are some online retailers of headstones that have gone nearly a decade or more without a single complaint being lodged. These are the ones you should seek out first, if possible.)
The next step is to contact a representative of the company directly. Given the complexities involved in buying a headstone, it is ill advised to buy one without first speaking with someone at the company to who you will be sending money. In this day of fast communication, most websites are set up to make it possible to order a headstone without consulting a live sales person, but, just because it's possible, does not mean that it is advisable. A reputable company will have no issue about returning a call or email to you in a reasonable amount of time, and you should expect that the response be in a manner that clearly indicates it is from a real person, not an automated "responder." The headstone ordering process will take a good amount of time and involve a great deal of communication between you and the company you order from. If communication, real communication, is not a top priority for a company that intends to compete for your business, you should consider buying elsewhere.
After you have found a company that makes you feel reasonably comfortable, it's time to begin the ordering process. The company's representatives should walk you in a friendly way through the various steps, and they will all differ in some ways. But there are a few things you should find common in most companies in the business. We list them below.
First, a company should volunteer to contact the cemetery on your behalf before accepting any money that they are not willing to quickly refund. Reputable companies may require at least partial payment of your marker in advance of placing the order, but they also have a written refund policy stating that, if the cemetery refuses to approve the marker's final pre-production plans, the money will be quickly returned to you. Most companies will ask an official representative of a cemetery to sign a document, attached to the final plans for the marker, stating that the plans indicate the marker is within the cemeteries rules and that the cemetery staff will take possession of the marker upon its delivery. If the retail company you have chosen to work with does not automatically offer to make such a contact with the cemetery, it is probably best to avoid doing business with that company.
Next, you should expect the company to work with you directly to assure that the plans for the marker are exactly in line with your wishes. You should expect to receive a design, directly from the manufacturer, showing exactly what your headstone will look like within just a few days of your order and first payment. While it's possible that a reputable company will ask you to pay a little extra for multiple revisions, you should expect to have the opportunity to make at least one set of changes or corrections to your design, for free – and receive a confirmation that those changes have been made – before production begins.
Finally, after both you and your cemetery have approved the final plans for your marker, you should expect the marker to arrive from the manufacturer in about 2-3 months – sooner only if you have special needs that the retailer and manufacturer have agreed to meet. It is important for customers to understand that manufacture and delivery of a grave marker can be a lengthy process that is often simply impossible to rush very much. Exact dates are very difficult to guarantee and an overly confident guess by a retailer on when a delivery will take place may be reason to hold the business a little suspect. You should expect your retailer's representative to be hesitant to suggest, precisely, when a marker will arrive. That is one good sign that you are working with an experienced, reputable business.
And, in conclusion for this section, it is important for customers to remember that cemeteries who also offer headstones for sale have an economic interest in making your purchase from another company difficult. While they are not legally allowed to discourage you from buying from another company, some cemeteries resort to loop-hole like tactics to do just that. One of the more common ploys is to create lengthy delays in responding to the retailer's request for a signature on the final proof. If your retailer reports trouble in hearing back from a cemetery, it might become necessary for you to put pressure on the cemetery staff yourself in order to expedite getting the signature needed for production to proceed. Some customers of internet-headstone retailers have actually changed cemeteries as the result of these long delays. And, while that can be a hassle, it may be what a family will have to do in order to avoid buying a plot from an unethically managed organization.
Another trick worth noting is this: some cemeteries have been known to trick their customers into divulging the price they have been quoted by a rival company for a headstone. Families working with cemeteries should know that this is illegal under United States law because it puts the cemetery at an unfair competitive advantage to offer a lower rate. If the cemetery you are working with seems to be engaging in this practice – by offering you a lower price for a headstone after discovering the price a competitor has offered – it is best to avoid rewarding the illegal action with a sale. Rather, the thing to do, from an ethical stand point, would be to allow the retailer to submit an even lower bid (which many will happily do) and agree to help the retailer report the cemetery's action to federal authorities.
From a Manufacturer
In some cases, customers can buy headstones and grave markers directly from the company that makes them. This is usually done in brick-n-mortar shops that have store-fronts in, say, a retail strip center and a manufacturing plant elsewhere – or maybe just in the back. Most of these establishments do not cater well to long distance shipping requests, so they generally only serve customers wanting a grave marker installed in their local vicinity.
For anyone interested in saving a lot of money by buying from a headstone manufacturer directly, it may be prudent to point out that the majority of these company's orders probably come directly from the local cemeteries themselves. So they will not likely be very eager to undercut the prices of their significant customers. And, in fact, you may find a cemetery in town that will actually offer you a lower price than the manufacturer will offer to sell to you directly.
In some cases, buying directly from a headstone manufacturer is a reasonable and prudent thing to do. But those cases are probably rare, and a family probably be best served in working through the retail channels we have described in the other sections of this article.