Back to Info Center
Ceramic Heart Urn Instructions
Filling the Heart Urn
Each Heart Urn is pre-threaded and supplied with a transport protection, and comes with a fabric pouch for, in which a small cremation urn or the plastic bag with cremation ashes can be placed. For best results, please read the following instructions entirely before handling the urn.
Place the urn on a soft surface so that the inner edge of the bottom half of the heart is at the bottom. Lift the upper half backwards until the two halves are opposite from each other. The transport safety board can now be removed.

Now place the small ash urn or the plastic bag of remains in the fabric pouch, to be placed in the urn. If a small ash urn is being used, make sure the bottom of the urn is at the pointed end of the heart in the lower half. Please ensure that the fabric of the pouch does not protrude over the inner edge of the heart urn.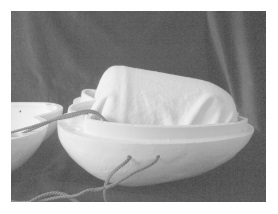 Now close the heart by placing the upper half on the lower half. As you are lowering the upper half of the heart onto the lower half, pull on the cord/ribbons on either side of the urn, so that the ends of the cord/ribbon are the same length.

If the cords happen to become un-threaded from the urn, please thread the cord/ribbon back through the holes as shown below. When the urn is threaded, there should be a loop coming out of the bottom two holes, and the two loose ends of the cord should come out of the top to holes.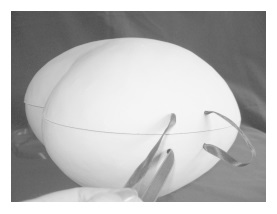 Closing the Heart Urn (Tying the Cord on the Urn)
Before you tie the knot, please make sure that the two ends of the cord are the same length and that the cord is tight on the urn (it may have to be pulled in or out to get it the same length). Place the urn so that you can knot the first knot at the left side, as shown below.
First, tie a basic knot. Thread one side of the rope over the other and pull it tight (as if you are tying a shoe).

Then, tie another basic knot again. This time, pull the both sides of the rope slowly so that the knot lies flat against the side of the urn, and does not come apart.

After that you make a new basic knot, only this time thread the 'bottom' cord over the 'top' cord (make the knot the opposite from the first two knots). Tighten this second knot slowly.

When you have completed tying the first side, turn the urn around 180 ° (the front of the urn remains visible), so that the right side of the urn is on the left side. Now you can tie the cords on the right side just like the left side, following the instructions above.