Back to Info Center
Christmas Memorials & Monuments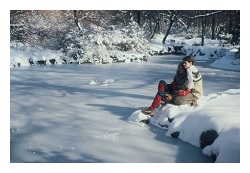 The holiday season can be especially difficult for people who are grieving the loss of a loved one. Even if the death occurred in another time of the year, memories of happy Christmas's together, or any other holiday for that matter, are prone to come roaring back unexpectedly, making for holiday emotions that can be difficult to manage. Seeing other families enjoying the holiday season together also bring about those feelings of grief, and it certainly doesn't help that the season is chalk full of movies, tv shows, and countless other things that refrence to happy meals and celebrations enjoyed by the entire family. It goes without saying that this is all very understandable, as the loss of the loved one not only affected us for a moment, but instead, affected our entire lives. Whether it be because not having the loved one around is simply not the same, or maybe it feels disprespectful to celebrate anything after such a loss, many may find that it can be just difficult to get into the holiday spirit. These are just a few of the reasons why Christmas memorials, or memorials that can celebrate any holiday, while somewhat unorthodox, may be a good idea for those that are having trouble coping with the feelings of grief during this, otherwise, festive season.
Plenty of memorial products are available year round to help ease the pain caused by grief, or to help one meditate and find peace during the mourning period. In most cases, customers think of purchasing these items, or even displaying them, only shortly after a death. Even keepsakes were very effective in bringing comfort to those mourning are often removed, or stored away, as people feel that it is only appropriate to display them for a certain period of time. The general idea seems to be that memorial products are most comforting only during the initial grieving period and, therefore, are only useful during that time. That misconception undoubtedly keeps some people from even thinking of holiday memorials, unless, of course, a loved-one has died near the time of that holiday. Even in those cases, many families find themselves trying to somehow separate memorial ceremonies from Christmas celebrations. This separation can actually make feelings of grief worse in that the end result is feeling that the lost loved one has been forgotten, or just plain excluded from the holiday celebrations.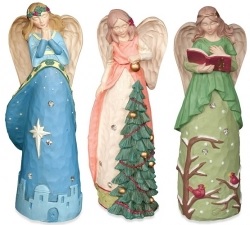 The overall attitude toward the 'mourning period' idea ignores a large amount of what experts say about coping with the loss of a loved-one. In reality, we should understand that the grieving period is different for everyone, and regardless of the amount of time that has passed, or the time of the year it is for that matter, the individuals mourning should keep around themselves any keepsakes, whether holiday related or not, if they feel eases their hearts and minds. Alternitavely, the loss of a loved one should not mean they cannot be included in the holiday celebration. Many families often find great comfort in visiting their dearly departed in their areas of rest during the holidays, and often times they even take small gifts or keepsakes to them, to show that they have not been forgotten. Visiting a relitive in a cemetery or mausoleum should not mean that any certain tradition is lost, in fact, it should be seen as the start of a new holiday tradition that everyone can participate in. That is not to say that all families have to visit the dearly departed on the holiday; in fact, there are several other ways that the loved one's memory can be incorporated into a happy celebration.
Grief can come about at any time, even years after a death; And it is especially likely to come about, unexpectedly, during special anniversaries and holidays, such as Christmas, Hannukkah, Kwanzaa, or any other holiday. While Christmas memorials, otherwise reffered to as season keepsakes, may not always be the first thought for holiday traditions, they could, in fact, be a healthy thought that can help ease the feelings of grief. What better way to honor the memory of a family member, and to ease the potential, lingering grief felt by loved-ones, than by presenting a number of digitally re-mastered and framed family photos as gifts one year. Such a present is sure to inspire pleasant memories and memorable conversations lasting long into a Christmas night. Sure, it might also inspire a few tears, and long-forgotten grief may rise to the forefront in the minds of some family members; But, just because grief is forgotten, does not mean it is absent. Bringing it to light with a Christmas memorial is an excellent idea for healthy coping that can help everyone, especially when they all share in the experience together.
Plenty of ready-made memorial products feature crosses, angels, or other Christian symbols, and yet they have designs that match a person's unique personality. These can come in the form of keepsake urns, keepsake jewelry (all designed to hold a tiny portion of a ashes), or even Art in Ashes oil paintings in which an artist mixes a tiny portion of ashes into a work. Any of these products can make for, perhaps, the most memorable and special Christmas gift in any family's collective memory.
No matter what form they come in, Christmas memorials can preserve family holiday traditions for generations and help heal even the most unexpected episodes of grief. It is definitely in keeping with the Christmas spirit to add a Christmas memorial or two to your celebrations this, and every, year.