Back to Info Center
Cleaning a Headstone or Grave Marker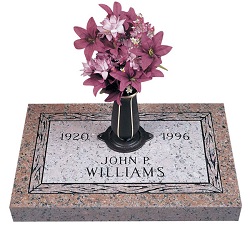 Every day cemetery visitors across the world come across old, very weathered tombstones and wonder about the best way to clean them. Often the question is vitally important because, well, the tombstone is simply unreadable in its present state.
The novice on this topic might be forgiven for heading out to his family member's weather-beaten grave marker with a bucket of water and some store-bought cleaning agents. But that most likely would be a mistake. The beginner might also check the web and see a myriad of articles suggesting shaving cream, of all things, as an effective cleaning tool. Again, that would probably be following some bad advice.
Grave markers, gravestones, and tombstones are such an important, if unsung, part of our society that, believe it or not, a great many people devote a good deal of time and energy to studying ways to preserve them. It goes without saying that knowing how to clean a grave marker properly can go a long ways in extending the life of a memorial. Novices be warned: experts in this field take grave markers seriously, and they often do not take kindly to those who ignore their advice and, thus, end up damaging historic, sometimes impossible to replace, grave markers. These elegant tributes of today will certainly carry on a piece of our history to our many future generations, as the memorials of our early predecessors have for us.
Do not use Shaving Cream on your Grave Headstone:
Many a novice (and many a not-so-novice, too) have reported amazing results using simple shaving cream on their illegible marker. Just rub it on around the lettering and scrub a little with a cloth towel, and the cream works almost like magic, they say. And, indeed, many "before" and "after" pictures are quite convincing. The problem, however, is long-term. The acidic, headstone-killing chemicals found in shaving cream, contrary to popular belief, are not as soluble as they appear. And, worse, they tend to work their way deep into the pores of a tombstone, weakening the piece over time. So, while the immediate affect of using shaving cream to save a marker may appear magical, over the long haul, the cream actually works significant damage -- even if one washes it entirely away after the cleaning. (The acid works its way very quickly into the headstone and, therefore, is difficult to remove even shortly after its application.)Some chemicals in shaving cream are much the same as those found in acid rain, which wreaks slow havoc to a grave marker over the course of decades. But, with a shaving cream application, the damage speeds up exponentially.
Do not use just any Cleaner on your Cemetery Headstone: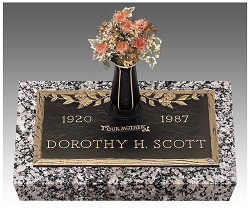 Typical household cleaners, from soap to bleach, can be surprisingly damaging to your marker. In fact, for best results, just use water and elbow grease. Professional monument preservationists usually start with just that, in fact. The tougher the job, the more elbow they apply. (Though power sprays such as the ones typically available at self-serve car washes are usually too forceful for grave markers.) For significantly soiled headstones, professionals will occasionally turn to a very specialized cleaner. To do no damage to your headstone, a cleaning agent must be completely free of all acid content and all content that will turn acidic upon reaction. (This last requirement is a factor in shaving cream. Many people look at the ingredients list of a can of shaving cream, see no acidic content, and assume that it is safe. But, in most cases, the reactions of the non-acidic chemicals in the shaving cream turn slightly acidic once the cream is applied.) This is tricky because, well, it is the acidity of cleaning agents that causes them to clean. Nevertheless, there are a few non-acidic cleaners available that will help clean your marker. (Although, by their nature, they will be weak cleaners. In many cases, they will not be noticeably better than simple water.) Granite headstones usually tend to keep the same overall appearance for a great span of time, and again, upkeep for them is usually limited to a soft polishing cloth and/or non-abrasive brush. In cases where the bronze finish is very weathered, usually this is seen on markers that are considerably older, special refinishing kits are available to restore the marker. The items in these kits should always be handled with great care and attention, and all instructions and information provided should be read before the work of refinishing the marker begins. We would like to take a moment to mention that these refinishing kits are ment for bronze markers that have considerable amount of weathering, and are not to be used frequently on the marker, only as needed.
Do not use Hard Metal Tools to Clean your Headstone:
A good rule of thumb regarding the solid materials you should use to clean your marker is this: if a piece of metal has a "hardness" rating (found on many websites devoted to the chemical makeup of metals) of a 5 or higher, do not use it on your headstone. Most granite headstones have a hardness rating of between 4 and 7. In general, higher rated materials can be expected to scratch or damage lower rated materials. Most metals used for cleaning -- such as steel -- have ratings of at least 6. That means, in most cases, they should be expected to damage most headstones. As you can see, the rule of thumb is not universal. But it is certainly a good start. If you choose to disregard the rule, be very careful that you are certain of the hardness ratings of your headstone and the piece. Otherwise, using a soft bristle brush – and applying it relatively gently – will usually be the safest method.
Do not concerned yourself with the Discoloration of your Bronze Cemetery Headstone:
Bronze markers attached to granite bases are a relatively new tradition in the memorial industry, and, because they feature raised lettering, they are designed to be read much longer - with minimal care - than their granite-only counterparts. The key to maintaining bronze markers is simply to do very little. Occasional water and elbow grease are all that's required. Just note that water should never be left standing on the marker if possible, as it could cause stains depending on the hardness of the water. Some novices to the world of grave marker maintenance spend time worrying over the natural darkening that happens to all markers over time. Do not do this. Bronze darkens on its own. Do not try to stop the process. Applying chemical cleaners with the intention of polishing the bronze will only weaken the bronze and assure that it has difficulty standing up to the elements.