Back to Info Center
Cloisonne Urns
Cloisonné art work has long been revered for its meticulous demands and astounding patterns. The rich colors are all partitioned with metal wire that is often left visible on the surface, which gives cloisonne pieces their famous appearance. Cloisonné urns are made in the same careful manner as any other cloisonné work and this unique production process makes them perfect for memorializing almost any person's personality. With special paints and coatings, cloisonné urns can be fashioned into a surprising array of colors and styles, and, of course, the wire partitioning the enamel can be fashioned into a limitless number of designs. The overall effect is that of a porcelain urn that is brilliantly colored with exquisite details. While their special beauty and elegance make cloisonné urns unlikely candidates to be buried, they do offer a perhaps, surprising sturdiness that most would not suspect from its appearance. Cloisonné urns, when properly cared for will, last for generations as gorgeous centerpieces to touching memorial displays. Being made of a number of materials that can survive the elements, cloisonné urns can keep memories alive for decades if not centuries.
The History of Cloisonne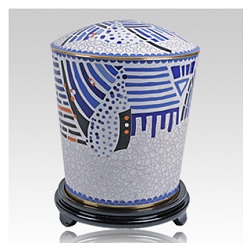 For as long as cremation has been practiced, different vessels have been utilized to hold and protect the earthly remains of the deceased. While that is true, it can be argued that cloisonne urns have been some of the most unique and impressive to serve this purpose. The word cloisonné, language experts say, has its origins in 18th century France, and means a work of art that is made with enamel, cut gemstones or glass which is partitioned by flattened metal wire that has been applied to a metal backing. While the name of this famous form of art is technically French, the the process of making cloisonné urns dates back to a much earlier era and place. Archeologists have found cloisonné urns dating back to at least the time of the ancient Greeks, and it goes without saying that they will surely uncover cloisonné urns for centuries to come. Cloisonné has proven to be a perfect urn construction process over the centuries because it appears to have the potential to last as long as the Earth itself. While it's still unclear exactly when the process began, historians say it probably has its roots, similar to bronze art history, in Ancient China. Regardless of when they were first made, cloisonné urns made their way to the modern world in the 14th century via central Asia. That's when some missionaries re-discovered the process and introduced it throughout China. During the reign of the 15th century Ming Emperor, Chin Thai, cloisonne production was extremely prosperous, and almost everyone with a higher standing in society demanded these works not only for funeral or cremation urn purposes, but also as everyday decor in the home such as bowls, lamps, or frames. Don't be fooled though, while these pieces were indeed everyday items, they were lavish and elaborate works of art, incorporating sometimes up to nine different colors in a single piece. That may not sound very impressive, but keep in mind that each color was a piece of glass or gemstone that was cut to fit into each individual partition made by the metal wire! The primary characteristic of works created during Chin Thai's rule comes from the fusing of the base color with a special type of blue enamel. As a result, the Chinese word for cloisonne is chng-t'ai-lan ("Ching-t'ai-Blue"). China's dramatic achievements in the cloisonné technique have been attributed to its advanced knowledge of metallurgical technology, such as bronze casting and glass and glaze production techniques, and enameling was quickly applied to this knowledge.
The Cloisonne Process
The process of making a cloisonné piece combines the sturdiness of metal with the flexibility and individual beauty of porcelain or ceramic pottery. In a nutshell, the building process of cloisonné urns involves molding a sculpture out of a sturdy metal, meticulously shaping while attaching flattened wire (usually by soldering) to the armature to create the design, and then filling in the partitions created by the wire with a ceramic enamel. The cloisonné urns are then fired in a kiln to strengthen and set the enamel. Once the piece comes out of the kiln and cools, the whole urn (in this case) is then sanded down to create an smooth even appearance, which also reveals all the delicate lines created by the metal wire-work. Regardless if the artist is making a small, adult, or even companion urn, the result is a beautiful and timeless piece of cloisonné art. No matter the era or purpose for the piece, the cloisonné process has always required great artisan skill at each and every stage in the process. As said before, this unique process alone is enough to make cloisonné urns the perfect artistic memorials to the most special of loved-ones, because an artisan will pour his or her heart and spirit into the creation at hand. Through this special, historic method, cloisonné urns bring a timeless touch of elegance to any memorial display.
Cloisonné urns are commonly found in a vase shape, like that of a traditional urn. With this shape, cloisonne urns allow families to participate in the centuries of traditions that urns have inspired. The traditional urn's shape, for example, has brought forth a number of great literary works, including John Keats's "Ode to a Grecian Urn," which classically relates the unique décor of almost every funeral urn ever made to mankind's eternal struggles with mortality. (That poem, by the way, is said to not be about one particular urn, so it could very well apply to a cloisonne urn as to any other style of urn.) While the most popular styles of cloisonné urns features a traditional vase shape, that is not to say that artists have not expanded the field to include unique shapes, such as the abstract urn shown above, that are then decorated with this time-tested process. Even available are cloisonne keepsake urns, many of which are featured as small, complimentary pieces, to the full-size vessels. The timeless production process makes sure that cloisonné urns are a fine, popular choice for people who want a beautiful, elegant, memorial that will assure a loved-one's memory will last for generations to come.
See all your Cloisonne Urns choices