Back to Info Center
Death Date For Bronze Grave Markers & Headstones

How Do I Add The Bronze Death Date Scroll To My Loved One's Grave Marker?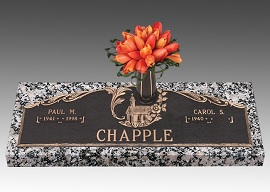 It is common in today's world to purchase and install one's own grave marker many years before death. These headstones typically list the person's birth date, but the date of death is left blank, of course, while the person is still alive. Upon this person's death, family members often wonder how to go about adding the death date. If the grave marker is made of granite, this is just a matter of hiring an engraver (usually available through the cemetery) to bring his tools to the marker and add the date. But if the marker is made of bronze, following another process is required. Below is more information.
What exactly is a Death Date Scroll for a Grave Marker?
A death date scroll is a small bronze plaque that lists a person's date of death. It is manufactured according to the same process used to make the headstone itself and can be made and shipped to a family relatively quickly and easily. Once it arrives it can be easily attached to the grave marker in the place where the death date has been left blank.
How do I get a Death Date Scroll for my Headstone?
Upon a person's death, simply contact any retailer who sells headstones. Internet retailers can be particularly helpful. The company you contact can guide you through the entire process of ordering a scroll, but it's important to know that the first question the company will likely ask is the name of the manufacturer who made the headstone. Scrolls vary greatly according to the manufacturer.
How do I know who the Manufacturer is of my Grave Stone?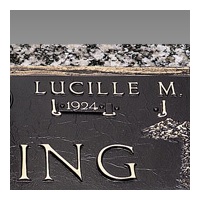 A good place to start in answering this question is with records that may have been left by the deceased. If those are of no help, then a quick inquiry to the cemetery will likely yield good results. Most cemeteries keep good records for the grave markers installed on their property. But if even that fails, help is still well within reach. The retailer you have contacted is mostly likely experienced in figuring out the manufacture named based on clues such as date of purchase and even a photograph of the cemetery grave marker.
What if the Manufacturer is out of Business or can't be Identified for the Gravestone?
The retailer you choose can usually arrange for a scroll to be crafted that will fit your headstone no matter whether the manufacturer is still in business or can even be identified. This will likely be a more complicated (and therefore longer and more expensive) process than it would be if the manufacturer can be consulted directly, but it's important to know that it can be done.
How much will the Bronze Date Plaque Cost ?
Prices will vary according to your needs and the manufacturer. Precise quotations may not be immediately available from your retailer, but, after the retailer has had an opportunity to carefully review your needs, an accurate quote can be made.
How long will this Take?
Again, the process of crafting a scroll varies greatly according to the manufacturer and your needs. Your retailer should be able to give you a reasonable estimate for when you can expect your scroll.
Do I need to Hire an Expert to Install the Death Date Scroll?
In most cases, the scroll simply screws into the headstone and can be installed in a matter of minutes with a standard screw driver. So, you will not likely need to hire an expert for help. And you will likely not even be required to consult the cemetery staff before installing the scroll. That said, if installing the scroll will be inconvenient, most cemeteries will have someone on staff who can do the work for you, and you can usually arrange for the scroll to be sent directly to the cemetery office. It is important to note that this installation work is not at all complicated, and you should be wary if the cemetery (or anyone) asks a large fee for this service.

Click here to purachse my Bronze Death Date Scroll