Back to Info Center
Display Ideas for Pet Memorials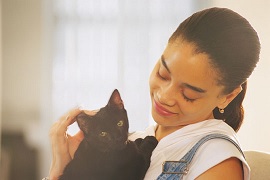 It is not uncommon for individuals to be troubled by the thought of creating a pet memorial. The traditional advice from experts can seem nice at first glance, but, to non-experts - such as family and friends of the deceased pets' owner - the advice can be downright strange. That can leave a grieving pet owner with a problem that he or she did not expect. Someone struggling with sad feelings over the loss of a pet should be forgiven for wondering how to reconcile ideas that most people express about displaying memorials for pets with what experts say is important, and which the person himself is certain to feel is right.
First, it is important to recognize that there is nothing wrong with grieving the loss of a treasured companion. A pet serves as a constant source of positive light in our lives, and provides often provide us with companionship, love, joy, and comfort. They are the ones that we turn to when we feel the weight of the world, and all the stress that comes with it, upon us. Not to mention the fact that they certainly do a wonderful job of relieving that stress, when put to task. For many, a pet is not only a means of amusement, but a true friend, and member of the family. With that said, many grieve the loss of their companion animals, as they would the loss of a person, because that companion is worth just as much to them emotionally. The grief that we feel following the loss of a pet is our body's natural reaction to a devastating event in our lives.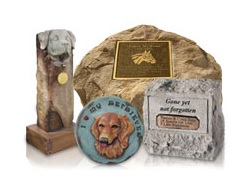 Just what is a person to do when he or she opens a publication on pet loss grief and reads the experts boldly say - as most do - "Do not let anyone tell you to 'just get over it'. Be proud of your desire to remember your pet in style."? That advice certainly sounds reasonable, and it is usually followed by plenty of display ideas for pet memorials: some experts recommend building stylish, cabinet style display cases for pet cremation vessels, for example. These hardwood displays feature frames for precious pictures and a glass, mausoleum style, front. They are designed to be lavishly featured as part of a home's interior design. Still other suggested display ideas involve life-sized ceramic urns that look startling like the deceased pet. These pieces, the experts say, can be elegantly displayed in the pet's favorite corner of a home.
And the same goes for outdoor urns and memorials: plenty of statues and elaborate grave markers for pets can be found on the market to grace any type of backyard setting.
There is definitely no shortage of ideas, or products, when it comes to following the expert's idea that grief over a pet is bet met with a bold, celebratory declaration of one's love for a beloved, faithful friend. But what's a person to do if, as is often the case, his or her friends and family think the memorial ideas from experts are just weird. The experts do not address this idea except to say, in general, "A pet memorial should be a personal expression of a person's love."
This answer often leads only to conflict. It has the tendency to place a grieving pet owner - who is probably already emotionally vulnerable - at odds with the very people he or she needs for emotional support. The pet owner who follows the traditional advice from experts on this topic must, unfortunately, choose to satisfy his or her own desires at the risk of ostracizing himself from friends who are just plain uncomfortable with the idea of many of the elaborate ideas for pet memorials. (Some of the objections, by the way, may be justified from a practical point of view. This is the case, of course, when a person on a small income is tempted to buy an elaborate and expensive memorial.).
So, what's a distraught pet owner to do when, even the expert advice for pet memorials displays can lead to trouble?
Here's a suggestion that many pet owners have discovered works for them - and is even getting a few endorsements from experts these days.
Be discreet about your pet memorial. Plenty of pet memorial products for animals can be found on today's market that do not look like cremation urns at all. Cremation urns can take the shape of vases or other interior decor. Headstones and grave markers can be designed to be subtle tributes to your pet's memory, and they can be installed in obscure parts of a backyard display. (One family reports that all of its pets are buried in a small grave yard behind the family's garage and that no one except close friends knows the grave yard exists.) And even special pet cremation jewelry can be found that discreetly holds tiny bits of your pet's remains. For further privacy, these pieces can be worn only underneath clothing and stored in special lock-boxes in a chest of drawers.
So, the bottom line to these ideas for pet memorials is to follow the expert's advice in one sense: do not be afraid to be bold in expressing your love for your pet. But, so as to protect your relationships with all of the human loved ones in your life, it may be best to simply be discreet in your choice of pet memorials. Simply put, do not be afraid to keep your love for your lost pet to yourself either, as simply valuing what they meant in your life will, often, be the best memorial of all.
See all our Pet Keepsake choices