Back to Info Center
Displaying Pet Pictures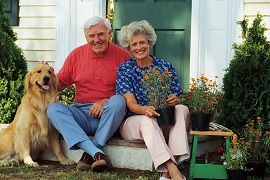 The technology available to us in our modern time is often taken for granted, considering the large strides it has made in a - relatively - short time. In the days of old, a photograph was a treasured luxury, and usually only those of high social standing could afford such a memorialization. Additionally, the cameras of then were slow to capture an image, requiring the subject photograph to hold still for several minutes, and in some cases, even hours! Today, not only are photographs easy and quick to take, but they can also be taken with a variety of devices, such as cell phones, tablets, and even MP3 players, as opposed to the archaic camera. Our cell phones are often the greatest tool of photography for many, allowing us to capture the moment at the blink of an eye, in nearly any occasion. This impressive technology is applied to nearly every use, from capturing breathtaking images of scenery, to important moments of life, such as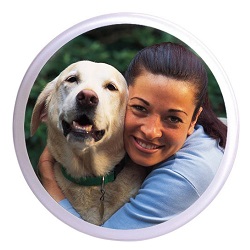 a birth, and even, to photograph the different days and events of our pet's lives. With that said, many a pet owner can agree to the vast amount of photos that we have of our faithful companions, and the importance of those images after they have, unfortunately, passed away. Displaying a pet's pictures is something fun to do throughout the life of your furry friend, but it can be a comforting endeavor after as well, especially when memorializing a lost companion. Fortunately, there are a lot of great ways to display the image, or images, of a treasured pet, in a manner that will bring comfort during, and well after, the mourning period.
Probably the most popular way to display pet pictures today is via the Internet. Social sites such as MySpace.com and Facebook.com provide ample opportunities to share you pictures with close friends and family, as well as the world. Some popular emails have made the rounds across the world in fact, of every day people (like you) simply posing with, or capturing, their faithful friends in strange or just cute predicaments. All this pet picture display opportunity requires is a digital camera or cell phone with a camera (or even just a scanner if your pictures are of the old-days variety), a modicum of computer savy, and little creativity in getting the most interesting shots around. While posting pictures of our pets is fun, and even a hobby for some, creating an album of their images after their passing can be very soothing, in that it allows us to relive the precious memories shared with the lost companion. Sharing the album with friends and family allows them to comment their words of sympathy, which can also be a comfort in that it helps us realize that while the lost pet is gone, they will certainly never be forgotten - not from our memories, or the memories of our loved ones.
Many people today have taken advantage of inexpensive silk screening systems to create t-shirts with pictures of their pets. Chances are strong that your local mall has a shop ready to transfer any color picture of your friend to a beautiful t-shirt or baseball cap for just a few bucks. And, for the profit-minded, there are a number of websites available that allow you to upload your pictures to be displayed on print-on-demand apparel. You can simply snap a cute picture of your wonderful pet, upload it, direct your friends to one of these sites, and everyone you know can then end up buying one of your pet's t-shirts and displaying it for you all over town.
Scrapbooking is not yet quite a lost art, but still remains one of the most popular, especially when creating pet keepsake remembrances for the future. And it's perfect for the pet lover, in fact. Simply head to your favorite hobby store, and they'll get you set up with everything you need to create beautiful lay-outs of the pictures you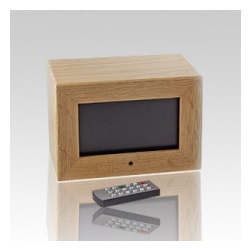 treasure most featuring your great pet. This method of displaying pet pictures is guaranteed to give you hours of pleasure, and then you'll have even more fun sharing your work - and your pet's precious photos - with your family through the ages. Such a remembrance can also help us take a trip down the proverbial 'memory lane', especially when the images are placed in chronological order.
The traditional photo frame can certainly help in creating a heartwarming visual remembrance of a lost companion. There are a variety of frames to select from, some of which feature a remembrance note, such as 'In Loving Memory', to show how truly special that framed image is. There are a variety of memorial photo options that offer the same look of a traditional frame. One of the most popular are the ceramic pet portraits, such as in the image to the left. These portraits create a permanent and everlasting tribute to the lost companion, as they are made of a durable ceramic material, onto which the image is baked on, in layers. This permanent photo is a both elegant, and brings comfort in knowing that the likeness of the lost pet will be preserved for the ages.
Finally, selecting a pet cremation urn designed to feature a photo may just be the best choice for anyone who truly values the importance of a photograph. There is a large variety of pet photo urns, which will feature the image of the pet in different manners. For example, there are a number of wood and marble pet cremation urns that can have the image of the beloved companion laser etched or engraved, directly into the surface of the urn. One of the most impressive cremation vessels that takes advantage of our modern technology is that shown the right, which features a digital frame. The digital frame will display a number of photographs in a slideshow, allowing the family to enjoy all of the precious memories captured in photo, of the lost and cherished pet. There is no doubt that a photo pet cremation urn can help create an unforgettable tribute that will both protect the earthly essence of a beloved pet, as well as share their likeness for all the see.
Whatever you do, make sure all those photos that you and your family have been so careful to take of your beloved little friend get properly displayed. Your friends and family, and everyone else, is sure to get a lot of pleasure from them - as will you - for many, many years to come.