Back to Info Center
Dog Memorials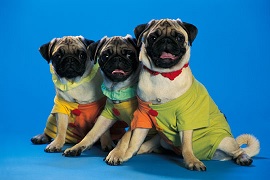 Dogs are definitely called man's best friend for a reason. It is argued that dogs are some of - if not the - first animals domesticated by humans, and the bond that has grown with these wonderful animals since then has only strengthened. Anyone who shares their home with these fun-loving creatures can attest to the palpable bond that we create with them. After a short time, a dog and their human will understand each other on a certain level, which only goes to strengthen this bond through a secret language that only they share. On average, dogs are very empathetic, especially when the pet parent works with them, sharpening their skills of understanding and comprehension through training. The fact that they are very sensitive to our moods, helps them meet our emotional needs. This alone shows how a dog can be a great source of comfort in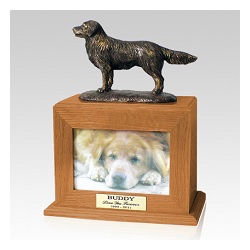 any occasion. In fact, studies have shown that individuals who own dogs tend to have less emotional problems, such as depression, insomnia, anxiety, and even tend to have more regulated blood pressure levels - just to name a few of the benefits of owning a dog. Above all, a dog is a beautiful companion that is there through thick and thin, to whom we can look to and know that we are truly loved. This deep friendship is as ageless as it is timeless, filled with warm affection on both sides. Indeed, man and dog have given each other countless happy times together over the years, but when the time comes to say goodbye to a furever-friend, the loss and grief that we feel can certainly be overwhelming. Many rightly feel the need to commemorate this deeply special relationship between a man and his canine, and there are a variety of ways to do so.
With pet cremation popularity on the rise, a dog cremation urn has become a very acceptable way to allow the dog's humans to say their final goodbyes in a very personal way. Urns for dogs come in a wide variety of options, but each is sure to please. The "portrait urn," (of which there is an excellent example to the right) is among the most stylish - and sought after - of the urns created for our K-9 friends. There are a variety of photo pet urns that will create a befitting tribute to any lost companion, but using these special pieces to display the portrait (or any favorite photo) of the "Scruffy" is always heartwarming. These photo urns will definitely help in recalling memories of when he - or she - tracked mud into the house, chewed his bones to bits, and "led" his humans on walks through the neighborhood, and loved ones are sure to break lose with a smile, even in their grief. Another dog cremation urn, sure to fill the departed's humans with affection is the figurine dog urn. These cremation urns for dogs have adorable dog figurines on top, with a wide variety of options to fit whichever breed the departed canine was. Each will remind owners of how their dog used to sit and wait patiently for scratches on his head. Showing the humorous side of being a dog is the "Fire Hydrant Dog Funeral Urn." If the departed dog could speak, he would want his humans to laugh at the times 'made use of' a fire hydrant, rather than to focus on the sadness of his departure. These dog urns put things into perspective, and are sure to fill owners with appreciation for the time they were able to spend with their dog friends. These are the dog urns of choice for those who thought of their dog as more or less human.
For those dogs who lived for the days they could bask in the sun outside, there are a variety of outdoor pet memorialization options to help honor their favorite passtime. Pet memorial rocks are quickly gaining popularity as they can be personalized with the dogs information, and will hold and protect their earthly essence, for all time. For those who interred their companion, there are a wonderful variety of pet headstones to mark the final area of rest. Many of the pet headstones can even hold a photo, etched into the surface of the stone, to forever preserve the likeness of the lost friend. The sculptural dog cremation pillars, such as that to the right,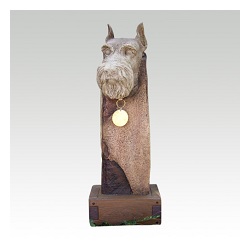 can hold the pets remains, and will be a discreet, yet eye-catching tribute to any dog. These can be placed in the pet's favorite spot in the yard, and will become a settle reminder to the grieving pet parent that their dog may be gone, but will never be forgotten.
As mentioned before, pet cremation has certainly become a sought after form of disposition for many pet parents. One of the main ways that many pet parents honor their companion is to scatter their ashes in a special area. While this is a beautiful and touching way to allow the dog to, once again, become one with nature, it can often leave the pet parent feeling all the more alone, knowing that their friend is forever lost to the tides of our ever-changing world. Pet cremation ash keepsake jewelry is a wonderful way to preserve a miniscule amount of ashes, and create a remembrance that can be held, literally, close to the heart at all times. Others simply mark the pets favorite spot in the home or yard with a simple remembrance stone, which will not hold ashes, but instead, a heartfelt quote or verse. There are also pet benches that will create an inviting remembrance of the dog, and which will allow the pet parent to sit and reminisce of the treasured memories left behind, at any time they feel the need to be close to their lost companion.
These are just a few of the countless ways that a beautiful memorial tribute can help pay respects to a wonderful, and deeply missed, member of the family.
There is a saying goes, "If you want a good friend, get a dog.", and that certainly rings true for many reasons. With seemingly boundless energy, endless wells of love, compassion, and mercy, and a deep seated desire to be of service to humans, a dog may be one of the best friends a human can ever get. While that is true, many of our for-legged friends have their own characteristics, interesting quirks, and definitely, individual personalities, making each companion a one-of-a-kind friend that can never be replaced. This is often one of the greatest reasons that we feel the need to honor their life, and everything that they contributed to ours. With the vast array of dog memorial options, there is a way to create an unforgettable final remembrance of a companion that was nothing short of remarkable. Regardless of which memorial remembrance is selected, it is sure to be a creative, beautiful, and all-around great way for humans to say thank you to their fallen canine friends for a lifetime of love.
It certainly goes without saying that losing a dog, whether the loss is expected or not, can be one of the greatest heartbreaks that pet owners experience. Many can agree that a dog is a truly treasured companion that is often seen as a full-fledged member of the family, and who - subsequently - sees his or her humans as members of their pack. The bond that we create with our K-9 companions, is nothing short of everlasting. It is one of the greatest tragedies that we often do not realize how close we are, and how much a dog does for us emotionally, until after they depart our world. It is not uncommon for those who have lost a treasured companion to feel a strong need to memorialize their life, and for good reason. Creating a tribute to a lost animal friend can greatly help at the onset of, during, and even well after the mourning period that we experience upon the loss of a dog. While there are a variety of memorial options when it comes to creating a last remembrance, dog urns are quickly becoming a very popular way to honor the life of treasured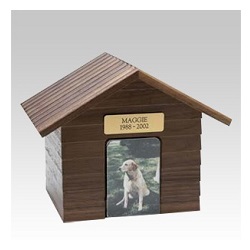 companion. Dog cremation vessels are a part of the amazingly (and for many people surprisingly) large selection of cremation urns available today to help families who have lost a dog to cope best with their loss. Here is just a little information that will be of interest to anyone considering a purchase of a dog urn.
To say that dog urns take a huge variety of forms is a great understatement. These special dog cremation ash vessels are available in just about any size and shape that one could think of. Some of the more popular models are whimsically designed to look like miniature versions of the things all dogs love. Many dog urns are designed as dog houses, others as dog bones, and even some are designed too look like things that are certain to put a smile on any dog lover's face: pick-ups, fire trucks and even fire hydrants. As anyone looking for the perfect dog urn will surely discover, the number of variations available on those particular designs is astounding. Dog urns shaped as fire hydrants, for example, are available in models that are statuesque and elegant looking as well as models that are outlandishly colorful and intricately playful. These playful ash vessels offer an unconventional way to memorialize the life of any treasured dog, and the above-average appeal will help create a soothing reminder of the precious memories the companion left behind, rather than concentrate on their loss. There is truly a dog urn available that will perfectly personify any pet's unique personality, whether the faithful friend be a fun loving, friendly type or a stoic, serious soul.
Many people who have beloved pets are often surprised to learn that dog urns are an option for perfectly memorializing their faithful friend's cremation remains. In a great number of cases, dog owners have never even considered what to do with their pet's remains until the time has arrived when circumstances require that the issue be addressed - one of the reasons it is important to consider pre-planning a pet's memorial. In these cases, the idea of surrendering a dog's body for an anonymous disposal is often too much to handle for a grieving family, so dog urns are a perfect solution. Many veterinarians have dog urns available for purchase at their offices, and that is where a large number of eventual buyers first learn of the option. But, it should be noted that most veterinarians, while they do offer dog urns, are not specialists in the pet memorial field (after all, there careers are devoted to saving animals lives). So, understandably, the selection of dog urns that they carry will usually be much smaller than what is often available elsewhere. For best results in finding a large selection of dog urns that will suit your needs, an online retailer is usually the best idea. Whereas a veterinarian's office may have 10-20 models to choose from, an online retailer that specializes in dog urns will have 100's or maybe even thousands. And, in fact, some veterinarians have been known to take their inventory directly from a specialist's site – and then add a certain percentage to the price so as to secure a profit. In these cases, of course, the customer would have been best served if he or she had ordered the dog urn online himself. In most cases, any online order can be filled in just one or two days, and a dog urn can arrive to any part of the United States in about as long as it takes to arrange and conduct a cremation.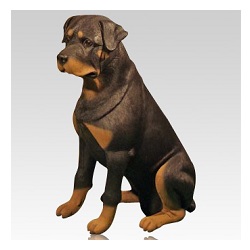 Dog urns are an excellent help for families who are coping with the difficult emotions that come from losing their beloved pet. Experts strongly suggest that feelings of grief and loss over the death of a dog be treated seriously and with respect. Dog urns are an excellent way to do that. Knowing that a special dog – and the all the memories associated with him – will be part of a home for generations to come can be a great relief for anyone who had grown attached to the dog. Experts in mental wellness often recommend dog urns, in fact, as a way to deal in a healthy way with emotions of grief. It's important to acknowledge that losing a dog can sometimes feel as difficult as losing a human relative. Such a reaction is natural, and that's why dog urns offer a natural solution.
One final thing to keep in mind about dog ash urns is that many models and styles are available that will allow families to memorialize their beloved pet discreetly. A great number of dog urns are designed to look like pieces of stylish modern art suitable for display in any setting. With these, often, exquisitely designed dog urns, no one has to know (except those who are eternally devoted to their faithful friend) that the remains of a special dog reside inside. For example, there is a line of 'life like' dog ash vessels that are made to accommodate (and have the appearance of) different breeds of dogs. These cremation vessels hold a large amount of dog ashes, making them ideal for breeders, or other folks who have many sets of ashes of the same breed of dog, but they are also great to create an unconventional tribute to a special companion. These lifelike urns offer a sculptural remembrance that appears as more of a work of art than it does of a cremation vessel, and such an affect will help remind the grieving pet parent that their companion is, and always will be, in their heart and memories.
As stated, dog urns can offer a wonderful solution to anyone who is wishing to pay tribute to their lost K-9 companion. Many are surprised to find that searching for the perfect urn can be as therapeutic as creating the memorial itself, and sites such as Memorials.com help ensure that the perfect urn is just a click away.