Back to Info Center
Glass Blowing

Here is a 101 on Glass Blowing

It should go without saying that we take the convenience that glass products offer, for granted. Glass is defined is a solid, amorphous material that has the ability to change from a soft, almost rubbery material with heat, into a solid substance when cooled, and sometimes back into a soft substance with the re-application of heat, depending on the type of glass. This is because glass has no crystalline structure, as it often is cooled so quickly that the minerals (usually quartz) that make up the material have no chance to form one. This simple material can be used for anything from windows on a house, to jewelry that holds ashes, and of course, household kitchenware, just to name a few. Glass has also provided us the initial ability to correct vision and has countless uses in the medical field. These are just a few examples of how this material truly impacts our lives, and not to mention our collective history. Glass has long been utilized throughout our time, since approximately the middle to late last century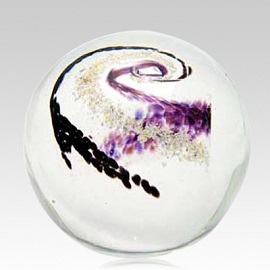 BC. It is a little known fact that our predecessors utilized glass in a variety of forms and for a variety of functions, many of which are still employed to this very day. More over, there are many glass pieces that were created in times past, and survived the harsh elements and centuries worth of time. This alone goes to show how truly resilient this seemingly fragile material can be.
Glass Blowing is an ancient art that continues to be a popular passion across the United States and the world (short video on Glass Blowing). This is particularly impressive, given that very few public schools, and even college level institutions for that matter, offer this course as part of their curriculum. The tools for glass blowing have become slightly more sophisticated with time, but the complex, even dangerous, glass blowing process remains the same as it has for centuries. There are many misconceptions about the process and materials utilized to create blown glass pieces, but the main is the deceivingly common idea that the process is simple. In reality, a trained hand, and eye are necessary to handle, not to mention, form the glass, as well as patience and years worth of experience. One must also be highly knowledgeable in regards to the tools and processes used, as the main tool needed is heat. Because the glass must be molten hot in order to be formed, the glass blower must be very careful and precise with his actions when in the studio. One wrong step could cause the piece to be lost, or worse, serious injury.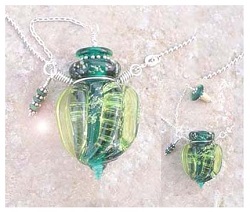 The initial steps in any glass blowing project involve melting glass to a certain degree, inserting a "blower" tube to basically from a 'glob' or ball of molten glass on the end. Once the molten glass is successfully gathered on the end of the blower tube, the artisan begins the process by slowly blowing bubbles inside the gob while it is hot, and allowing the gob to cool slightly, while turning the piece. Once the basic shape of the form is accomplished, the artist can then get to work on shaping the glass and adding any details desired to the piece.
It is truly an understatement to say that this process is much easier said than done. While that is so, a quote from a popular glass blowing website warns beginners: "Glassblowing can be frustrating, but please restrain from angry outbursts or vitriolic tirades. NEVER throw or slam an object in the studio." This leads back to the extreme awareness of saftey that is necessary when working in a glass studio.
As difficult as it is to master, glass blowing, in even the simplest piece done by a novice, is simply magical, which, perhaps, has helped this archaic form of art has live on. At first glance the precision of a high quality blown glass piece seems as if it must have been made by machine. Be it extremely fine details in the glass coloring, or immaculate shapes and forms,the natural luster of the material itself allow glass works to be considered true masterpieces. This just part of the magic of glass blowing, and often, the beauty of a piece often amazes even the artist who brought it forth.
Another feature of glass blowing makes the art a perfect fit for a new idea in memorials. Glass has long been used as a material for traditional cremation urns, but it is only relatively recently that artists have begun creating memorials with cremation ashes included in the glass. This new idea often strikes people as being inventive, unique or even "strange", but, on further analysis, it's actually quite comforting. In fact, many are often pleased to find out that when cremation ashes are mixed with the glass, they are forever encased, or infused, into the material. More over, smaller pieces, such as pendants, beads, or even glass cremation art, are often very resilient, and can last for decades or longer, when properly handled and cared for. For more on the use of glass in the form of ash vessels, the Glass Cremation Vessels article has a lot of useful and interesting information.
Some even consider the use of glass to create permanent memorials to be more natural than utilizing other materials. Glass blowing is an art that has been practiced since the day, as legend has it, a group of Ancient Phoenician sailors accidentally discovered glass while cooking on a sandy beach. As those adventurers found, glass itself is formed of natural elements: sand, plant particles and lime. So, it only is fitting that such a natural substance that is molded by such an ancient process would be home to something as sacred and as natural as cremation ashes. The eternal, even Godly, nature of this combination can be considered poetry in itself.
To create a glass blown piece that include a bit of cremation remains, an artist simply rolls layers of hot glass into a sample of ashes before the glass is shaped. The ashes then become, well, one with the sand and other natural elements that have formed the glass. The piece is then rolled in an additional layer of glass, permanently capturing the remains. This even helps brings a brand new meaning to the phrase "Ashes to Ashes …"
A limited amount of research on this topic shows that this idea of adding cremation ashes to molten glass is, indeed, relatively new. But, technically speaking, it could have been done hundreds, or maybe even thousands, of years ago. Such a fact makes it unique in the realm of modern innovations. That's just one more amazing, dare say spiritual, thing about glass blowing.
Because of the advantageous nature of glass, we now have an entirely new form of creating breathtaking remembrances of those we have loved, and unfortunately lost. This is one of the main reasons why we at Memorials.com have compiled an impressive collection of glass pieces to forever capture, and honor, the memory of a loved one.
See all your Cremation Art choices