Back to Info Center
Cemetery Benches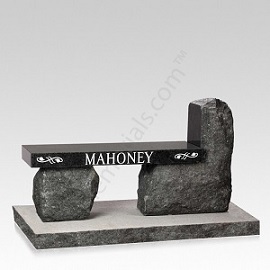 Some believe that that a cemetery is probably the most peaceful spot in any city. These areas of rest simply demand the respect and dignity that, often, only silence can offer. Whereas in the days of old, the memorials placed in the cemetery were plain, often upright grave markers or headstones, cemetery benches are becoming more and more popular, especially to commemorate the lives of those interred in family plots. Just like modern grave markers, these elegant memorials can be personalized with just about any information, and even image etchings in some cases. While now in days individual families usually take advantage of the these elegant memorials, in the days of the past it was usually cemeteries who selected the granite benches, which were then installed in locations that, as the website of the Veterans National Cemetery in Northern Virginia says, they felt take advantage of views or vistas and/or established spots for meditation.
Initially, however, granite cemetery benches were mostly often found in the common areas of a cemetery, such as the areas between private grave plots. These benches were meant to pay tribute to anyone in specific, but instead to provide a small area of rest and reflection. Alternatively, many were often donated to the cemetery by civic organizations or others with an interest in helping maintain a beautiful landscape at the cemetery. The benches that were donated were usually adorned with engravings paying tribute to a particular person, while those purchased and placed by the cemetery were not personalized. They were simply beautiful pieces of sculpted granite designed to enhance the landscape beauty of a cemetery. Regardless if the bench was personalized or not, these stately pieces soon became popular for their majestic appearance, and commanding presence, and families quickly began to utilize them to memorialize their legacy.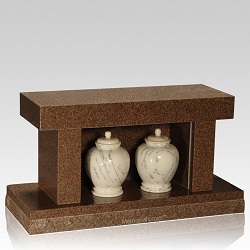 Today, granite cemetery benches are more often seen as part of family memorials, especially when they are placed in the cemetery. Families will often buy a series of cemetery plots and then work with cemetery planners to use granite cemetery bench to connect all the plots visually, in an elegant landscape design. One of the most common ways a family can do this is by purchasing grave markers that feature the same stone color as that of the bench, so the single bench ties all of the plots together. With the elegant variety of granite colors available today, anyone is sure to find the ideal color that will not only stand out in the landscape, but also create an exquisite memorial tribute. On the other hand, one of the most recent design changes to granite benches is to feature a section, either a support or similar part, that has a hollow chamber, in which cremation urns can be stored. These amazing granite benches then act as both memorial tributes as well as long lasting tombs that hold and protect the earthly remains of the deceased.
That is not to say that granite benches are only acceptable or placed in cemeteries. Families can, and often do, install granite cemetery benches in locations other than cemeteries. Granite benches can make gorgeous center pieces for memorial displays at residences, or even in public areas such as parks or on the grounds of large institutions, such as colleges or corporations. With the variety of bench sizes available, there is certainly a bench that will fit into any area to help create a welcoming and peaceful atmosphere. No matter the location, a simple granite bench can certainly make for a beautifully touching tribute.
As with so much else in the memorial products industry today, the sky is the limit when it comes to the design and function of granite cemetery benches. The benches are available in a huge variety of colors of granite, and the variety of ready-made designs available today is astounding. Granite cemetery benches can all be personalized with luxurious custom engraving, and many can even be custom designed. It is interesting to note that while the methods for creating the benches has certainly evolved, the same steady hand and artisan skill is necessary to personalize the benches. The tools utilized today give the ability to create virtually any design, but a technician must still go through and actually sand-blast, etch, or engrave the bench after the machinery has produced the stencil to use. This careful attention to detail is what ensures that the bench produced will not just be any old monument, but a true memorial that is crafted with a passion for creating elegant, long lasting, and breathtaking tributes, which can help properly celebrate a life well lived.
Many families enjoy adding these beautiful, yet functional memorial tributes because they help create soothing settings that are both welcoming and dignified, especially in regards to what the bench is dedicated to. The granite stone that is used to create the benches ensures that the memorial will be as long lasting as it is elegant, and of course, durable to withstand any weather. A foundation is usually placed below the bench for support, and to make sure it will not tilt overtime, but also available are bases that are crafted from the same granite type as the bench, which helps not only tie the piece together, but gives an overall look of neatness.
Whatever your choice, and purpose, of your cemetery bench, it is important that, before you buy, you check with your cemetery or other relevant landowner to make certain your plans are acceptable. Some cemeteries have strict rules regarding granite cemetery benches and, simply that a certain style or type of bench is available does not guarantee that it will be acceptable for your cemetery planner. As said before, cemeteries are possibly the most peaceful areas in any city, and granite cemetery benches certainly help to make that true.