Back to Info Center
What to Engrave on a Cemetery Grave Marker
A Hard Question is What Do I Put on a Grave Headstone at the Cemetery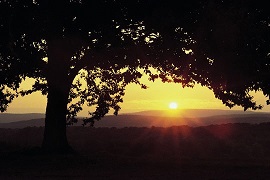 When a loved one dies, a grave marker is usually considered a mandatory part of the memorial plans. (Although it is important to remember that it is not actually mandatory. There are plenty of other options available for remembering a family member over the course of decades. Those options are best suited for another article, however.) But deciding what engraving to include on a grave marker can be a daunting task. Here are a few ideas that will help with that.
Who Will Make the Decision what to put on the Cemetery Headstone
The first thing a family should do when deciding what to include on a grave marker is to remember a lesson from the world of journalism: this is not a job for just one person. While the temptation may be strong to appoint one member of a family to come up with the content for what will appear on a grave marker, this has potential to be a mistake – just as it would be a mistake for a newspaper to allow an article to be written entirely by a single reporter, without any assistance from editors.
The best way to create high quality content for a grave marker is to appoint a single person to design what others will approve – and contribute too. A group of family members should gather to discuss memorial ideas, the appointed writer should take plenty of notes and then create a design, including the appropriate words, that will capture everyone's ideas best as can be. The family should then meet for a second time to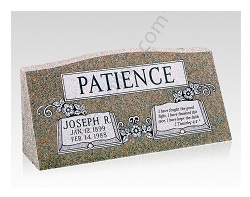 discuss the designer's concept, which should be approved unanimously by all family members with an interest before it is submitted to an engraving company. Multiple family meetings may be needed to assure that the grave marker will look and read as everyone intends. Meeting more than once or twice should not be considered as a negative. In fact, it may very well be a sign that a family is communicating very well.
What are The Basics for the Gravestone
What to include on a gravestone is limited only by one's imagination and, perhaps, by space on the marker. But, that said, there are a few basic elements that most families will be sure are included on a marker. It is important, for a variety of reasons, to make sure these are included in your design. Alas, there should be no concern on this. Including these elements will likely be considered common sense.
Most grave markers will likely include the complete legal name of the deceased and his or her dates of birth and death. If the deceased was known by something other than the legal name, a well designed grave marker will include that name as well.
Including an engraved emblem of some sort – or even an engraved replica of a special family photo – is also considered part of the basics of a grave marker. This part of the basics, however, is optional. Many well designed, beautiful memorial grave markers are still manufactured today without these features. But, the relatively inexpensive price of adding an emblem or photo to a grave marker makes this option available to just about anyone who is designing a marker.
The final part of the basics is an epitaph, a few words that capture the deceased's entire spirit. This, again, is an optional part of the basics, but most grave markers produced today have plenty of space to include such a line. We move on to more about epitaphs in the paragraph below.
Epitaph Ideas for My Grave Stone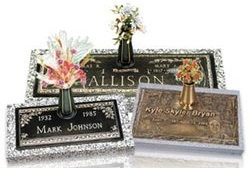 Epitaph's are usually short phrases that capture the essence of a person's entire life. There are many websites that offer sample epitaphs written by professional writers. Families trying to decide what to say in their loved one's epitaphs should consider consulting one of those sites. A simple web search for epitaphs will yield dozens of examples. Most of these sites offer this important piece of advice, however: do not copy the epitaphs verbatim for use on your loved one's grave marker. It is unlikely that something written by a person who has never known (much less spoken to) your family member will be sufficient for your family's memorial. For best results, use pre-composed epitaphs as a guide for you own. Adding your own twist to the ideas put forth by the professionals will result in a grand memory for your loved one. We have some Epitaph ideas for your cemetery grave marker.
If you have consulted several sites that offer epitaph samples and still cannot decide on a good epitaph for your loved one, the next best place to consult is a Bible. Scripture is filled with many famous lines of 20 words or less that will make for excellent epitaphs. If you need help with this, an appointment with a pastor in your neighborhood will likely be all that is required to set you on the right track.
What Not To Include on a Grave Marker
Experts in designing headstones will point out that an epitaph is generally not a good place to mention a corporation or an athletic team. Even if the deceased was a life-long fan of, say, the Dallas Cowboys or the Ohio State Buckeyes or Taco Bell, there is usually much more to a life than that. Care should be taken to focus a grave marker's design and contents, strictly, on the life of the one who is to be memorialized. It is important to remember that this marker will serve as the permanent record of the deceased person's life. Promoting a group that could be defunct within a few years of a person's death is hardly a wise thing to do on a grave marker.
In general, deciding what to engrave on a grave marker is a decision that should not be taken lightly. Families should be willing to discuss this matter in depth before making a final decision, and rushing should never be an option. For best results, everyone now alive should consider designing his or her own grave marker and sharing the design with family members well before it will be needed. Such an exercise may appear morbid at first glance, but, many who have done it report that it can be a therapeutic experience, and it certainly is helpful to assuring that one's legacy lives on for the centuries exactly as he or she intended.