Back to Info Center
Headstone Engraving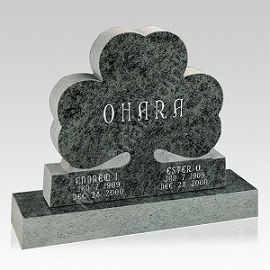 Personalization of headstones has been very important throughout the history of man-kind. There are very few cultures, such as Celtic cultures, that did not personalize the marker for the grave of their dearly departed. For the most part, the grave markers or headstones are personalized not only with the person's name and date of birth and passing, but also with a short story, verse, or even prayer, that gave an idea of the life the person lived. It is very important for us to leave some record of our lives, not only for our own peace of mind, but for generations to come to be able to know about their ancestors, and for human history all together.
Below are a few things customers should consider about headstone and gravestone engravings and the purchase of a headstone. (We will add tips to this list from time to time. Please let us know if you have any suggestions to include.)
Adding a Death Date to a Headstone: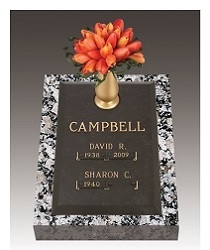 We have always felt a strong importance for marking when we arrived in this world and when we leave it. Even when grave markers first began to be more personalized, dates were often seen as an important piece of information to note. This actually stands to say a lot, as in the earlier years of the memorial industry, it was not custom to highly-personalize a marker, but again, dates were always present. Dates are a crucial piece of information seen on almost all grave markers, and those that are needing a final date can be accomodated with the addition of a gravestone date plaque. Dates can be added to a marker in almost any format requested. From year dates only, to completely spelled out dates, or even with additions such as the place of birth and place of passing, this information will be pertinent to our future generations, for them to know when we lived and, to be able to see how our lives were in that time, if they decided to do further research. The information collected from headstones throughout history not only gives us insite to the ways of life of that time era, but can provide valuable statistical information regarding the people living in any certain area or region of the world. Also, on a more practical note, dates on a grave marker always intrigue those who are passing through, especially for older markers. Just being able to think of what we know about a certain period of time, we immedialty associate the person with that time era. This is a way that we could even feel close, in a way, to the deceased, even if you had never met them. There are even some people who make a hobby of creating rubbings of grave markers or headstones, and usually they seek out those with older dates, as they are of greater interest to these hobbyists.
If you have purchased a pre need headstone, we recommend you do one of the following:
If it is a bronze headstone, give your family the receipt and instructions to contact us with your death date. (We make the process of purchasing the additional date (or information) plaque as easy as possible.)
If it is a granite memorial, tell your family to contact a local monument engraver to add the death date when the time comes. Your cemetery should be able to recommend a local engraver.
Choosing a Grave Marker Design:
The border design of the marker can also be used to help depict the life of the loved one for whom the marker is for. Did the person like a certain flower, such as dogwod flowers or roses? Did they enjoy outdoor activities, such as hiking through a forest filled with evergreens? Or perhaps they lead a simple life, which would be perfectly depicted by a simple polished, or even wood grain border. When deciding exactly how the design of your headstone should look, carefully explore all of our designs while keeping in mind the person's interests and hobbies. The basic design can not be changed but with emblems and personal words and text you can customize the marker to the fullest.
Arranging the Text on a Design: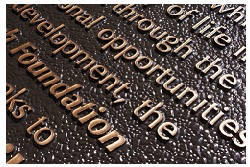 While pictures may speak volumes, nothing carries a message across more clearly than the written word. Adding a person's personal catch phrase, a religious verse or psalm they found great comfort in, or even a line from their favorite book can add a lot of character to the tombstone and give a better glimps at what kind of person they were. Again, while the basic look of a design cannot be changed, the arrangement of text (as opposed to border graphics and designs) can usually be customized to suit specific likes. If you have a specific idea of how you would like the written information laid out on the stone, you can note the request on the order in the Special Instructions field. You are always able to adjust or remove any information on the first layot of the marker, if it does not turn out as expected. You have a choice of adding an addition of a vase, a personal emblem or a ceramic picture which will make the headstone more personal. There are even certain emblems, such as banners or ribbons, that can be personalized with a small amount of text. A very good example that is quite popular on the companion markers is a ribbon featuring wedding rings, onto which you can add the date of marriage, or the amount of years the couple was married. Wether on an emblem, or in the body of the plaque, personal text always adds a touch of personality to the headstone, and others may find great comfort in the message the headstone is carrying across. For those that are still a little unsure of what text can be added to their memorial, the Headstone Epitaph article provides several different ideas or that can be used for the memorial, or simply as inspiration.
Checking your Layout Proof:
You will receive two free proofs, also called a "layouts", of your marker. The gravestone layout is a scaled-down drawing of what the headstone will look like, for your review and approval. If there are any changes that need to be made, they can be submitted as a response to the first layout, and would be depicted ont he second layout, so long as the designer can accommodate the requests. You will recieve the first initial layout after we receive the cemetery's approval for your marker, and the second layout is only generated if changes are submitted for the first layout. This service is not provided by most headstone dealers. We strongly recommend that you carefully look over this proof before giving your formal approval of the headstone. Once we receive your approval of the layout for your headstone, the headstone would go into production. Once in production, no changes can be made to the layout of the headstone.
Lettering in a different Language:
We are able to accommodate some different lanuages on the headstones, but not all. Most English-related languages (where the lettering is the same as the letters of the English alphabet) can be added without any issues. For example, we have had many requests to add a Spanish or German sentence to the grave marker. Additional lettering in those languages are no problem and we can usually accommodate those additions without any extra charges (if the additional lettering is less than 25 characters). For foreign lettering where the letters are not similar to those of the English alphabet, we recommend contacting our office to make sure we can accomodate that lanuage on the gravestone, and to see if there would be any additional costs for adding the verse in said language.
See all your Headstones choices