Headstone Materials
What is the Right Choice to Protect Memories for the Ages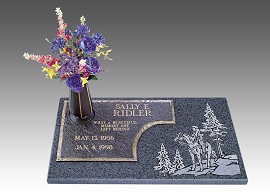 Headstones are probably one of the oldest of all burial traditions. For centuries, people in nearly every culture of the world have used headstones to mark the graves of loved ones. Today's headstones are typically small rectangles placed at the head of a grave, but historically headstones have come in all shapes and sizes. In some cultures, for example, the headstones were flat or flush, and covered the entire length of the grave (also known as full ledger memorials), whereas in others, the headstone was a large monolith that took up more room vertically. Headstones typically are engraved with the name, the birth date and the death date of the person whose grave they mark, as well as a short verse or prayer, and they are made of long-lasting materials such as bronze or granite, or a combination of materials. The aim of all headstones, no matter what the size, shape or material, is to memorialize those whose graves they mark for many generations to come. For a more in-depth look at the history of the usage of a marker, please see the Headstone article.
Headstone Materials: Bronze and Granite
Headstones are always manufactured with the intent to withstand the elements for many years (even centuries). The two most common materials for headstones today are granite and bronze. While most headstones are made of granite, bronze has become quite a popular option for memorial use in recent years. Granite only memorials are a staple in most traditional burials, as the stone is not only long lasting but offers a large variety of color and pattern options, and takes very well to personalization. Bronze is quickly becoming a good runner up in the market as it is a very beautiful yet durable material as well, that also offers a broad variety of options for personalization.
Granite Headstones: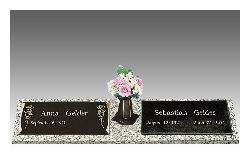 Granite Headstones have been made for centuries, and granite continues to be the most popular material used today to make headstones. People began using granite for memorializing their loved ones around the mid-19th century, as they found other stones being used, such as marble and sandstone, were too soft and would weather very quickly. Granite not only withstands the elements and hold's its form, but also (and more importantly) retains information inscribed for a lot longer than its softer-stone counterparts. Granite has long been known as one of Earth's most elegant natural stones because of the variety of colors and patterns it is available in, and accordingly, has been used to build - aside from countless numbers of headstones and tombstones - many of the world's most elegant structures. Artists and architects from most of the world's most famous cultures (the Ancient Greeks and Romans, to name just two) have used granite in their timeless and well-known creations. Besides being elegant and beautiful, granite is one of the hardest natural materials in the world. Granite is an igneous rock that forms deep in the Earth's crust, as magma cools into the crystalline structure that makes up the granite stone. The granite is then pulled from quarries, which are locations where the granite is naturally found. Workers pull large blocks of granite out of those quarries using a variety of techniques, from drilling to blasting to sawing. The blocks are then sent to factories where they are cleaned, polished and shaped for any number of purposes, including, of course, headstones.
Bronze Headstones:
While a granite gravestone remains the most popular today, bronze headstones are also becoming very popular as a material for memorial markers. Bronze is an alloy made of a mixture of different metals, mostly copper, with additives such as tin and zinc. Bronze is an incredibly sturdy metal that has been in use for everything from weapons, to statues, to tools since at least 2000 B.C. In the last two centuries, it has gained extensive popularity, because of its ability to withstand the elements, as a material for headstones. Bronze is also well known as a very versatile material that is typically poured, in its liquid state, into a mold that is of any shape or size that the artisan needs or desires. Bronze headstones often have a granite base, and the two materials combine to make cemetery maintenance simple. For the most part, families have been able to preserve the elegance of the bronze on granite memorials for years by gently brushing or wiping away any dust or debris that may collect on the stone. There is usually no need for cleaning with any type of abrasive or dangerous chemicals, or special tools for that matter, although more extreme cases where the bronze is very weathered (over the course of many, many years) may require 'refinishing'. Bronze headstones are a specialty of Memorials.com, and we strive to meet your headstone needs. It should be noted that all of the adult headstones Memorials.com sells are available with a bronze vase - for an extra charge - if the customer desires one.
See all your Headstones choices