Back to Info Center
Headstones for Pets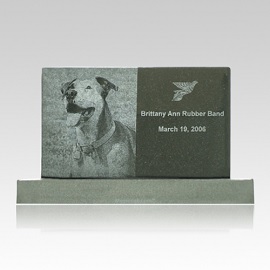 It is not uncommon in our day to hear of individuals referring to their pets as their 'best friends' or even 'children'. While some, especially those who do not own pets, may think this a little far-fetched, even silly, anyone who has had the pleasure of sharing their homes and hearts with a companion animal can attest to the strong bond that is often created with them. In our day and age, it is not uncommon for many to spend their entire days away from home, handling the daily tasks and chores that accumulate. Often, it can feel as if we have barely a spare moment to catch our breaths, let alone get together with new and old friends to maintain those relationships. Moreover, the days when families lived in close quarters is all but gone, and many find themselves, and their families, spread across the country, or even the globe. This, especially, can make maintaining relationships all the more difficult. This all just goes to say how it can be difficult to preserve the same level of human bonding as before, as with the constantly evolving world and luxuries brings more responsibilities into our lives. Pets can help fill in that void of companionship in our lives, and can bring a little zest in the form of love and laughter, to our otherwise mundane daily lives.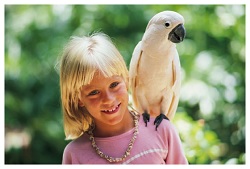 While it may seem somewhat strange to create such meaningful bonds with animals, it is certainly not unfounded. Pets become valued members of families because they bring so much to the table, so to speak, and in their own way, pull their weight. While, admittedly, it is a huge responsibility to care for, or in other words 'own', a pet, they more than reward us in relentless love, joy, and above all, comfort and companionship. What is more interesting than our dependability on pets, is their response to our needs. A pet can be very empathetic, picking up on our mood almost instantly, and in some cases, better than a person usually can. This is especially noted when they comfort us in a moment of despair, which is what, often, helps enforce that dependability on them. Many find themselves turning to the company of their beloved companion regardless of mood, as their simple, silent natures can be a wonderful and stabilizing influence on our own outlook. We often come to rely on that comfort, and look to our furry (or scaly) friends as true 'members of the pack', and above all, cherished friends. With that said, it is not unfathomable to recognize the void that would be felt upon the loss of a treasured companion, and the grief that would accompany that loss. Pet loss is often not given the respect it deserves, but that does not change the fact that it is our body's and mind's natural reaction to loss, and more importantly, that we must acknowledge the loss in order to properly heal.
The close bonds that we develope with our pets, while more bashed now than ever, is not something that is a result of our modern age. Pets have long been beloved companions, and earned their right as members of many families over the ages. This is obvious with the many pet cemeteries that are scattered across our country, some of which are noted historical landmarks. Here is a quick look at some of the highlights of the history of the idea of establishing headstones, or memorials, for pets.
Headstones for pets became popular and fashionable in the 1940's when "pet cemeteries" first began sprouting up across America. The first headstones for pets were pet cemeteries in New York that were devoted to the burial of dogs that were considered heroes of World War II. Dogs that had served soldiers faithfully (or in some cases were credited with saving soldier's lives in one way or another) were memorialized with often elaborate cemetery sculptures serving as headstones, and the idea quickly took root across America. Soon families all across America began searching for ways to memorialize their own beloved pets with a headstone and a cottage industry sprang up. Today, at least one pet cemetery can be found in or near just about every large city across America, and plenty of dealers offer pet headstones and other types of pet memorials. In fact, many companies in the death care industry for people have developed entire second branches devoted solely to memorials for pets.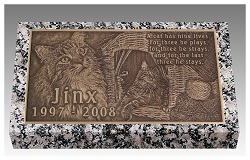 One of the pioneer projects in the tradition of pet cemeteries and pet headstones is at the well known Presidio of San Francisco. This military outpost has been turned into a National Park in recent years because of its historical value, and visitors to the park are often surprised to find a fairly elaborate pet cemetery filled with pet headstones that pay tribute to the cherished animals belonging to the families who were once stationed at the presidio. This particular cemetery is no longer open to new graves, but it is maintained by the United States National Park Service. While members of Congress have occasionally questioned the value of maintaining the pet headstones at taxpayer's expense (Congressman John Duncan asked voters printed pictures of some of the headstones in a campaign flyer in 1994 with the caption, "Is this your idea of a national park?"), no organized group has yet mounted a significant drive to stop the maintenance or insist that the maintenance must pay for itself.
San Francisco, curiously, is also been the scene of another controversy over pet cemeteries and pet headstones. A large private pet cemetery that houses the remains of over 16,000 pets has recently notified more than 1,000 of the families who have pets buried there that their pets' graves must be moved. The graves are on land that the cemetery was apparently simply leasing, and the land-owner now has other plans for the property. The situation has sparked outrage among families across the city who say they were never told that their pets were resting on leased land and that there was a possibility they would end up being relocated. Many of the families say they have installed very special pet headstones on the property and moving those pieces will be impossible or impractical.
So, pet cemeteries, while beautiful and interesting places to visit, have an interesting – and at times even controversial history. While this is so, it still does not deter individuals from seeking new and impressive ways to commemorate the lives of their lost companions. Regardless if a pet memorial is placed in a cemetery, or simply in one's back yard, it will honor and preserve the memory of a truly remarkable soul.