Back to Info Center
The Rich History Of Bronze Statues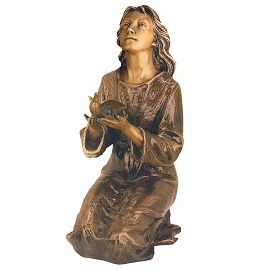 Bronze sculpture can often be seen adorning the front of commercial buildings, showcased in the center of a park or town square, or set in areas to commemorate important events in history, bringing people and scenes of times long past to life in a way that very few other mediums can. The resilient material itself is what makes these form of art truly unique, in that it begins its life with a warm, enriching glow, which eventually gives way to the deeper tone with patina accents that aged bronze is famous for. Moreover, bronze allows the sculptors to create astounding works of figures in action, most impressively in stances that seem frozen in almost mid-air, in a way that other famous sculptural materials, such as marble, simply cannot. These pieces can certainly be eye-catching, to say the least, but have you ever stopped and wondered how these, often, larger than life sculptures got to their final destination, and more importantly, how they were made? It can be said that we take for granted the elegant beauty that this gorgeous metal brings forth in the form of three-dimensional art. The process involved in creating these wonderfully elegant masterpieces is very arduous, matched only by the labor, time, and expenses that go in making them.Creating these wonderful pieces can even be dangerous, as the material must be molten using extremely high temperatures, in order to be utilized, so to say that a bronze sculpture is dedicated is saying the very least. Indeed, it takes true passion, talent and love for the art to dedicate ones life to working with bronze. The bronze statues article offers more information on the actual process involved with creating these amazing pieces. Additionally, more information on how bronze was utilized in different parts of the ancient world can be found in the 'A Brief History of the Art of Bronze' article.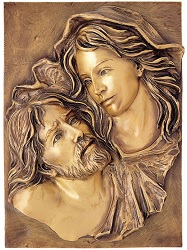 Many historians believe that the bronze alloy was most likely discovered by accident sometime before 3,000 BC. Prior to that, around 4,000 BC, people living in Mesopotamia (the Near East) were mainly using three types of metal, which were gold, silver, and copper, for a majority of their needs. Copper was probably the first metal used for industrial purposes, such as making weapons and tools. Copper was preferred for these functions, as it could be hammered into various shapes. However, like silver and gold, copper becomes brittle after some amount of hammering, so working with the metal over extended periods could certainly prove to be a challenge.
About 3,000 BC the people of Mesopotamia began to use bronze, while the Egyptian civilization continued to use copper in the way described until around 2,000 BC. One of the main reasons that the Egyptians did not use bronze as early as others is most likely due to the fact that there was virtually no tinstone available in Egypt. Around 3,000 BC, metallurgists in Mesopotamia discovered that if they added a small amount of tin ore to the copper ore during smelting, the resulting metal was harder and thus more useful than either tin or copper alone. Unbeknownst to them, the had created the alloy bronze, ushering in a whole new form of metal to meet countless demands. The creation of bronze quickly progressed, as they discovered that the addition of the tinstone reduced the temperature required to melt the metal and, once melted, the bronze was more fluid and easier to cast. The first examples of bronze used in any quantity or form have been found in the tombs of Sumerian kings who ruled in the lower Mesopotamian Valley. With increased trade in the eastern Mediterranean, this bronze technology eventually made its way into Egypt, who began to incorporate it in a limited way, by around 1,500 BC. While evidence of bronze-work was discovered around this time, bronze was not commonly used in Egypt until about 1,000 BC.
An Egyptian tomb painting from about 1,500 BC shows a scene of a foundry where bronze doors are being cast. This particular scene is very interesting in that, amazingly, several important parts of the actual casting process are depicted. Jumping 1,000 years ahead in time, the scene in the sixteenth century BC Egyptian foundry can be compared to and contrasted with the Greek foundry scene found on the sixth-century BC Berlin Foundry Cup. In the scenes on the Berlin Foundry Cup, there are workers in a bronze workshop, shown in the various stages of creating bronze sculptures. On the alternate side of this piece, there are other workers are performing the finishing touches on a very large bronze statue of a warrior hero. These archaic depictions of times past provide great knowledge, not only of these lost civilizations, but of how the process of working with bronze has, and has not, evolved.
For about 2,000 years, from around 3,000 BC to 1,000 BC, bronze was the most important metal used for industrial purposes. Although the use of iron made tools began to increase after 1,000 BC, in the Roman world, bronze continued to be an essential medium. Like the Greeks and Egyptians before them, the Romans used bronze in numerous ways. Roman cooks used bronze pots and pans; some furniture was made of bronze, as were buckles and brooches for fastening clothing and belts, and bronze armor and other equipment was used by Roman military personnel. Additionally, in private homes and gardens and in public places, like the Roman Forum, bronze figurines and statues of gods, athletes, heroes, and government officials were ubiquitous. While bronze work and sculptures were prevalent during this period, it is important to not that, unlike their natural-stone counterparts, very few of these wonderful works have survived the ages. The reason is not necessarily that the material could not stand the test of time, however. In fact, many historians believe that eventually, bronze artwork that had no functional purpose was melted down to be used for tools and weaponry, especially in times of war. Additionally, other pieces that were not well guarded may have been stolen and melted down, as the bronze material proved to be very valuable.
Bronze-working generally became associated with statues of gods. It was discovered that Ceres was the first image cast in bronze in Rome....The art then passed from representations of gods to statues and likenesses of men in a variety of forms. Over time, the methods where perfected more and more and the finishes changed some. Overall the same techniques used to create bronzes are applied today as they where in the old Roman days. The elegant bronze statues offered today are certainly created with the same artisan skill and precision, bringing not only a touch of our collective history, but also beauty that was revered in times long past, to our own era.
See all your Bronze Statues choices