Back to Info Center
The History of Caskets

Where do Coffins and Caskets Originate?

Caskets have been used in one form or another for almost as long as mankind has roamed the Earth. While today's caskets are usually made of heavy steel or hard woods, history alone has proven that they can be composed of a wide variety of materials and take on a variety of forms. The website of Batesville Caskets, one of today's leading manufacturers of caskets, and also the first to produce steel caskets, outlines some of that variety: In about 695 the Celts created caskets out of simple flat stones that were held together in the shape of a box. In about 1066 Kings and noblemen across the world were buried in luxurious, bejeweled caskets. The Vikings of about 900 AD has maybe the most unique take on caskets that history has to offer. As part of the Viking funeral, they turned ships and boats into large caskets upon which they would set fire and then set sail to burn at sea. While these caskets are all quite interesting, they are outshined by the most famous 'coffins' of all, the Pyramids of Egypt, specifically the Great Pyramid of Giza, which is thought to be commissioned by the Pharaoh Khufu, as a tomb. Now in days, it goes without saying, that caskets have taken on a much more simple appearance, compared to some of the more famous coffins of earlier years, but while that is true, they are definitely more decorative than those that become common during the Industrialization Era.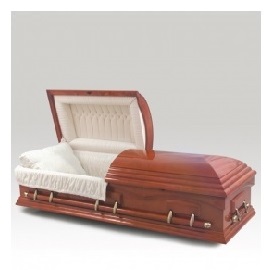 The first predecessor to the elaborate steel caskets that are probably most commonly used today came in 1848. "Fisk" caskets were among the first airtight, metal caskets ever sold. That change in the manufacturing of caskets was part of a gradual modernization, which culminated in 1885 when legendary general Ulysses S. Grant was buried in a metal casket with a full plate glass top. While wood caskets were the most popular, and for a long while the only available, steel caskets became common throughout the 1800's, and eventually outsold their wood counterparts. Interestingly enough, one of the main reasons, some believe, that steel caskets so rapidly outsold wood caskets is that many were under the impression that because steel could be sealed better, it preserved it's contents much longer. This turned out to be incorrect, and experts later found out that the better sealing of the caskets actually, in some cases, prompted quicker decomposition than a wood casket would. It was a while before this fact came to the surface though, and steel and metal caskets, for a long time, quickly and easily outsold wood coffins.
Today's caskets continue to be made mostly of steel, but with the rise in popularity of cremation, caskets made of combustible wood have also become very popular. Cremation caskets are special versions of traditional wood caskets that are made of only combustible materials. While they are commonly known as cremation caskets, these caskets are also commonly used as part of natural burials, also known as a green funeral, in which the casket is still interred, but with the intention that it will completely biodegrade over time. This is very different from the earlier hopes that the person would be preserved as long as possible, and many environmentalists feel this is even a better alternative for traditional burials, as it reduces the amount of non-biodegradable materials that are interred into the earth. Today's caskets still follow the traditional rectangle design and are still designed to be as airtight as possible. (Since their beginning, a chief aim of caskets has been to preserve a body for as long as possible. Scientists have recently discovered, however, that bodies in airtight caskets tend to decompose more quickly than those in more open caskets.)
Variations on the traditional look are also becoming more common. Caskets have been known to come in some very offbeat shapes and designs, and some even are highly personalized with photographs or scenery. Some caskets have been shaped too look like large gym bags, and even guitars, while others caskets have been painted with tropical scenes, sunsets and sea shells. Some designers incorporate graphic arts to personalize these caskets, which results in a piece that offers a traditional shape, with a breathtaking appearance. We oursevles, for example, offer a whole selection of these personalized caskets, which feature an array of design styles to select from. These designs range from a field of beautiful roses in bloom, to a military theme that presents the photo of the lost individual, and even a heavenly scene of a dove being released with a heartwarming psalm.
While caskets are, of course, typically used for burial of the dead, some more eccentric souls have used them for daily sleeping and other activities. Actress Sarah Bernhardt is rumored to take her bed/casket with her when she travels, and the psychic Criswell is said to prefer sleeping in caskets. Metal musician Malefic is said to have recorded the words to one of his songs while locked in a casket. A number of funeral industry museums have interesting displays about the history of caskets. The Museum of Funeral Customs in Springfield Illinois has, among other things, a full-sized reproduction of President Abraham Lincoln's casket, and the National Museum of Funeral History in Houston, Texas has an electronic display showing how caskets were made in about 1900. A number of other museums in cities such as Budapest, Hamburg, London and even Paris have intriguing displays about the history of caskets.