Back to Info Center
How to Buy a Grave Plot
Dealing with the Cemetery and How to Buy a Grave Site from the Funeral Home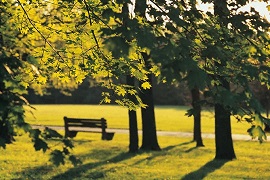 While it's not technically part of a cost of the funeral cost, buying a grave plot is a significant part of the cost of any person's final expenses. (We say it's not a part of the funeral cost because, by federal law, even companies that operate funeral homes and cemeteries under one name must legally keep those two operations entirely separate. This is because of anti-trust legislation enacted in the 1980's to help curb abuses in the funeral home industry. The industry's lobbyists, however, were successful in keeping cemeteries except from most of the new rules. But that means they two industries must remain as separate as possible. Given that the two industries are naturally related, this is sometimes an awkward law to which to adhere for customers and those in the industry alike.) And knowing just what to do to get the best deal and assure that a family is not taken advantage of can be a tricky endeavor. We hope this guide will be of help in this matter.
Buying a Grave Plot for Yourself Ahead of Time:
Of all the things that can be purchased ahead of time in regard to a person's final expenses, a grave plot is perhaps the best investment. In general, consumer advocates say pre-need purchases are usually best avoided, but, in the case of grave plots, the risk is not so great. Grave sites are much like traditional real estate in that the purchaser has the right to buy and sell at will. So, any investment in a grave plot will only increase in value as the prices of cemetery land continue their decades old trend of nearly doubling every 10 years – a rate of increase that far outweighs that of traditional real estate practices. The only problem with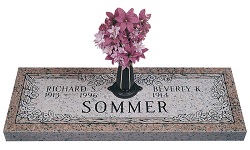 this idea of using a grave plot as an investment is that, of course, selling a grave plot typically requires that a new one be purchased in order to fulfill the original need of a plot for every person. So the "investment" factor of buying a grave plot is only a consideration in cases in which a person has some alternative plan for his or her death – such as cremation or burial in a family grave yard where no additional charge for a grave plot would be accessed.
But regardless of whether the purchase of a grave plot is seen as an investment, it is, perhaps, the wisest way to buy a cemetery land. If you can either pay cash for the land or negotiate a reasonable rate of interest with a cemetery or other land owner, you would indeed be locking in rates at low prices in a volatile, ever increasing market. About the only risk you would suffer would come about if the United States government – through the Securities Exchange Commission or the Federal Trade Commission, or maybe a unilateral act of Congress itself – were to step up regulation efforts of the cemetery industry. In this case, the unusually rapid rate of inflation of grave plots might end up coming to an end at some point, or it could even be reversed – and grave plot prices could actually start dropping – in order to bring the industry in line with most other businesses that involve buying and selling real estate property. But given the the United State's historic reluctance to get involved in the business of death care – and, critics of The Funeral Rule's enforcement will point out – a lack of willingness to enforce regulatory laws that are approved against the industry – it seems reasonable to assume that the nation is in store for at least several more decades of cemetery plot land doubling in price every 10 years or so. So, while it is possible that buying a grave plot ahead of time may turn into a case of a person being "upside down" on a loan for the land, such a scenario is fairly unlikely.
Buying a Grave Site for Family Members Ahead of Time:
So, if buying a grave plot for oneself well ahead of the time of need is generally a good idea financially, then it stands to reason that buying a grave plot for family members (and even friends) can be a great benefit as well. The monthly price of a grave plot can usually be reduced to less than $100 or so (if payment terms are extended long enough), so most families in today's modern economy of the United States will barely notice the loss of what a grave plot would cost when financed. And family members would be grateful at not having to come up with a large sum of cash for a grave plot.
The risk in buying a grave plot ahead of time would come in the event that a person's death comes about before the plot is paid for entirely. In such a case, a family would be faced with the situation that it hoped to avoid by buying the plot in advance: it would have to come up with a large sum of money in a short amount of time. This scenario can be avoided almost entirely, of course, with the purchase of burial insurance – or even traditional life insurance. And that may very well be a good alternative to buying a grave plot in advance.
Buying a Cemetery Grave Site at Time of Need: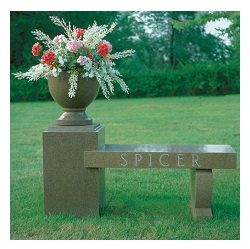 Unless you are insured as we mention in the previous section, buying a grave plot at the time of need is probably the worst case scenario for most families. In such cases, family members are subject to the whims and sales pitches of cemetery sales people who can often resort to questionable tactics in order to take finance advantage of a family suffering from grief and emotional stress over the loss of a loved one. Cemetery sales people are often skilled and highly trained enough to know that saying something like, "we want to help you get what is best for memory of your loved one," can often lead to a family deciding to spend thousands of dollars more than they might otherwise would have spent – and maybe even much more than they can truly afford.
So, it is best for families to do their negotiating with cemetery sales people – some of the toughest negotiators in the real estate profession – well before the time of need. It has been said that cemetery sales people – and their bosses in the amazingly profitable "death care" industry – "lick their chops" when they see a family come into their offices having recently lost a loved one and realizing that they must buy a grave plot "at need." The average selling price of an "at need" plot is said to be at least $2,000 more than a plot sold pre-need. Granted, cemeteries usually make up most, if not all of that difference, when selling "pre-need" plots over time. (Interest rates can usually add $2,000 or more to a plot.) But a good negotiator can work past that more easily when he or she is not constrained by time – as would definitely be the case when buying a cemetery plot "at need."
Buying a Cemetery Grave Plot from a Friend or Family:
Another option to consider, whether you are doing this at need or pre need, is to find a family friend who has purchased a grave plot that will not be needed – due to a decision to be cremated or, perhaps, to the fact that burial in a "free" cemetery such as one run by a family or church is possible. These situations are more common than one may believe. (In one case even, a man discovered that his grandfather had bought several plots intended to be used by the man and several of his family members , but had not done a good job of communicating that purchase to other family members. He discovered the buy, by accident, after he had already purchased land from a cemetery. This discovery, of course, left him free to sell the cemetery land, and he did so to some friends who were able to save a total of $2,000 by not buying directly from the cemetery.) It is often possible that buying from a friend who has a cemetery plot to sell can be a financial boon. In cases in which the plots have been given to the seller, the buyer can often strike a deal that saves him or her thousands of dollars while also being a financial blessing to the seller.
One may be wondering about the legalities of selling land that is already part of a cemetery. Well, most cemetery staff will be glad to help broker such deals – if asked – and many will not even charge a fee for the service. But, that said, the staff will not usually offer that service readily. The cemetery wants to sell its own land, of course.