Back to Info Center
How to Create a Memorial for a Loved One
Creating a Tribute for a loved one is the most Special Thing you can do for Someone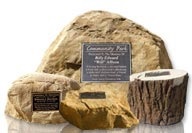 Memorial rocks are readily available these days from retailers who specialize in memorial products. These realistic looking rocks are, actually, more durable – and lighter – than those that can be found in nature. And they are designed to be outfitted with beautiful bronze plaques that will announce their great purpose for the ages. Here are some ideas for how these great products can be used to help you memorialize a great person, place or event.
Rocks as a Cremation Memorial:
Most memorial stones are designed with a hollow chamber that can store a cremation urn. This makes memorial rocks perfect for a cremation memorial. The particular beauty of this type of memorial is that it can be discreet: unless the rock's plaque makes note cremation remains stored inside, visitors who happen upon the rock will have no way of knowing that the urn is inside. The urn is typically installed in an opening that is accessible only from the bottom and the chamber is not visible once the marker is secured in its permanent location. Whether to announce that the rock is, indeed, a cremation memorial is strictly a decision to be made by the deceased's loved ones. This attribute of memorial rocks leads to much comfort by those who adopt them as cremation memorials.
Rock Tribute to a Person Buried Elsewhere: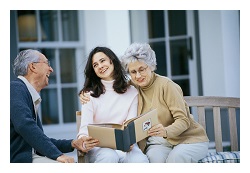 As the previous section implies, memorial rocks do not, of course, have to store cremation remains. The hollow chamber can simply remain empty, and no one who sees the rock will know whether it is in use. (They actually wouldn't even know that it exists, in all honesty.) The empty chamber remains an advantage even to those who do not use it because it results in a memorial rock weighting much less than a natural memorial rock. This means that installation is less tricky, and can involve fewer people, than a natural rock – which usually can, admittedly, be outfitted with a plaque just as a memorial rock will always be.
So, using a memorial natural stones to remember someone whose remains have been buried elsewhere is quiet common. (It is also, of course, possible to insert a small urn into any rocks storage chamber, thereby allowing a person's remains to be divided among several locations, including a memorial stone rock.) Many groups and businesses have exercised this use for a memorial rock quite successfully by installing memorial rocks in special locations that were frequented by the deceased. One tennis center in Texas, for example, has paid lasting tribute to man who played there every day of his retirement by installing a memorial rock whose plaques lists his most significant tournament wins right outside the fence of the court where he most preferred to play. The tennis center manager reports that this rock, though it has a storage opening, does not include the man's remains. His body is buried in a cemetery hundreds of miles away in the city where he learned to play (and love) tennis. His headstone lists the locations of the various other memorial rocks that have been installed, in his honor, at tennis centers across the state.
Memorial Rocks for an Event:
Still other rock memorials do not memorialize a specific person but, rather, an event. A memorial rock installed on a courthouse lawn in Georgia, for example, is a remembrance of a tragic fire by which the original courthouse was destroyed in 1984. Rather than cremation ashes, the rock's hollow storage cell holds a few precious, historic mementos that were salvaged from the fire. (Thankfully, no one was hurt in the fire.) The plaque on the memorial rock indicates that the rock is intended as a time capsule. It has instructions for people living in the county in 2084 to dislodge the rock, turn it over and remove the items in the capsule. The hope is that they will be helpful to students of history who want to know more about their counties – and their cultures – past.
Other uses of Memorial Rocks: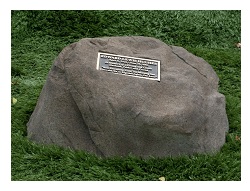 And, finally, there are plenty of other uses for memorial rocks. Families commonly use them to remember their beloved pets who have passed on. It's not uncommon to see in a back yard a memorial rock installed as the key element of a tribute to, say, a special cat or canine friend. Pet cemeteries use memorial rocks as tribute to a loved pet such as dog or cat which can even hold the ashes in your garden.
Still other families and organizations use memorial rocks as decorative landscaping, not necessarily with any memorial intention in mind. One golf course in Oregon, for example, has memorial rocks installed at every hole with their plaques noting the location and distance of the green. Golf course members willing to pay to dislodge a marker use the hollow cell to store special notes they have written about their exploits on a particular hole. Holes in-one, or first time Eagles can, therefore, be duly recorded for the ages on this special course.
And still other organizations use memorial rocks to help build their brand image. A firm in Austin, Texas, for example, has memorial plaques, outfitted with the company's logo installed at all of the entrances to its main campus. The company leaders chose memorial rocks, as opposed to natural rocks, for this purpose because the hollow center makes the rocks relatively easy to move as the company grows and changes take place on the campus.
Once you created a tribute memorial rock and have it in place you can create a tribute memorial website for a loved one and share it (facebook, twitter to name two examples) with everyone you know to contribute on their special site.