Back to Info Center
Keepsake Pendants
"A Growing Memorial Trend"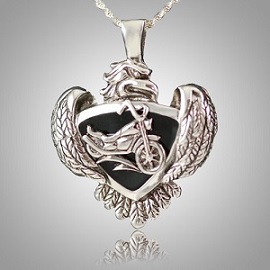 As many news outlets have noted in recent years and months, keepsake jewelry and memorial pendants are a growing trend in the memorial industry, one that sometimes captures people by surprise when they first hear of it. When first hearing of these special pendants, many are wary of the idea of 'wearing' a peice or part of a person's cremation ashes. To resolve this, many have found that they can put virtually any small memorabilia in a keepsake pendant, such as dried ceremonial flowers, earth from a grave site, or even small strands of hair. Anything that is small enough to fit through the opening of the pendant. Whatever the purpose, these pendants have been found to create comforting remembrances that can be carried along wherever the wearer goes. But, that does not mean that the pendant has to be worn. Many utilize keepsake pendant domes, which are glass domes that have a hook specially designed to hold and display an ash holder. For those interested in these remarkable keepsakes, the design options are virtually endless; The pendants are available in anything from a simple crucifix, to a dazzling dragonfly, and everything in between!

"I had no idea that something like this was available until I saw it online", one recent consumer exclaimed as she was placing a telephone order for one of the beautiful pewter ash pendants. That particular design, of which some examples are shown to the left, is catching on all across the country, and feature a unique, sturdy clear or colorful glass cylinder that stores a tiny portion of any loved one's cremation ashes. These exquisite pendants are available with a variety of different pewter toppers. The designs of these glass keepsake pendants range from traditional, to more contemporary, and are perfect for younger people who would like a keepsake of a loved one that can be carried or worn wherever they go, and look charming when worn with the simple black cord. The glass, regardless of the color, is translucent, which lets you see the contents of the vile, but don't let that fool you. the design of the pendants is often more eye-catching than what is inside of it. We even had an individual tell us that they wore the pendant that featured a wolf, and almost everyone who saw the piece did not even notice the glass vile was filled with cremation ashes! That is the magic of these memorial pendants, is that no one expects them to hold anything, so they often make very discreet tributes.
Keepsake Pendants such as these pieces is definitely a growing trend that is helping many Americans memorialize their loved ones in very specific, very personal ways. What's more, this unique way of memorializing a loved one is very affordable. Industry group's say that the average cost for a traditional burial is about $7,000, but an average cremation costs about $1,500. That leaves the average of about $5,500 to spend on other things, and many choose to use some of that money to buy a variety of keepsake jewelry pieces so that everyone who is mourning the loss of a loved one can keep a piece of him or her nearby for the ages. Because keepsake memorial jewelry pieces can be found for prices as low as $30, many families have begun a tradition of ordering dozens of pieces and distributing them to be worn during a memorial or funeral service.
Moreover, it is intersting to note that keepsake jewelry is not the only new 'trend' thats hitting the memorial market, in response to the rapid popularity of cremation as a form of disposition. Biodegradable cremation urns offer a way to honor our world, as well as any environmentally concious individual, as they are crafted to break down in the Earth or sea over time. These wonderful urns are, of course, not for display purposes, but ideal for those looking to scatter or inter the remains. Alternatively, cremation art is a wonderful way to incorporate the eartlhy essence of a loved one into a stunning sculpture, touchstone, or painting. This offers a visual remembrance of the individual, that creates a touching reminder of the wonderful memories they left us, rather than the pain of the loss. These are just a couple examples of how the memory of a loved one can be incorporated to honor and celebrate a life well lived.
These same families find that sharing of ashes in this way helps when relatives are scattered across the country (or even across the globe) and determining one specific spot in which to permanently display or store the ashes would be a difficult decision. Now, thanks to the growing trend of keepsake memorial jewelry, many families never have to make that decision. They can, very affordably, display the ashes in a wide variety of places.
Of course, while price is an important factor in the popularity of keepsake pendants and its emergence as a growing trend, there are plenty of other reasons that consumers buy keepsake jewelry pieces. An amazing variety of keepsake jewelry is available today, and it can take a huge variety of shapes: heart pendants, oval pendants, even picture pendants are all readily available, and all can be found in sterling silver, gold vermeil and even solid 14 karat gold. The pieces can often be custom tailored to meet even more specific needs: One customer, for example, purchased a lavishly designed, gold keepsake jewelry piece and asked a professional jeweler to attach some special diamonds and other precious jewels to it. These additional jewels had been part of the customer's deceased wife's wedding ring and other special pieces, and including them in a beautiful piece that displayed a tiny portion of the woman's ashes was the perfect tribute, the man said.
Truly, the sky is the limit when designing or just simply choosing a piece of keepsake jewelry that will perfectly memorialize a loved one. That is why memorial jewelry is a growing trend that is helping families across the country celebrate a loved one's life with dignity and style and, most importantly, a personal touch that cannot be duplicated.
See all your Keepsake Pendants choices