Back to Info Center
Memorial Art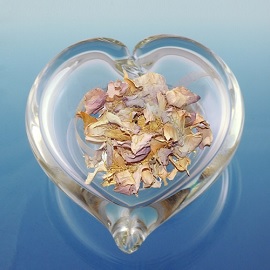 Art has long since provided an outlet for individuals to, for lack of a better term, bare their souls to the world. Whether it is a breathtakingly detailed, ancient sculpture, an abstract oil painting, or even a contemporary installation, art has a way of not only creating an emotional outlet, but also of conveying thoughts, beliefs, and ideals to the viewers. Just like art has a way of visually capturing our attention, it can also evoke an emotional response which just goes to show how something that we perceive visually can make us react, whether we expect to or not. It can go without saying that art can take the form of nearly anything, from a painting, to a sculpture, or even functional art, such as a ceramic bowl created for the purpose of being used. It is no wonder then, that this age old skill of creation, plus the passion of an artist that is pouring their dedication into a piece, has been applied to the death care industry in the form of cremation art, to bring forth a wonderful array of possibilities to families who have loved, and unfortunately, lost.
One very good, if not impressive, example is that of the glass cremation keepsakes. The basic idea of these glass keepsakes are to utilize a small amount of cremation ashes, which are infused with molten glass, to create a visual remembrance that can be touched, held or simply admired. These pieces certainly offer families a unique way of paying tribute to their loved one. It not only allows the family an unforgettable tribute to their lost friend or family member, but also an aesthetically pleasing piece of art that is as much a part of them as the memories they left behind. Furthermore, this wonderful memorial offers families a gentle reminder of the lost loved one, as the unconventional look and design will honor their memory without being a strong reminder of the loss, in the way that a traditional piece such as an urn, can. What is more impressive than this form of art itself is the variety of options it is available in. The pieces can be crafted into nearly any type of object, from a beautiful and elegant sculpture, to a simple orb that will blend in perfectly in the work environment for a discreet tribute. In fact, some of our most popular pieces of glass cremation art are in the form of jewelry pendants and beads, which can be worn on a necklace or even on a bracelet. One of the most desirable qualities about the glass cremation jewelry aside from the aesthetic beauty it offers, is that it is permanently infused with the cremation ashes, so the person wearing the cremation jewelry can rest assured that the ashes will not spill or be lost from the piece.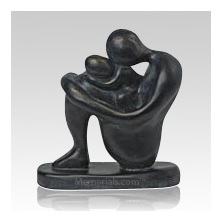 While glass cremation keepsakes are very popular, those that have lost a loved one who was not cremated can still utilize a small remembrance of theirs to create an unforgettable tribute. In fact, many of our keepsakes, such as the angel figurines or the angel memory boxes, can help create a piece of memorial art. These keepsakes themselves feature intricate details and an elegant, antique white color that gives each piece an graceful touch. The keepsake boxes are particularly heartwarming, as they will hold and protect a treasured memento, such as a piece of heirloom jewelry, while still allowing the family to remove the keepsake whenever they wish. However, for those looking for a true work of art to create a visual memorial, there are wonderful selections that can memorialize any small keepsake, such as dried ceremonial flowers, a lock of hair, dog tags or other small memorabilia. Similar to the glass keepsakes, these pieces are also made by the way of blowing glass, but are left open at the bottom. The artist then places the belonging in the glass bulb or compartment that is created, and fills it with a special resin, which will then hold the piece for all time. This is especially useful for remembrances that are fragile, such as the dried flowers, as they encase the treasured piece, and protect it from the wear and tear of handling over time. This allows families to not only cherish a memento as a visual memorial, but also hold the small work of art without incurring damage to the keepsake, no matter how fragile it may, otherwise, be.
Another very popular option of memorial art for families who wish to create a small tribute are the memorial keepsake sculptures. While these small sculptures do not hold any type of memento, they feature heartfelt designs that celebrate the small moments in life that often go unnoticed. These touching themes include a child giving their father a kiss, a couple sharing a warm embrace, and even pieces that pay tribute to our furry friends. These designs capture the little things in our daily routines that can help make like truly worth living. They feature a modern, somewhat simplistic design, such as in the example photo to the right, and beautiful patina coloring that only adds to their whimsical charm. These sculptures can help create touching tributes, especially when placed near a photo of the lost individual. Another piece featured in the keepsake sculpture section that is truly impressive is a granite block that is etched with an image. These granite pieces feature a small microchip, which can be programmed with the information and a story of the lost loved one. The information can be accessed by any compatible mobile device, which allows the family to share their story with other friends or relatives.
Memorializing the life of a lost loved one can often be a sad affair for the family, but the works of cremation art can certainly help celebrate the love and memories that the individual left behind. These pieces offer a wide array of different styles of art to ensure that the keepsake created will not only capture and hold a cherished memento, but also pay tribute to the lost in a dignified and elegant manner. The collection brought forth by Memorials.com will help create beautiful and unforgettable final remembrances to be enjoyed for many generations to come.
See all your Cremation Art choices