Back to Info Center
Memorial Books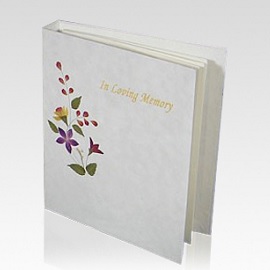 Since the dawn of our time, we have always felt a need to document special moments and events, not only in the collective history of a civilization or society, but also in our own lives, or more appropriately, in the lives of our ancestors. Whether the inscription be on an astounding monument, dedicated in honor of an important event, or simply on the headstone of a lost loved one, a story is always, at least in a small way, captured and preserved. While these acts may seem small, even insignificant at the time, they go a long way and provide essential tools for us to learn about the times that preceded our own. While that is so, and these large and small tributes have gone a long way to tell the stories of our predecessors, there have been other discoveries that provide great insight to times past, perhaps even better than the monuments or grave markers can. A wonderful example of such an artifact is that of the memorial book.
Memorial books have a number of forms and uses, but, for much of the world, the term Memorial Books has a very important meaning: Memorial Books (also known as Yizkor Books) are special books that document the lives of Jewish people who lived in towns ravished by Nazi's in the years leading up to World War II. These books, according to the United States Holocaust Memorial Museum in Washington DC, "often contain photographs and stories about the town and the people who lived there, as well as listings of the town's residents. These books are almost always written in Hebrew or Yiddish." Hundreds, or possibly even thousands, of memorial books have been published over the years, most recording the people and events in a particular town or region of Europe during the Holocaust. These precious recordings are exceedingly important for those who currently live in the regions (although, in many cases, entire towns were forever destroyed during the Holocaust), those who survived the holocaust, and those who lost family members in the horrific period. More importantly, they tell the story of the events as they played out in the lives of the individual, which gives a more in depth and personal look at how this event truly affected and changed the lives of many. Moreover, they are very important as they recall these devastating events, and exclusively express how many lives were ruined in this time period. Most memorial books contain a thorough list of Jewish people who lived, and died, in the particular region or town during the holocaust, and, in many cases, these lists are the only surviving written evidence that some holocaust victims ever lived. Such was the terrible efficiency of the Nazi machine at its unspeakably evil attempts to wipe out all sign that the Jewish people ever existed. These memorial books often have very interesting, if not grim, histories in their own right. Many memorial books were published shortly after World War II ended after being compiled in a clandestine manner by people who were, themselves, trapped in concentration camps. Others, however, were published much later, even as late as the 21st century, by people who were born after (or at the very end) of the holocaust and went through significant trouble to document the experience of the region in which they, or their relatives, grew up. The famous memorial books are all, whatever their circumstances, an important contribution to our world's literature and to our understanding the true extent of what can happen when evil is allowed to run a muck in our world. These famous books are an excellent example of how recording one's story, even if it is not of a prominent public figure, can be extremely important to our future generations, as the collective information gathered from times past have been to ours.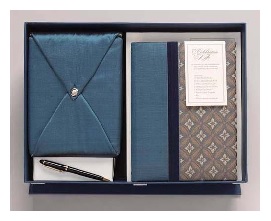 All of that said, memorial books, do have a number of other important forms and uses. Many funeral homes and other memorial industry institutions have begun, in recent years, offering memorial books as part of the traditional funeral services. In these memorial books, professional designers and editors gather special artifacts such as newspaper clippings, letters, photographs, just to name a few, and assemble them in a elaborately designed, glossy publication (in some cases also called a memorial folder) that family members can use to remember their lost loved-one for the ages. These types of memorial books have become more common in recent years as print-design software and hardware has become more readily available and, accordingly, less expensive. Many companies also now also offer "electronic" memorial books that contain the same information as their printed counter-parts, but which are presented in video format using digital recording technology. One of the newest innovations is that of the 'headstone microchip' which provides the same basic use as a traditional memorial book. These microchips can be accessed with most, compatible electronic devices, and will allow the family to create a webpage that provides the story of their beloved. While these modern forms are gaining more and more attention, the traditional book is still somewhat preferred, as it is a physical piece that can be handed down from generation to generation.
Memorial books offer a truly wonderful way for every person's memory to be recorded permanently in history. Not only can the book hold the story of a loved one, but also small mementos, such as photographs, letters, news clippings, or even pressed funeral flowers, as an example. There are even some memorial sets available, such as that to the right, in our keepsakes section that include a memorial book, as well as other pieces that will help preserve the memory of the lost individual.The surviving family members will appreciate the fact that these touching memorials allow them to reminisce over happy memories created with the deceased. Newer generations will greatly benefit from being able to look at the history of their family members, and many many years later, our future descendants will be able to collect important information from not only their own family history, but also the then, part of the collective history of the times past.
See all your Memorial Books choices