Back to Info Center
Epitaphs Samples for Memorial Rocks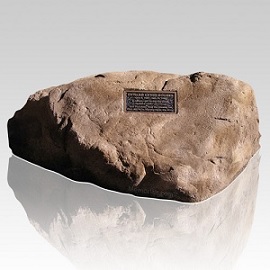 Losing a loved one can certainly leave one at a loss of words, to say the least, especially when recalling what made them special and trying to summarize those feelings for a bronze plaque with limited space. It can be quite challenging to describe a lifetime of happiness in a few sentences, which is quite understandable as it feels more like no amount of words could even begin to describe such precious memories. Some may feel even more prone to put off the task, in that having to concentrate on those memories shared with the departed friend or family member can bring back strong feelings of grief, especially shortly following the passing. In reality, it could do more harm than good in the long run of the mourning process to suppress memories of the lost loved ones, no matter how painful they may feel at first. It is very natural to feel intense emotions, such as sadness or even anger, and crying, or simply venting to a friend or even in a grief support group, is just the natural way our bodies release this type of stress and tension. The grieving process is certainly different for everyone, so it goes without saying that everyone will have a different way of coping with a loss. However, something that may seem sad, such as writing a final remembrance of a lost loved one, can actually be very helpful in the overall grieving process. In fact, experts agree that the process of writing a loved one's epitaph is not only important, but can even be very emotionally comforting. Some good methods to help inspire ideas of what can be expressed include looking through old family photo albums and recalling what it was about the loved one that stood out, or perhaps going through old mementoes such as letters or even just holding a keepsake they may have greatly valued and reminiscing. While the initial feelings may be of sadness, many are surprised to find that making time to recall those happy moments shared can be very calming, as it reminds us that even though the loved one may be gone, they most certainly are not forgotten.
More than simply stating a person's name and dates of birth and death, we encourage you to take advantage of the opportunity to let those viewing the plaque in future years gain a better sense of the loved one's personality and what he or she meant to surviving friends and family. Especially those that do not have the advantage of looking to artifacts from past generations to learn about one's family history, can attest to the importance in being able to learn of one's family background. It is just something about our nature that we often desire to learn from the past, to see what shaped our present surroundings. A beautiful, long lasting memorial can be that link to the past that may answer a question, or two, of the future.
In addition to the following examples, also consider gathering thoughts for a plaque from friends or family. It can be very therapeutic for family members to share ideas for the final memorial of a loved one, but it is also important to consider that all members of the family are affected by the loss. Regardless, many find it very emotionally beneficial to be able to openly talking about the loss, rather than feeling like they must suppress the thought in order to avoid causing discomfort to others. Gathering to discuss what could be placed on the final remembrance to a loved one can be a wonderful reason to recall happy memories together, and the collective memories are certain to make it easier to create an epitaph that portrays the essence of the individual who has departed.
For those that who are still at a loss for words, below are a few examples that can be used as epitaphs for memorials. Feel free to mix and match, or simply read through them for some inspiration. You can also check out our Headstone Epitaphs article for more ideas on those beautiful final words.
Note: Some of these epitaph examples may not fit within the guidelines allowed for our standard plaque size. (Please feel free to ask about our larger plaque options.)
Samples of Epitaphs:
~
Words Of Bronze On This Stone
Are A Reminder You're Never Alone
Your Wonderful Life of So Many Years
We Shall Celebrate Without Any Tears
~
Gone, But Not Forgotten
~
Beneath This Stone Rests My Love
Her Soul Long Ago Free As A Dove
When I Come To Visit This Special Place
I Shall Always Recall Her Smiling Face
~
A Husband And Wife So Dear
Sleep Together As Always Here
Their Spirits Separated Never Again
Their Soul With Christ For Ever Reign
~
I Am The Resurrection And The Life,
He That Believeth In Me Though
He Die Yet Shall He Live
~
Beneath This Simple Stone
That Marks His Resting Place
Our Precious Father Sleeps Alone
In The Lord's Long Embrace
~
A Mother Kind, A Parent Dear
A Faithful Friend Lies Buried Here
She Is Gone From Our Home
But Not From Our Heart
~
Be Patient With Life, Despite The Truth.
It Often Seems Oblivious Of Our Pain,
But Just As Often Brings Us Hope Again.
~
Do believe I'll never leave you:
Always You Will be in My heart.
Don't forget my soul is near you,
And so we'll never be apart.
~
A Precious One From Us Has Gone
A Voice We Loved Is Stilled
A Place Is Empty In Our Home
Which Never Can Be Filled
~
No Pain, No Grief
No Anxious Fear
Can Reach Our Loved
One Sleeping Here.
~
Behold My Friends As You Pass
By As You Are Now,
So Once Was I As I Am Now,
Soon You Shall Be Give Thyself
To God And Follow Me
~
I Pray You Can See Me Now
And Be Proud Of What I Have Become
Because Of Your Example,
But Most Of All I Thank You
Because You Loved Me So Much