Metal Caskets

Positive and Negative Elements of a Casket made from Metal

When we lose a loved one, were are often shook to the core due to the loss of someone that was present in our lives. Suddenly, we find ourselves broken at the thought of never being able to spend time with that loved one. While this is one of the most unfortunate of events, it is, or will be, a part of everyone's lives at one point or another. This is one of the reasons that metal caskets are, and have been, popular in use for traditional memorial ceremonies. They offer us a promise of sorts, that they will not only contain, but protect our lost loved ones for all eternity. Since the early 1900's, metal caskets have been probably the most popular choice of families for use in most traditional funerals or memorial services. These durable caskets rose to their status as the most common type of casket just as the Industrial Revolution swept the Western World, and steel became the material of choice for thousands of consumer items. People flocked to metal caskets as soon as they became available because consumers wanted a longer-lasting, sturdier casket than the traditional light-weight wood could provide. Also, many found that caskets made of metal were not only more durable, but more affordable, and extremely versatile in design. By the time of World War I, most manufacturers had turned to making metal caskets almost, if not, exclusively.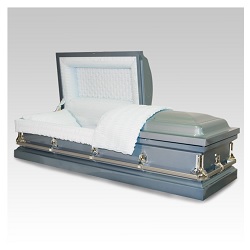 Despite their popularity, metal caskets left the market for a few years during the mid-20th century. During World War II, and as steel was rationed world wide for military uses, metal caskets all but disappeared from the memorial market. During this time, wood caskets become once again prevalent. But as soon as metal became widely available for consumer uses again after the war, metal caskets quickly regained their popularity. By 1948, the more durable caskets of metal, again, were just about the only choice available in the market. Metal caskets gained such rapid popularity for their classic, dignified appearance, and they quickly became a main staple in traditional funeral services. Sadly, consumers did not seem to miss the availability of wood caskets once again, at least not for a good while.
In recent years however, metal caskets have started facing more and more competition from their hardwood-casket cousins for several reasons. Environmental concerns have prompted many consumers to choose the more easily degradable wood material instead of the longer lasting metal. It is strange to think that when it was not available, many desired caskets that were longer lasting, and now in days, as we are all becoming more environmentally conscious, many look for caskets that do not have such longevity, and that have as little impact on the natural elements as possible, regardless of the fact that the casket is for a loved one. In fact, many people make a strict note in their wills or final wishes that their disposition have as little impact on the environment as possible! But, nevertheless, metal caskets continue to be the most popular type, as there are many still who hold the traditional desire for their loved one to be protected and at peace in their final resting place for as long as possible, if not all eternity. It goes without saying that the sturdier, longer-lasting material is a great comfort for many families.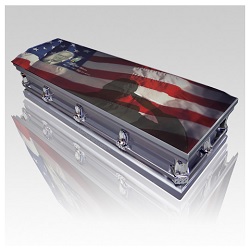 Caskets today are made from a variety of metals. The most popular include bronze, copper and stainless steel. They can be made in a variety of thickness and weight. Bronze and copper metal caskets are often made from 32-ounce metal, and steel metal caskets can come in 16, 18, or 20 gauge metal. Typically, the lower the gauge of the metal, the more resilient it will be. Metal caskets are solidly welded and the openings are gasketed, so it can protect a body from all elements for many, many years. They are, typically, also very carefully crafted and painted using a sanding process that is very similar to that of painting cars. Metal caskets are also typically adorned with luxurious velvet lining designed to give the body a comfortable, long-lasting rest. Metal casket designs are very different from that of their wood counterparts as they can be finished in almost any color a person can think of. There are even some manufactures that produce personalized caskets, such as that to the right. These personalized caskets feature photos or even personal messages of the deceased, and can be a great source of comfort for families that view this 'ultimate casket' as a distinct source of closure. Properly selecting a casket can also greatly help a family take another step closer down the long road of grieving, as the thought of the deceased properly being lain to rest is comforting.
Since most metal caskets are designed to survive the elements for as long as possible, they typically feature a special locking system or mechanism that makes the metal casket difficult to open once it has been closed. While these locks do make the caskets difficult to open, most can be opened with a special key that the funeral home may have. Most of metal caskets have a special compartment on the side in which written records about the deceased person can be stored for possible later reference. There is usually a special compartment for these documents, many families, especially children who have lost a parent or grandparent, place small mementos in the casket with their loved one, as a sort of gift, or way to give a small part of themselves to the person who has passed away. While many caskets come with a pocket for precious mementos, for those that don't many utilize a casket accessory, such as an angel pocket, to hold the remembrances.
Metal caskets continue to be the most popular type of casket available. Their renowned durability proves, year after year, to be a great comfort to love-ones. It is important to note, however, that, metal caskets cannot be expected to protect a body from the elements entirely, or forever for that matter. That said metal caskets are certainly much more durable than even the sturdiest of their hard wood competitors. But, in recognition of the Bible's "dust to dust" tradition, many people today choose wood caskets over metal caskets. The important thing to consider in this discussion is that, today, unlike in previous generations, consumers have a good choice of two equally viable casket materials, and metal caskets are still quite popular.