Back to Info Center
Military Veteran Death Benefits
How to get Help and What is Available For Military Veterans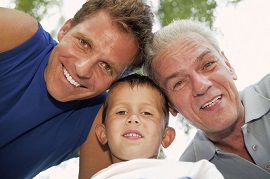 The United States Military provides a free U.S. flag to the family of every honorably discharged soldier or veteran upon his or her death. This flag is generally draped across a casket during a funeral service and then given to the deceased's legal next of kin (or, if no next of kin claims the flag, it is usually given to a friend who requests it). The flag can then serve as a permanent memorial in a family's home, or it can be donated to any Veteran's Administration cemetery to be flown on special, commemorative, days. To get a flag, a family member simply must fill out a simple form (VA Form 27-2008) and submit it to the Veteran's Administration. Flags may then usually be picked up at a VA office or a U.S. Post Office. Funeral homes will also usually assist, at no extra charge, in obtaining a flag for family members.
But that is just the start of burial and funeral benefits afforded to veterans of the United States military upon their death. The other benefits can be somewhat confusing, causing some families who might be eligible for reduced costs on their loved one's funeral and burial to pay more than necessary. We hope this guide will help families to understand what they are entitled to, by law, from the U.S. military.
Basic Benefits for all Veterans:
Aside from the flag mentioned above, all veterans are entitled to the following according to the National Cemetery Administration: free burial in one of the nation's 131 national cemeteries that have space available, free perpetual care, free opening and closing of the grave, government issued grave markers, and a Presidential Memorial Certificate. These benefits are available at no cost to anyone who was a service member or an honorably discharged veteran. Many veterans do not accept these benefits, however, because they are limited. Burial in a location other than a national cemetery may only be partially reimbursed. Also, veterans and their families are limited in what they may include on their government issued headstones. Any other headstone must be paid for at the deceased's – or the families – expense.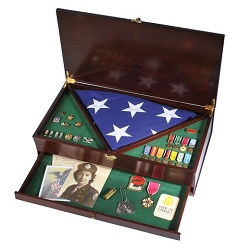 Because funeral directors who work for companies that run cemeteries have a vested interest in encouraging all customers to use their cemetery, loved ones seeking to memorialize a veteran or an active service member are encouraged to contact the National Cemetery Administration themselves before making any final plans involving a private funeral director. Many funeral directors will volunteer to work with the NCA on their client's behalf, but that is not recommended. The benefits will discuss next are for those who choose not to partake in a burial at a national cemetery using a government issued headstone. (It should be noted that spouses and dependents are, in most cases, welcomed to be buried in veteran's cemeteries alongside their loved ones – even if they precede the loved one in death.)
Benefits for None Military Service Related Death:
Any veteran who died of causes not related to military service is entitled to at least $700 toward burial (if the veteran is not buried, for free, in a national cemetery). He or she is also entitled to up to $700 toward funeral expenses. These are the prices that were in effect as of March 2014 and they may change from time to time. It is important to note that money for these benefits is typically paid to families only after a burial has been paid for. Beneficiaries are required to submit an application to the Veterans Administration, and included in that application must be receipts for burial service. The actual cost of most burials will usually be more than the amount provided by the VA for reimbursement.
Benefits for Military Service Related Death:
All that we have said in the above section applies to veterans or service members whose deaths are directly related to their service. The prices are different, however. For service related deaths, the veterans administration will usually pay up to $2,000 for burial and funeral expenses. An interesting note to this is that this amount is for deaths occurring after September 11, 2001. Deaths before that date are entitled to just $1,500. The fact that the VA mentions that fact in its literature, however, means that it's likely that some families are still entitled to reimbursement for burials done long ago. Any family with a deceased veteran – not buried in a national cemetery -- would do well to double check its records to make sure it has been properly reimbursed.
How a Veteran can get Help:
As we mentioned above, families seeking to bury a loved one who is a veteran can get help from almost any funeral director, but, since private funeral directors are often indirectly competing with national cemeteries, it is advisable to seek assistance from other sources first. The best source to begin with for questions about how to apply for benefits and which benefits are available is the Veteran's Administration which has a very active website along with dozens of regional offices across the United States. And, inside the Veteran's Administration is a very specific office assigned to handle matters related to burial benefits. That office is called the National Cemetery Administration. While this office's main duty is to oversee the operation of the nation's collection of national cemeteries, it also helps with the administration of the VA's burial reimbursement program.