Back to Info Center
Myths Regarding Veterans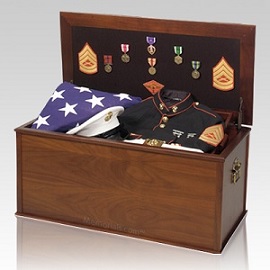 If you are in the market for a veteran memorial, you have probably spent a good portion of your life with a beloved friend or relative who was a veteran of the U.S. military. And anyone close to a veteran is probably aware of at least some of the many stories and myths that routinely circulate the country regarding veterans and the military. Some of these stories are (as the English say) spot on; others are based on fact but have been embellished substantially with fabrications, and still others are plain fiction. Here are the basics facts of a few of the stories that fact-checking websites such as Snopes.com have reviewed in recent years.
A True Veteran Story:
An email circulating across the world tells the story of a teacher in Arkansas who used an inventive method to instill respect for soldiers into her students. When students arrived in class one day, they were surprised to find no desks in the room. As class time began, the teacher told the students that they would have to earn their desks before they could participate in the class again. The students were confused about exactly how they would earn their desks until, finally, the teacher opened the door for 27 military veterans in uniform, each carrying desks. The veterans silently placed the desks in their positions and then left the classroom. The teacher then told the very surprised students that they did not have to earn their desks after all. The veterans had done that for them. She reminded the students that, were it not for the veterans, there would have been no class that day. The teacher made sure that the students all understood the metaphor: "You don't have to earn those desks. These guys did it for you. They put them there for you, but it's up to you to sit here responsibly, to learn, to be good students and good citizens, because they paid a price for you to have that desk, and don't ever forget it."
Stories like this that travel through hyperspace are often filled with half-truths or even blatant fabrication. But this one stands out for being spot-on. The teacher, school administrators, students and the veterans all confirm the lesson happened exactly as told. The students went on to send thousands of "care packages" to U.S. soldiers stationed around the world. And the teacher went on to be named the National Teacher of the Year for 2006 by the Veterans of Foreign Wars.
Some Embellished or just Plain False Veteran Stories:
Many outraged Americans have heard that the large retail chain Target refuses to donate to U.S. veteran groups while giving lavishly to groups that support "gay and lesbian" causes. This rumor began when the manager of a single Target store told a local Veterans of Foreign Wars group that his store would not grant their request for a $100 donation. The manager, it seems, did not make it clear that Target's policy is that all donation requests should be sent to the company's corporate office and that he simply had no authority to approve the request. Not realizing that the denial was simply a misunderstanding over the proper channels for the request, an angry member of the VFW sent an angry email to his friends and fellow veterans. And word spread quickly that Target was an evil, anti-American, French-owned company. None of that was true however, and the man who wrote the letter has since apologized publicly. He has also expressed much regret that his apology has not received near the amount of attention as his first, wildly erroneous, note.
Many Americans may have received an email saying that they may be entitled to a little-known cash benefit if they or a member of their family is a veteran. The information in the email was once true, but has long been out-of-date. The program alluded to in the email was closed in 1951, well before email was common. The originators of this email most certainly intended it as a hoax.
Some myths about veterans are stories that have been twisted amazingly in order to support a particular political view. Here's one incredible example: an email shows a picture of a U.S. veteran wearing a plastic "B.S. Protector" over his ears and claims the man was in attendance at a speech by Democratic U.S. Senator Ted Kennedy. In fact, the man was attending a Republican political rally and the photo was taken during a speech by President George Bush.
These are just some of the many stories that have made their way around the world – largely thanks to the Internet – about U.S. military veterans. So, the next time you hear a story like this, it is best to check out its veracity before sharing it with others. In a great number of cases, you will find that the real story is not quite the same.
See all your Flag Case choices