Back to Info Center
Photograph Keepsake Jewelry

How to Order your Picture Keepsake

For decades, the term 'A picture is worth a thousand words' has personified the simple yet profound idea of how much information we can truly gather from a single photograph. It definitely goes without saying that when we lose a loved one, photos become more than just photos, but rather treasured remembrances caught in time. They become portals to times and memories of the past; gateways, more or less, to happier times. A photo can, and for many does, help with the grieving process, especially in situations where we lose someone unexpectedly. When we feel that we have truly lost someone, photos can be a bridge between us and the person that has gone, and can help us remember memories that we would not have without an image to capture the moment. Even photos that are silly, or seem unimportant, such as a scene of a person sitting on a couch, possibly protesting having their photo taken, become extremely important to us, as they capture those smaller moments in life with our loved ones.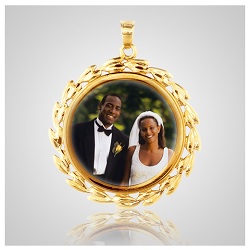 Photos have taken on a new role in the line of cremation jewelry, which is fairly new in the death care industry. A piece of cremation jewelry is a pendant or charm that comes in a variety of different styles, and is designed to hold a small portion of cremation ashes. While cremation ashes are very, if not the most, popular article that is placed in these special pendants, many have also filled them with a few strands of hair, crushed ceremonial flowers, or even earth from a grave site. Really, anything that is small enough to fit through the opening in the pendant can be used to create an unforgettable memorial tribute that can be carried along anywhere life may take you. There are even pendants that are created to specifically feature a photo. The image to the left is a wonderful example of this type of cremation ash pendant, and features a full color photo and has a discreet back opening to accommodate the cremation ashes, hair, or other small memorabilia. While these pendants hold a very special remembrance, their outer appearance can be quite simple depending on the design of the pendant, as, for the most part, they are designed to be discreet, meaning the opening of the pendant is placed so that it is inconspicuous. Photos take these pendants a step further, adding personalization in a way that not only honors the dearly departed, but also enhances the jewelry. Take the heart-shaped pendant above, for example. Before it was personalized with the photo etching, it may have appeared quite plain, for lack of a better word, and unfortunately, for anyone that was not aware of the contents of the piece, quite unremarkable. After the photo is added to the heart, the pendant becomes a visual remembrance of the departed, and even if the owner did not wish to disclose that the pendant held cremation ashes (for example), the pendant would still bring back warm memories of the deceased for anyone that sees it. It is in this sense that we are reminded not only of the importance of photos, but of the power they have, to remove us from our current surroundings, and for a split second, send us back in time to a place where a memory was created.
For those who are not comfortable with wearing a keepsake pendant, but still wish to have a pendant that memorializes the memory of a loved one, there are various options. If one's heart is set on a pendant that holds contents, but does not desire to wear a pendant hold cremated remains, the pendant (as stated before) can be filled with a different memento, such as crushed flower petals, or even earth from a favorite location. Some even have a pendant that is not filled with anything, but instead, simply etched with the portrait of the loved one. Another option is a pendant from our selection of photo memory keepsakes. The jewelry featured in this section does not hold any remains, and many of the pieces are specially designed to display a photograph. There is even a pendant that looks like a normal piece of jewelry, but similar to the keepsake pendants, holds a very special treasure. The pendant contains a small lens, which holds a photo of the individual that can be seen when one looks through the lens at the light. This offers a pendant that still discreetly pays tribute to a lost loved one.
Like stated before, while not all cremation ash pendants will accommodate a photo etching, there are many that do. We offer a wide variety of cremation jewelry, and many of the pendants that are simple in design and shape can be further personalized with a photo etching. If you come across a pendant that you feel would hold a photo, but it is not stated in the description, feel free to contact us and we will check with the jeweler to verify if the pendant in question can accommodate a beautiful photo etching. And for those who find great pleasure in flipping through old photo albums and reminiscing of times past, a photo cremation pendant would make an unforgettable tribute, or breathtaking gift.
For those who are interested in a cremation pendant, and would like some information about adding a photo etching, below are the basic steps to ordering a photograph keepsake pendant:
Choose a keepsake pendant (you can double check with us if it can be etched with a photo before ordering)

Select the menu option that allows you to personalize your pendant with an engraved or etched photograph. (There is an additional charge for the engraving/etching.)

Proceed to the check out and pay for your order.

Send us the picture you want engraved into your pendant. You can either email the picture or mail us a hard copy.

Please e-mail the photo, it must be "best quality" scanned with a resolution of 300 dots per inch. Please reply to your order confirmation.

When the picture is received, production time is about 14 - 21 business days.
There is no doubt that a photograph pendant can help create a comforting remembrance that can be treasured for all eternity. For more information on ordering a keepsake or photo pendant, please see our Cremation Jewelry FAQ page.
See all your Keepsake Jewelry choices