Back to Info Center
Pet Caskets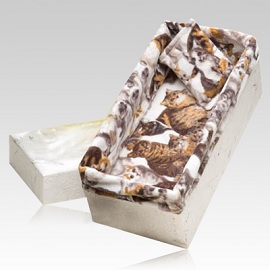 Just as when one loses a loved one, when one loses a pet they are faced with the array of decisions as to the disposition of the companion. As we form special bonds with our lost friends, we wish to handle their final farewell with the same respect as for a person. Many have found that pet cremation is a good solution for their needs, especially in areas where it is difficult or impossible to bury their pet, or if they are elderly and unable to handle the burial. While this is true, many still follow the unspoken tradition of burying their pet. When we bury a pet, just as with individuals, we follow the age-old 'dust to dust' sentiment, as we know that eventually, our beloved friend will be part of the world that they so loved. Many families also find great comfort in knowing how their companion was handled, up until the final moment spent together. They can rest assured then, that the pet was only treated with the dignity and respect that they earned.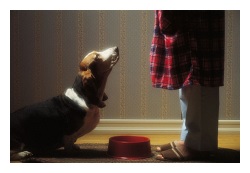 For this reason, among many others, pet caskets are a special comfort for pet owners who want to assure their beloved pets receive a peaceful final resting place. These beautiful caskets and coffins come in a wide variety of styles, sizes and colors with many customizable adornments. The wide variety of designs not only provides a large selection of styles, but also offers a number different functions. There are wooden pet caskets, which bring a traditional feel to the burial, and provide a sturdy and elegant place for the pet. Wooden caskets truly honor the tradition of pet burial, as many, if not all, pet caskets utilized in days of the old were crafted from wood. For those who wish for a burial area that will last for all eternity, the cultured pet caskets will certainly fit the bill. These caskets are made of non-biodegradable materials that will ensure that the pet is undisturbed for all time. These caskets are also ideal in that that are pressure resistant, so that they will not cave in, causing the area of rest to 'sink'. For those who want to ensure that their pet is eventually one with the elements of the earth, the biodegradable pet caskets are very comforting. These precious caskets are made of earth-friendly materials, and will eventually break down with the elements of the soil. While they may seem no different than a cardboard container, they are certainly more elegant, as they are made of materials, such as pressed parchment with floral accents, or a sturdier mixture of bamboo and rice husks, and feature a number of beautiful interiors with matching pillows. While many of the caskets offer beautiful interiors, they are removable if the family prefers to bury the pet in their own, beloved, bedding.
A common misconception is that pet caskets only used for larger household pets, such as cats and dogs. The reality is that its not uncommon for pet caskets to be used for any number of other large and small pet species: birds, ferrets, pigs, or even snakes and fish. Simply put, any pet that has given a person special memories can be deserving of a beautifully adorned and crafted pet casket. That is why many of the pet caskets feature an array of sizes, to accommodate and provide a distinctive and befitting final resting place for any lost companion. For example we offer a fish pet casket (seen below), which is the shape of a fish and offers a sturdy area of rest. This type of casket is a much better alternative to the usual 'flushing' service, and can even be very important for children who are experience the loss of their friend. This is because it shows them that every life is significant, no matter how small the animal was, and can even help instill a sense of empathy for all living creatures.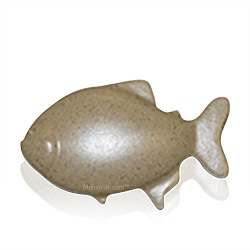 It is very common for people choose to bury their pets in the yards of their private residences, as it allows them to visit the final area of rest at any time, and also keeps the pet close to home. These small but beautiful coffins give this tradition a loving, personal touch, which is very comforting, and even beneficial to the mourning process. Pet caskets are often used, in these cases, in place of less personal, and even crude burial containers, such as a shoebox. In fact, in some areas local laws require that all pet burials be done with pet caskets, or have other regulations in regards to pet burial. (With that said, it is important to contact your local city hall if you are burying a pet within the city limits, or have any concerns with interring them in your own property.) Aside from the comforting touch that pet caskets can provide for any loss of a pet, pet caskets can also make pet burials a clean, sanitary, and solemn ritual.
While most pet caskets are usually buried in private residences, they can also become part of sometimes elaborate pet cemeteries. For example, the Los Angeles Pet Memorial Park in southern California holds a large ground specified only for the burial of special friends. This type of setting allows families to embrace the grief that is experienced with the loss of a pet, rather than suppress it, which is actually quite common and harmful to the healing process. Knowing that their beloved companion is resting in a dignified area can also help bring closure to the loss. Moreover, burial in a pet memorial park can be ideal for families who are not in a permanent residence, but still wish to inter their pet. It allows the families to take comfort in knowing that their friend is in a permanent area of remembrance where they are able to go visit, pay their respects, or simply reminisce over happier times.
It is very important to handle the disposition of your lost companion as you see fit. In other words, if you feel that it is proper to have a small service for the pet, then that is what you should do. Many find great comfort in inviting friends or relatives to the service for a pet, even if it is simply in one's own backyard. This is also a great way to show those around you how much the loss has affected you, and in turn, they may be more sympathetic to your mourning process. It can also be comforting to have a network of emotional support to help one through the pain of the grief. Most importantly, all pets are truly gifts, blessings in disguise, and they certainly deserve a few final words for the lifetime of endless love they provided.