Back to Info Center
What you Need to know about Pet Cremation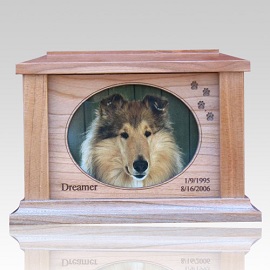 Losing a treasured companion animal can be one of the most heartbreaking events that all pet owners face. It is a sad fact that, for the most part, our beloved pets cannot stick around nearly as long as we would wish. Pet parents that face the loss of a treasured friend are also faced with the disposition of the pet after their passing. Burials of pets are one of the most commonly practiced unspoken traditions of our species, but in recent years, the popularity of pet cremation has certainly risen. Pet cremation can offer a wonderful solution for anyone who is unable to inter their pet, or is unable to handle their body after their passing (i.e.: elderly individuals who are not able to bury the pet). Moreover, cremation offers a number of ways to dispose of the pet's final earthly remains, which are not limited to placement in a pet cremation urn, burial, or even scattering. Understandably, one may be feel confused by - and even a little overwhelmed with - the prospect of cremating an animal that has been a cherished part of your life, and it is not uncommon for families to have many questions when faced with this tough decision. Here is a list of a few things that you may find helpful and interesting regarding cremation: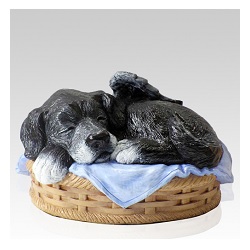 If you need help finding a good pet crematory, any veterinarian's office in your local area will surely be able to help. Veterinarians, in fact, often provide cremation services themselves (though in many cases, the offices simply contract the services, and the customer may save money by working directly with the crematory). If a veterinarian's referral is not sufficient, however, the International Association of Pet Crematories (IAPC) maintains a list of its members on-line, in which you can search by state. That group's website estimate that there are more than 600 pet crematories in the United States (making them readily available in just about every medium-to-large-sized city) and that at least 400 of those would qualify as reputable businesses. Pet crematories are not highly regulated in most regions, so customers would do well to check closely with groups such as the IAPC, Veterinarian Professional Associations (VPA) and even the Better Business Bureau (BBB) before contracting pet cremation to any firm.
Unlike cremations for humans, no laws require the use of caskets or containers of any type during a pet cremation. Pet caskets are available (in a variety of styles and functions) for use at memorial ceremonies, and, so long as those caskets are made of biodegradable material, crematories will generally allow pets to be cremated in them. If you are uncomfortable with your pet being cremated without the use of a container, you can also speak with the cremation representative to see if they are able to offer an alternative solutions.
Some crematories will offer customers the choice of having their pet cremated alone or with other animals (at substantial cost savings). When animals are cremated with others, reputable crematories will have strict identification procedures to assure that remains are returned to the correct owners. Reputable crematories will be happy to explain these procedures to you in detail. Usually, if a pet owner does not desire to have the ashes back, a pet will be cremated in a group, and the crematory will then take charge of dispensing the remains (usually by burial).
Some pet crematories offer special viewing services. Those that do usually offer embalming of the pet as well, in preparation of the services. While there are some that frown upon pet funerals, if a family feels the need to have a formal farewell to their cherished companion, then they should certainly do so. A companion animal funeral can be nothing more a viewing of the pet, with a few supportive friends and family members gathered around. This act can do a lot in the way of bringing closure to grieving families who have suffered the loss of their best friend, especially if younger children are involved. This practice offers us a chance to say goodbye to a part of the family that brought everyone love, joy, endless smiles, and comforting companionship.
The price for pet cremations can often vary widely from place to place. Reputable crematories will be glad to give price information (and answer all other questions, for that matter) over the phone. Unlike funeral homes and cemeteries for people, however, the business practices of crematories are not heavily regulated, so consumer's would do well to become as well informed about the business's reputation and practice as possible. If grief over the loss of a pet makes the visit to the crematory an emotionally charged experience, then one would even do well to take a level-headed friend or relative to help handle the arrangements.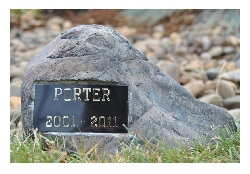 As mentioned before, there are many options for storing (or dispensing of) your pets remains after the cremation process. A popular option for many is the use of a pet cremation urn to both protect the ashes, and help create a final remembrance of the lost companion. While some pet crematories and funeral homes are able to provide a cremation vessel, there is a large selection of creative pet urns and keepsake urn that can be found on-line, and families should feel comfortable in opting for a vessel that best suites the pet, regardless of where it comes from. Pet cremation urn styles range greatly, from whimsical and light-hearted, to elegant and dignified, and many offer different functions. Often, families will have a question in regards to sizing a pet cremation urn; generally speaking, pet remains will require one cubic inch of urn space for each pound that an animal weighed.
For families who may want to share a pets remains amongst several households or family members, keepsake pet urns or pet cremation pendants are increasingly popular today for storing small amounts of ashes. These pieces hold a small capacity of ashes, and will help create unforgettable and comforting remembrances of a lost companion animal. Some individuals utilize only the smaller keepsakes, and either scatter or inter the remainder in a favorite place of the pet (i.e.: on a hiking trail or at the beach). Some even use nature pet memorials, such as that to the right, which hold remains and create an outdoor tribute to their beloved companion.
For families wishing to bury or scatter a pets remains, there are generally no restrictions against the practice. This is especially true if the family intends to scatter or bury the ashes on private property with the owner's permission. There are a variety of biodegradable pet urns that will help ease the act of scattering the remains. Some biodegradable pet urns are created to be dispensed of at sea, and depending on the vessel, one would simply place the urn in the water, where it will float momentarily before gracefully sinking. Other bio-urns are crafted to be buried in the earth, where they will eventually break down, allowing the pet's remains to become one with nature. A particularly interesting vessel that is meant to be interred is made with tree seeds, and will sprout into a living memorial in honor of the pet. These are just a few ways that one could create an unforgettable remembrance of a remarkable fur-ever friend.

Religion and Pet Cremation

There is no question that losing a pet is a very devastating event in our lives. Whether we realize it or not, we greatly depend on our pets from an emotional standpoint, as they offer us a world of comfort and companionship. In fact, when we face other problems or issues in our lives, our pets serve as a great comfort to help us forget of our daily worries. A quick wag of a tail, or a soft and soothing purr can often be enough to help our issues and stress melt away. Our pets serve as a constant source of positive influence in our lives, giving us a reason to get up in the morning, and come home in the evening, knowing that there will be a loving friend awaiting our presence. Regardless of what mood we are in, they are eagerly there to either celebrate the moment, or offer us a small shoulder to cry on, so to speak. With that said, when we lose a pet, we also lose a constant source of comfort and joy from our lives. As John Galsworthy once said, "Not the least hard thing to bear when they go from us, these quiet friends, is that they carry away with them so many years of our own lives." Those years are represented in the fact that we can come to rely on them so greatly that we don't realize how much we feel we need them until they must, unfortunately, depart our world.
It goes without saying that there is many a pet owner who has a strong faith. The question of whether the cremation of a pet is permissible under the world's major religions is an interesting one that occasionally arises as pet owners contemplate the way they intend to dispose of their pet's remains when the time comes. Here are the highlights of what we found in a brief Internet search on this question.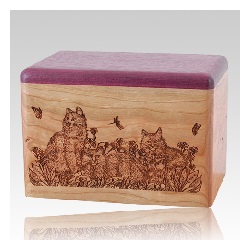 It seems apparent that none of the world's most prominent religions are strongly opposed to pet cremations. Even the Jewish Faith, which is adamantly opposed to cremation of humans, does not seem to entirely rule out the practice of cremating the body in regards to pets. In general, at least one Rabbi says, remains of a pet may be interpreted by some Jews as a "source of ritual impurity" and, accordingly, would be inappropriate for display in a home. But, even this Rabbi concedes that such objections are debatable, of course, given the emotional connection that most pet owners have with their beloved friends.
Other than that, somewhat trivial, objection to pet cremation among the Jewish religion, we found no other mention of religious prohibition of the practice. In fact, one prominent American leader, Dick Cheney, who is popular among many fundamental Christians has publicly acknowledged that he and his wife ordered a cremation for their beloved pet dog who died during Cheney's term at Vice President. Additionally, several articles on the topic written by experts in Islam say that cremation may be the most spiritually helpful method of disposal that a pet owner can choose. "One must let go of a pet that has died as it now belongs to Allah," one website devoted to Islamic issues says. The website goes on to suggest that cremation, with its built in air of finality, may therefore be helpful in reminding pet owners to keep their attention toward Allah rather than on the emotions associated with the loss of their cherished companion, which can certainly be a great help through the mourning period. In fact, many find that turning to their religion as a source of strength is just what they need when grieving the loss of a companion animal.
Of the various branches of Christianity, Catholicism has long been the most outspoken against cremation of humans. Only relatively recently has the practice been approved for humans, and even with the approval comes rules regarding the disposition of ashes. No such prohibitions exist, however, against pet cremation. Catholic leaders, like leaders of the world's other major religions seem almost indifferent to the way bodies of pets are disposed.
The one overriding theme that comes about the religious literature we surveyed on this topic seems to be that pet cremation is a perfectly reasonable and safe practice – so long as it is done with dignity and respect. Cruelty toward the memory of any pet, especially when cremation is somehow a part of the cruelty, is simply not permissible in any religion, and we find that to be a comforting fact.
For anyone who is still concerned that cremating their pet may be against their own religious denomination, we strongly suggest reaching out to your local place of worship. Many can find a quick answer to this question by simply asking their local church if it is acceptable to cremate the body of their pet. Often, the answer will be one that is more based on the individual's personal preference, rather than the views of their religion. This is simply because many religions do not specify any appropriate manner of handling the body of a pet after their passing.
Traditionalists may still prefer to bury a pet, perhaps even utilizing a pet casket, but pet cremation is on the rise and offers a variety of ways to honor the memory of a long lost companion animal. Many find that creating a remembrance in honor of the pet is an act that can bring a strong sense of closure. Additionally, the variety of cremation urns for pets and other items available in the memorial industry today can help create a truly befitting tribute to their life, which can also be very comforting for the mourning family, as they know that their friend has been giving a dignified resting place. On the other hand, a person that strongly values their beliefs may feel that many of them can apply to their cherished friend, and may want to honor them as they feel is the most appropriate. As mentioned before, the question of whether cremating a pet is acceptable per an individual's religious beliefs is answered by how the family feels it would be best to lay their beloved pet to rest.