Back to Info Center
Pet Epitaphs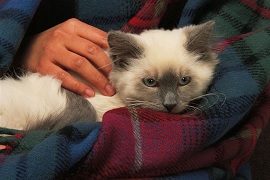 There is nothing more heartbreaking than losing a treasured companion animal. Whether expected or not, one can never truly prepare themselves for such a loss, and saying goodbye to a loyal and true companion can be very difficult, to say the least. Often, we are never done saying goodbye, but many find that creating a memorial tribute in honor of the pet can be a wonderful source of closure. A pet memorial can be anything from a garden stone with a small inscription, to even a touching cremation vessel that is personalized with the pets information. While this may seem like a very sad task, it does not have to be. Searching for a final remembrance for a pet can be a calming experience, as we can rest assured that the memorial chosen will befit the pet perfectly. Moreover, for those who wish to add an epitaph to the remembrance, reminiscing over the beautiful memories they left can remind us that while they are gone, they will never be forgotten. When it comes to a pet epitaph, the final message can be simple yet descriptive, or exquisitely elaborate. The purpose of the tribute is to honor the memory of the pet, and who would know how to do that better than their best friend? Moreover, a pet memorial can offer us a place of repose, where we can go to feel close to the pet, or simply to remember them. Some find it very comforting to know that there is an area designated in the world in honor of the life of a truly unforgettable companion.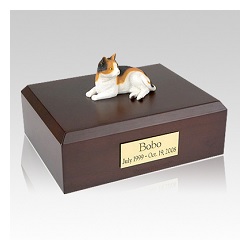 Pet Epitaphs are an intriguing study in human society. Needless to say there are several private burials or memorials dedicated to the lost pets of times past, but where we see the best example of pet epitaphs are in cemeteries for pets, which are scattered around the globe. In a pet cemetery, the memorial information ranges from simple stones with names and dates, to elaborate, sculptural monument works that are personalized to the max, for lack of a better term. Either way, these stones have, and continue to, preserve the final memory of someone's best friend and loyal companion.
In today's modern world, where less is often more, a good pet epitaph can simply be a pet's name, followed by the years of his or her life. "Woody 1999 - 2007." That may seem simple, or even trite, but it's the style of pet epitaph chosen by the vast majority of pet owners who create memorials to their pets today. That people would choose to celebrate their beloved pet's life with such a simple epitaph may disappoint the poets of the world. (But poets, by their very nature, will perhaps never be satisfied with the choices their fellow mankind makes.) There is no shame in a simple, name-and-dates only pet epitaph, if that's what you and your family decides upon. Often, families will even add a small message, such as 'Forever In Our Hearts' or 'Rest In Peace', to this simple information, for a slightly more personal touch. This is, of course, up to the discrepancy of the family, and most memorials will do well with, or without, that final note.
That said some families take steps to add a little more clarity to their pet epitaphs while still keeping it simple. Websites abound in which "sample pet epitaphs" are offered which go just one step beyond the standard name-and-dates pet epitaph. Included in these samples are phrases such as "Our Beloved Cat," or "The Cherished German Sheppard." These pet epitaphs are useful to future generations who may be interested in knowing just what type of animal a deceased pet was. By explaining that as part of the epitaph, a pet owner is helping assure that his or her loving friend will be remembered faithfully - and accurately - through the ages. A nice touch for something as simple as a pet epitaph. Again, the poet may be not exactly thrilled with this type of pet epitaph, but as with memorials for people, only the family of the faithful friend can decide what's appropriate for their memorial.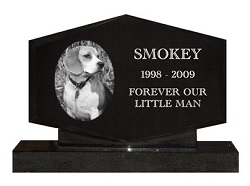 So, while we wish to stress that there should be no shame in crafting a simple, to the point, epitaph for your pet, the poet will finally be excited to see us say that elaborate, heart-felt verses make great pet epitaphs. In fact, creating an epitaph poet would be proud of can actually be a therapeutic, and memorable, family experience. Beginning poets often start their obsession with their art at the behest of an inspirational teacher who knows that everyone can be a poet. This teacher - as portrayed by Robin Williams in Dead Poets Society - simply encourages his students to let their ideas flow from their head onto paper (or even just into air). Once they are out, the poet-to-be learns quickly to appreciate their beauty and to clamor for more such experiences. Precious, and seemingly never ending, poetry results. A family in mourning over a lost companion animal can do much of the same in creating a beautiful epitaph for their friend. A wonderful way to help incorporate everyone's message into the final remembrance of the lost pet can result from simply calling all members around for a meeting, passing out some scraps of paper, and asking everyone to jot down a few thoughts or messages about the memory of the pet. After about 5 minutes, one (designated) individual could then collect the scraps and read them anonymously. This method is guaranteed to be the start of a discussion that will lead to the entire family to create a beautiful piece of personal poetry that can serve wonderfully as a pet epitaph.
While this elaborate method could result in a touching tributary message, one could also simply recollect the memory of the pet, and then decide what described them the best. For example, many have nick names for thier companions, and a small story about how those nick names came to be. One family shared with us that their lost dog looked (and often acted) very much like a piggy when she was a baby, so they took to calling her 'Piggy-Poo'. They decided that they wanted to incorporate this personal touch into the epitaph of the pet, and the result was a heartwarming pet memorial that will forever share with the world this small, yet very precious, characteristic of the fallen companion.
The most important thing to remember when creating a pet epitaph is to just make sure, no matter what it says, it comes from the heart and is full of love for the memory of your beloved pet.
See all your Pet Cemetery Stones choices