Back to Info Center
Grave Markers & Headstones for Pets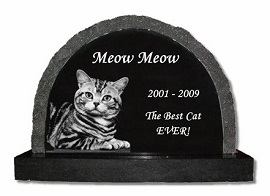 French poet and novelist, Anatole France, once said, "Until one has loved an animal, a part of one's soul remains unawakend". We feel that any pet owner will quickly agree with this simple statement. Our pets are some of the greatest friends that we will ever have the pleasure of making in our lifetimes. Great joy can be found in owning both traditional pets, such as a cat, dog, or perhaps a colorful aquarium of fish, or an exotic creature, such as an iguana or snake. They create a set schedule in our day, when we feed, water, walk, or handle them, which provides both us, and them, a break from the humdrum of daily life. Moreover, pets, even fish who we cannot physically handle, can be a wonderful source of comfort, as they provide a companionship that is constant. Those who own a pet that requires regular visits outdoors will be surprised to find how enjoyable it can be to take a quick break and enjoy the fresh air and sunlight, which we often neglect to do when we don't have an obligation to be outside. While this is true, it does not go to say that owning a pet is an obligation, as many find, spending time with them can be greatly enjoyable and comforting. In fact, many can agree that the responsibility of owning a pet is greatly outweighed by the joy they bring to our lives.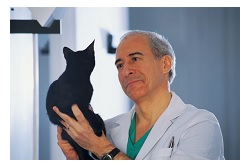 A companion animal can certainly make a place for themselves, both in our homes and hearts. But, as the old saying goes, 'grief is the price we pay for love'. The loss of a pet can certainly be a heartbreaking experience. Pet owners are often surprised at the amount of grief is felt when their beloved companion is lost, more so because the loss was that of an animal. Often, we are under the impression that a pet's death should not be grieved, because regardless of how close we thought we were to them, they are, after all, just an animal. The fact of the matter is that pets quickly become wonderful companions for good reason, and many find themselves missing their lost pet more so than a friend or relative, because the pet is a constant in one's life. Not only is the a pet a constant, however, but also a part of our lives that can certainly improve our overall being. The latter is, perhaps, one of the main reasons why when one loses a beloved pet, they are compelled, almost, to create a tribute to honor everything that the pet did in their lives.
This is where memorials for pets come into play. Pet Grave Markers, in addition to being beautiful pieces that capture your pet's memory forever. These wonderful tributes are made to honor the memory of any companion, as they are made to the highest of memorial industry standards. These grave markers are designed to be installed in a private residence or in any specially designated cemetery for pets. While the designs and styles of these memorials vary greatly, they are all sure to preserve your beloved pet's memory with beauty and dignity, for the ages.
Pet grave markers can help families cope with the loss they will surely feel at the death of a special pet. By establishing permanent memorials with pet headstones, families can practice the sound advice that psychologists typically give to those going through the grieving process for a pet. Experts recommend establishing a special location in which fond memories of a lost pet can be brought to mind at any time, and a pet headstone certainly provides such a location. Moreover, the tribute can also quiet the fear that the pet will eventually be forgotten over time, as it provides a permanent remembrance of their memory.
One of the greatest advantages of utilizing a pet headstone is the number of personalization options that are available. This helps ensure that the memorial will not only look elegant, but properly pay tribute to the friend of a lifetime. There are a variety of marker designs to select from, which range from flat, flush markers to elegant, standing headstones. These markers can be utilized to honor the memory of any pet, regardless if they were buried or cremated. For those who wish to honor a pet that was buried, there are a variety of simple and intricate flat markers to select from. Some of these memorials come per-designed, and often include a beautiful image, or verse that commemorates the loss. Others, such as the standing memorials, can hold a portrait of the pet, which is etched in, along with their information and a personal message, directly into the stone. Some of the tributes even hold a set of remains, to both create a peaceful final resting place, as well as an unforgettable tribute.
There are also a variety of nature-inspired memorials, such as the memorial rocks, which offer a larger focal piece, but still maintain an air of dignity and grace. These tributes are especially appropriate for pets who lived their life accompanying their humans in outdoor activities, such as camping, hiking, hunting, or any other sport. These tributes are made of an artificial stone, which both exquisitely simulates a natural stone or tree, and is strong enough to endure the elements that the piece would face in time. They are crafted so well, in fact, that the color of the piece deepens and becomes more realistic in response to the natural elements, such as rain, wind, and even snow.
Pet memorials are thought to help during the mourning process for various reasons. Of course, they provide a permanent tribute that honors the memory of the pet, but they can also bring closure to families, or individuals, that are having trouble accepting the loss. This is because they are able to select and personalize the remembrance as they see fit, which many feel brings a sense of closure in knowing that the tribute to the companion is not only adequate, but suited to their specific character.
Headstone & Grave Marker Ceramic Pictures
Kabil Gibran once said, "...love knows not its own depth until the hour of separation." Any pet owner who has suffered a pet loss can certainly agree with this simple quote, as there is no describing the blow when we lose a cherished pet. Many are more surprised at the state of grief that they find themselves in after losing a companion animal. There are those that may think, 'whats the big deal, it was only an animal', but for anyone who has ever lived with, and loved, a companion animal, the loss is just as devastating as that of a close friend, or even relative, whether they acknowledge it or not. One of the many reasons why losing a pet can be very difficult is simply because they provide us with a constant source of companionship, love, and above all comfort. Even on those days where it seems that the weight of the world rests upon our shoulders, a simple kiss from a sympathetic pooch, or a loving nudge from a caring cat can be enough to help relieve that stress greatly. One of the reasons why we can become so close to a pet is because of their ability to perceive our emotions, which allows them to comfort (or celebrate with) us. This simple ability is one of the most perplexing in the human-animal bond, as scientist ponder the ability of inter-species communication. Regardless, the fact remains that we can become just as close with our cherished companions as they do with us, to the point where (just as old friends do) they would finish our sentences, if they only could. While some may argue that such a bond is strange, it is really more of a matter of not questioning that which can bring us comfort in a world full of worries and strife. (It is interesting to note that studies find that those who own pets are a lot less likely to suffer from emotional disorders, such as depression, anxiety, and even, insomnia - which just goes to show the impact that our best friend can have in our lives.)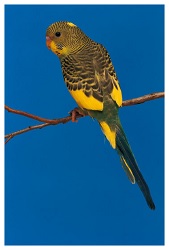 Most pet owners today love to take pictures of their cherished friends and spend time sharing those photos with friends and relatives. With the advent of digital photography and social websites such as Myspace and Facebook, capturing and sharing these fun moments is now easier (and more common) than ever. It doesn't take a long search on the Internet to find thousands of pictures of cute dogs, cats, birds, and even reptiles in funny poses, which are certainly memorable to the owners. These photos may seem very small, even insignificant, while the pet is with us, but after their passing, each different image becomes a treasured recollection of the pet's life. Even blurry images gain great significance, as it shares with us a glimpse from the past, and can, if only momentarily, help us clearly remember a small moment shared with the pet.
For these reasons, and the significance of the snapshots of our treasured companions, adding a portrait to a new or existing pet memorial can be a wonderful comfort, both during and well after the mourning period.
Pet grave marker pictures are ceramic plates, upon which an image is reproduced through a series of firings in an oven similar to a kiln for pottery. The baking process utilized for these special portraits ensures that the image will remain as vivid on the plate as the day it was first created, which is guaranteed for the portraits offered by Memorials.com. These portraits are available in a variety of shapes and sizes and can be created in either full color or black and white. Offered for each picture is a strong adhesive backing that will permanently attach to any flat surface, and which helps make the installation of a portrait as easy as possible. Pet grave marker pictures are not usually produced as part of a grave marker itself, but rather, are typically manufactured separately and then delivered to the customer who then applies them to a marker using the adhesive backing. (For those who are interested in both a portrait as well as a memorial, it can be specified to leave room to accommodate the picture. For more information on this option, please contact us and we will be happy to Help.)
One of the main reasons customers turn to pet headstone portraits to preserve their family's memories of their pet is that there are few limitations on the type of picture that can be turned into a pet grave marker picture. An image with the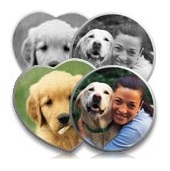 resolution of at least 300-dots-per-inch is all that is usually required. (While this is true, it is important to understand that the image to be created into the ceramic portrait should be as clear or crisp as possible for the best outcome. In some cases, blurry images will not be able to be used to create a ceramic picture.) Most of today's household scanners or digital cameras (or even other digital imaging software and machines) are quite capable of producing a 300 dpi image for electronic production, but, even if you do not have such equipment at your disposal, most pet grave marker picture dealers are glad to accept your picture via mail and do the digital transfer for you – usually at no charge. Your photo would then, of course, be returned. Our photo technicians can even accommodate special requests – such as the deleting of background in the picture or special cropping requirements – and provide a proof of the image before it is actually created. The picture to be used does not even have to be the exact size or shape of the ceramic plate onto which it is to be baked. As stated above, the optional tape backing can simplify the installation of the photo, and some families also run a small bead of sealant, such as silicone caulking, around the edge of the portrait for added security.
All in all, customers can expect their pet grave marker picture to be an authentic-looking replication of their original picture, permanently displayed for the world to see, and enjoy for years. So, if you've got a cute picture of your loveable pet curled up into a memorable pose, and, if that picture has captured a lot of attention on your Internet home page – or even at family gatherings – why not make it part of eternity with a pet grave marker picture? Adding any image of a pet to a permanent remembrance will allow us to visually reconnect with their essence, and can even help appease fears that the pet will eventually be forgotten over time. More than anything, a ceramic portrait will help create an unforgettable remembrance of a truly cherished companion.