Back to Info Center
Pet Keepsakes
How to Preserve the Memory of a Pet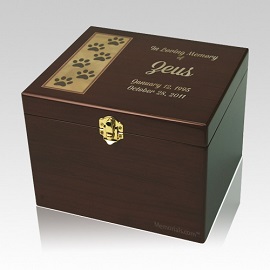 The loss of a pet can be very tragic for closely attached owners, and pet keepsakes can be, perhaps, the best resource for coping with that loss. It goes without saying that there is no replacement for a lost pet, as each has his, or her, own distinct personality and characteristics, which makes their loss all the more difficult to cope with for many. The thought that the pet will no longer be there every morning to demand their favorite breakfast, or to greet us as we walk through the door after a long day, can make their absence all the more difficult. Those who have lost a pet confront fears of being alone, without them, or that their memory will eventually be forgotten in time. Moreover, because the pet loss is that of an animal, many pet owners feel as if they cannot openly mourn the passing, or as if they should suppress the grief, which can cause them to feel isolated.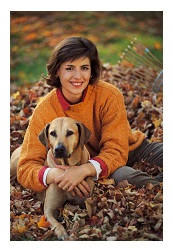 Experts say that feeling sad even crying over the loss of a pet is natural and healthy, but, sometimes, in our world, that is not easy to do. Society often forgets that pets can be as special as family members can and, accordingly has the unrealistic expectation that pet owners will move on quickly after the loss of a special pet. Many pet owners often hear remarks such as, "Whats the big deal, its just a cat", or even "You can always go adopt another dog". This can be a problem for a grieving pet owner who needs help recovering, emotionally, from the loss. While it is understandable that those who do not own a pet, or are not as close to the pet as the owner is may feel this way, the reality is that every pet is as unique as we, as individuals, are. Therefore, a pet cannot easily be replaced, and when one is, unfortunately, lost, it is their quirky and unforgettable personality that is missed the most. Those who are wishing to console a friend who has lost a pet should abstain from any comments or remarks that downplay the grief, as that can be harmful to the mourning process. Instead, lending a shoulder to cry on, or simply listening to them talk about the pet (whether you are familiar with the pet or not) can be the best gift that one offer. This is because a small act such as simply listening acknowledges the person's grief, and can encourage them to work through their emotions rather than suppress them, which is necessary for proper healing. Another thing to keep in mind is that at times like these, actions speak louder than words, and just as individuals are presented with condolence, or comfort gifts, when they lose a friend or relative, so can pet owners who are suffering the loss of a beloved companion.
Pet keepsakes can make for excellent and comforting gifts for a grieving loved one, or even for oneself. These keepsakes come in a variety of shapes and forms, and for a variety of functions, but they all have one thing in common: they help ease the pain caused by a loss of a beloved friend. These special keepsakes range from beautiful permanent portraits that hold a favorite image of a lost pet, to a keepsake box, in which photographs, toys, tags, or any other similar memorabilia of the pet can be placed. Like the pet portraits, a special frame that is personalized with the information of the fur-ever friend can be very heartwarming, and different photographs of the pet can be placed in, to help keep their memory alive and well. One of our most popular pet keepsakes is that of a clay cast, which will capture and preserve the paw print of a lost companion. This treasure can be very special for pet owners, and can be a wonderful addition to the remembrances placed in a keepsake box, along with other remembrances of the pet. When the owner is overcome with grief, they can visit the remembrances, and reminisce over the special moments shared with the companion animal.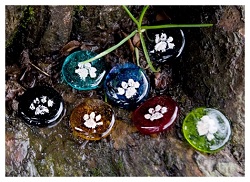 For those who wish for a remembrance that is not such a strong reminder of the lost pet, but still honors their memory, the pet memorial art may be just what is desired. This beautiful artwork incorporates the cremated ashes of pet into a stunning visual remembrance, which serves as a gentle reminder of their memory. These pieces are available in fine oil paintings, glass sculptures, and even heartwarming touchstones, such as those to the right, which can be carried along wherever life takes us. Another beautiful memorial is that of the pet sympathy cards. These cards will not only help let someone know that they are not alone in thier grief, but can also be planted as a living memorial to the lost. The plant will bloom and flourish, season after season, which is a truly special way to remind us that, while the pet is physically gone, their memory will truly live on forever.
To compliment the many commercially available pet keepsakes, the American Human Society recommends that pet owners also preserve a pet's favorite toy or food dish. Such an item displayed alongside a carefully selected a pet keepsake urn and even a pet keepsake pendant, can make for a beautiful memorial display in a home. In addition, aside from adding beauty to a home, such a display can do wonders for the pet owner's grieving spirit. While, as we said, this recommendation comes from the modern day Human Society, it is a practice that is apparently older than history. Archeologists have found hundreds of pre-historic graves over the years that have, nearby, the bones of a (presumably beloved) animal and the remnants of the pet's food dish and even toys.
The important thing to remember about dealing with the loss of a pet is that preserving happy memories is important., and pet keepsakes do just that. The wide selection of pet keepsakes available assures that a pet owner can find pet keepsakes that fit just about any animal's personality. These beautiful remembrances will help capture and preserve the memory of any fallen companion, regardless of species or breed.