Back to Info Center
Pets Are People Too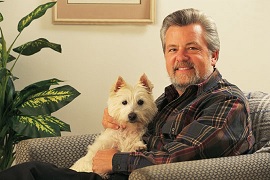 "Pets are people too" is becoming a common catch phrase in modern society, as more and more pet owners are discovering the joys of pampering pets the way they might do for a spoiled grandchild or beloved grandparent. While many may balk at the idea that a pet is seen as an equal, many families across the world embrace their beloved companion animals, and appreciate the how special they are to them. Often time, a person feels that their companion has such a positive impact in their life that treating them as a lesser being is not only insulting to the pet, but also to the morals of the person. For any pet parent, there is no question that a pet can have such a big impact, as they provide endless laughter and love, companionship, and most noticed (and often most appreciated) - comfort. Pets are best friends that simply put, come in a different package than we do. So indeed, for many, many individuals, pets are not only people, but truly special people that make our lives much better. It goes without saying then, that when a pet passes away, there is a large void in both our hearts and homes, and a grief that is deeply profound. Grief from pet loss can certainly be overwhelming, and many find that creating a tribute to their fallen friend is very comforting, both during and after the mourning period. It makes sense then, that as that catch phrase takes strong and stronger hold upon our culture, another phrase seems destined to join it: "Memorialize Your Pet". Below are some interesting facts, figures and ideas for those who have joined in the fun-loving idea that pets are people too and are curious about what options will be available when it comes time to memorialize your pet.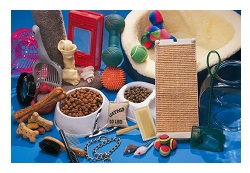 While it stopped just short of looking into what it takes to memorialize your pet, The New Yorker Magazine recently reported some startling statistics that surely give credence to the idea that many people do indeed live by the mantra that pets are people too. "Despite the recession, pet-related expenditures this year are expected to increase five percent over 2008, in part owing to outlays on luxury items like avian manicures and canine bath. 'We have so many customers who say they'd eat macaroni and cheese before they'd cut back on their dogs,' a Colorado pet-store owner recently told the Denver Post. In a survey released this past August, more than half of all dog, cat, and bird owners reported having bought presents for their animals during the previous twelve months, often for no special occasion, just out of love," the article reports.
This article does not address the idea of memorializing your pet specifically, but just a tiny bit of independent research reveals that the 'pets are people too' attitude applies to pets as much in death as in life. Just do a quick search online for pet memorials, and you will find hundreds of articles and blogs that offer (sometimes surprisingly creative) ideas for ways to pay tribute to your companion animal in as elaborate – and meaningful – a way as any other loved one. Despite all this discussion, statistics are hard to come by that give a scientific idea of just how popular the phenomena of pet memorials has become. However, that shouldn't lead to the conclusion that pet memorials are not popular, by any means. Plenty of anecdotal evidence prevails from bloggers of every creed, all pointing back to the idea that pets are people too and so, therefore, it is perfectly natural to memorialize your pet with all the love and affection you might afford any member of your family. We will finish this article by summarizing just a few of the ideas that people have come to adopt for memorializing their pets.
Pet cremation urns are possibly the most popular type of memorial product for pets, and, after reading the opening of this article, it should probably come as no surprise to you to learn that pet cremation urns are certainly designed with the idea that pets are people too. In fact, a great number of makers of pet cremation urns have taken to designing pet urns that are almost identical in every way (except perhaps size) to the lines of cremation urns they sell for humans. It is not uncommon for pet owners to declare as a last wish that their own remains be stored permanently for eternity in a cremation urn that matches one for their favorite beloved pet. But even if this is not the practice you will choose for your needs, pet cremation urns offer you plenty of choices for ways to memorialize your pet in an elegant style suiting your most beloved friend.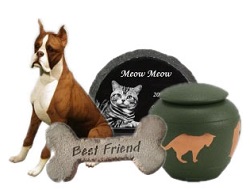 Pet caskets are another memorial option intended for the needs of many families who live by the belief that pets are people too. These luxuriously crafted pieces are available in a wide variety of materials and styles, all of which are sure to give any family a beautiful sense of pride and dignity as they pay their final respects to their beloved friend in a pet memorial service. Funerals for pets are becoming more and more common with the advent of elegant-but-affordable pet caskets, and these are often far removed from the simple affairs of yesteryear in which a faithful friend might be buried in a simple shoe box in a special back-yard spot.
We will round out our discussion of the many varieties of products available to memorialize your pet with a mention of pet headstones. As with all of the other ideas and products listed in this article, pet headstones are designed today with the idea that, certainly, pets are people too. Headstones for pets are quite common, of course, in the ever growing number of pet cemeteries that pet owners have at their disposal today. But other options are available as well: pet headstones are known to be installed in private gardens or even as part of a public memorial presentation in which a family can demonstrate its love for its beloved, special friend.
Upon the loss of a treasured companion, one is often faced with many difficult decisions, especially if the loss is unexpected. While this is so, it is important to consider the creation of a pet memorial, even if the idea does not seem appealing at the time. Many are surprised to find how therapeautic it can be to create a final tribute to a companion that brought so much goodness into their lives, as they know that the pet's life is, in a way, noted. Furthermore, a pet memorial will be a gentle reminder that while the pet is gone physically, they will always be with us in our memories, and most certainly, in our hearts.