Back to Info Center
Purchasing Tips for Ceramic Pictures for Grave Marker Headstones

Ceramic pictures are a surprisingly affordable way to keep your precious family memories alive for the ages. Just think of ceramic portraits as bringing to life the same kind of family photographs that you would consider saving from a burning home. Only these photographs are on permanent display for all to see on a grave marker.
Ceramic pictures can be made from just about any digital photograph that is at least 300 pixels per inch in resolution (in other words, the picture, when transformed onto a computer screen requires 300 tiny dots of computer screen light per inch. Lower resolutions are not insufficient because they lack the appropriate light density to create a good print on the special equipment used in the production process.) Hard copy photographs can also be made into ceramic pictures, of course, but this delays production time because technicians must scan the picture into a computer and create a digital version before proceeding to the other steps. It is only because digital photography has become so prevalent and affordable in the last decade that ceramic pictures have become a legitimate, popular phenomena in the memorial industry.
In general, the technology that produces ceramic pictures works like this: a customer presents a special family photo, and technicians edit the image so that it will look best on the ceramic file. Once the digital picture is properly edited (and editing, by the way, can include simple modifications such as cropping and removing backgrounds and touching up minor blemishes), production experts "print" the picture onto a piece of wet ceramic using a machine that works much the same way a laser printer does. Artisans then remove the ceramic from the printer machine and place it in a pottery kiln, where it bakes for some time, permanently setting the picture into the ceramic.
When technicians remove the ceramic piece from the oven they inspect the picture's quality and clarity and, occasionally, a remake will be necessary. Photograph technicians will edit the digital to make necessary adjustments, and begin the process over again. It's important to note that many factors determine the ultimate look of a ceramic piece once it has finished baking, so anticipating problems with the picture is not always an exact science. Remaking ceramic pictures is part of the trial and error process of manufacturing, and it can often not be avoided even by the most talented of production workers.
Once a picture has been baked into the ceramic, it will simply never fade. This is not the case, however, in cases in which pictures are laser etched into the ceramic. Customers wanting to assure their pictures have the longest life possible (baked ceramic memorial photographs will last centuries) should make certain that the picture manufacturer will be baking the picture after the print as been made. Other style of production will yield clear, long-lasting results, but they will not be as permanent as those done by this process we have just described.
Once a ceramic picture has been produced according to the technician's, and customers, standards, it will be delivered to the customer via a standard delivery service. Installation is usually a very simple matter involving simply a steady hand. Ceramic pictures can have a very strong adhesive backing that will create a permanent, weather proof seal upon contact. Simply removing the adhesive backing and very steadily pressing the ceramic picture into place is all that is required to install the ceramic picture. Another option is to have metal prongs on the backside which can be concreted into the grave stones.
Ceramic Portraits offer an amazingly affordable modern enhancement that assures a person's likeness will remain vivid for the ages. Thanks to these creations of modern technology, grave markers can be much more than just a collection of names, dates, and, perhaps, a special phrase or two. Ceramic pictures allow families to share their most precious memories as captured in treasured family portraits, for all eternity. Here is some information that will come in handy as you explore your options for purchasing and installing a ceramic picture on a individual or even family grave marker.
Shapes and Sizes of Ceramic Pictures
Ceramic pictures are available in a variety of common geometric shapes and in a large variety of sizes. Commonly available shapes include rectangles, ovals and even heart shaped pieces. All of these are typically available in sizes ranging from just under 3 inches in diameter to a full 8.5 x 11 inch piece (the size of a standard piece of typing paper). The size and shape you choose for your grave marker will vary, of course, according to your needs and tastes, but a typical ceramic picture to be installed on a typical flat grave marker will usually be between 4 and 5 inches in diameter, and the oval shape, or cemetery picture, is by most accounts, the most popular choice for shape. Some families choose to place more than one ceramic picture on a flat grave marker, and for those cases, a smaller size would probably be best. The beauty of ceramic pictures is that practically any picture, no matter the size, can be made to fit onto a ceramic plate of any size or shape.
Picture Requirements for Ceramic Pictures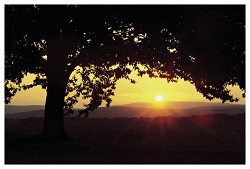 As we said above, just about any size picture can be made to fit onto a ceramic plate. A large 8.5 x 11 inch picture, for example will work nicely on plates that are smaller, and - in most cases - smaller pictures can be enlarged to fit onto bigger plates. It should be noted though, that there are some exceptions to this. For example, a pocket sized portrait taken in a studio still offers an amazing amount of details in clarity, and can usually be used to create a ceramic photo that is to be larger than the origional. However, small photos taken with a standard camera may have more restrictions, as the resolution may be too low for the image to be blown up and still remain clear. Technically speaking, it is easier to reduce a large picture than to enlarge a small picture. Digital photo manipulation techniques are improving constantly, however, and getting high quality enlargements of small photos is much easier that it was several years ago, but technology still is not perfected in this area. Likewise, any shape of picture can usually be cropped to fit onto any other shape of plate. In general, customers are asked to simply supply a digital version of their photograph that is at least 300 dots per inch in resolution, and ceramic picture production experts can transfer the image to a plate without any problem. If a digital version of the image is not available, the production team can usually create a digital version from a hard copy that is mailed to the production facility, but that usually adds several days (sometimes as much as two weeks) to the production process. In such cases, the original will not be harmed and would be returned along with the finished plate. In many cases, customers may wish to make simple changes to the picture, such as removing a background or cropping out certain people. Those changes can usually be made easily (and without extra charge) by the production crew. For more information the the ordering process and requirements for the ceramic portraits, please see our Ordering Ceramic Memorial Pictures article.
Ceramic Picture Manufacturing Process
Ceramic pictures are guaranteed against fading because the ink is literally baked permanently into the ceramic plate. To create the picture, a production crew first creates a suitable digital image based on the picture sent by the customer. That image is then "printed" onto an unbaked piece of ceramic using a special machine that works much like a standard laser printer. The printed ceramic is then placed into a very hot kiln and baked until done. Often, the picture does not recreate well on the first try, but there is no sure way to know this will happen in advance. In these cases, the production will simply make adjustments to the digital file and go through the printing and baking processes again. Because the manufacturing process is simply not an exact science and often includes a bit of trial and error it is usually difficult to name a precise day by which the ceramic picture will be ready. In general, though, ceramic pictures are delivered within 15-19 business days of being ordered.
Installing Ceramic Pictures
Ceramic pictures can usually be installed with no difficulty by the customer himself. All that is required is to remove the adhesive backing (for those who opted to have the tape backing when ordering) and place the picture on the grave marker. While this is not a difficult process, a steady hand is also necessary along with, perhaps, a measured marking of where the picture will sit. The adhesive backing is very strong, so it is important to exercise extreme care to assure that you are placing the picture in the exact position you desire. Typically, ceramic picture installation is very simple when one is equipped with the proper information and supplies.
See all your Ceramic Pictures choices