Back to Info Center
Purchasing Tips for Marble Statues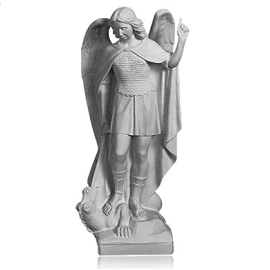 Statues are a common part of memorial displays in cemeteries, and even at private buildings and residences, across America. They are available in three, long-lasting materials, each with its own traditions and useful attributes.
Bronze and marble statues are probably the most common types of statues used today for memorial purposes. Both materials are entirely weather resistant -- in fact, like a fine bottle of wine, they grow more beautiful and more valuable as they age -- and will last for centuries. And both materials are versatile enough to accommodate just about any design. Bronze statues can be molded into just about any shape by using the famous "lost wax" technique, in which the liquid bronze is poured into a wax mold, allowed to harden and then heated again just enough for the wax to melt away. The result is an elegant bronze sculpture that captures emotion and portrays it in one of the most elegant ways known to man. Marble statues, meanwhile, are carved and chiseled into any sort of design the imagination can create. Modern technology has made it easy and affordable to create exact replicas of original designs of marble statues and bronze wax cast molds alike.
A third type of statue that is gaining in popularity is fiberglass. These types of statues have the long-lasting durability of bronze and marble, but they have one feature that the others do not: the ability to retain color. It is true that bronze and marble statues can be painted or dyed to hold the look of some color other than their natural hue. But those paints and dies cannot be permanent. They will fade over time, and that is why many artists who work with these materials will simply refuse to even attempt to colorize their works. From a historical perspective, the natural color of bronze and marble has worked for centuries, so, ideally, it is almost a sacrilege to even attempt to add paint or dye to a bronze or marble work. (It is done, however, but it's not yet a routine practice.) The modern contribution to the world of statues, however, is fiberglass. And like many other inventions of the modern world (from television to photographs) it allows for living color. Fiberglass can be manufactured in a variety of permanent colors, and these will not fade or go away over time. The result is that many famous, classic marble or bronze patterns can now be replicated in living color in much the same way that classic black and white films and television shows can now be "colorized." Just as with TV and movies, however, colorization is not a favorite practice among traditionalists who appreciate the idea of classic art maintaining its forever classic look. But, nevertheless, the option to add full color to statues is now available, and that option is in use in a wide variety of memorial displays of all types across the globe.
One of the surprising things that many customers discover about memorial sculptures is just how moderately priced and easy to install they are. Statues, like all types of memorial products, can be purchased for a wide variety of prices, based mostly on the size. Smaller statues of less than 2 feet are the most affordable, of course, and many families make excellent use of them as a residential memorial or as an enhancement to a cemetery plot. Larger and taller statues are also available, of course. Installation of a statue is best conducted by someone who has experience with such work, but it is usually not an expensive or overly complicated procedure. Most cemeteries will have experienced installers on their staff who can do that work for you, and, if you are intending to install a statue in someplace other than a cemetery, most any construction or landscape contractor can perform that work easily and economically. Many customers who lack installation experience have even successfully installed statues themselves, be that approach is certainly not recommended for the larger statues.
Marble statues have been a part of our human history for centuries, and these artifacts of days past have certainly helped us learn about the development of societies, as well as people's abilities. The earlier statues of the fifth and sixth centuries portray the development of our understanding, and posses features that are closer to our own anatomies, such as the width of the chest in comparison to the height of the piece, but still contain abstract aspects, such as the details of the face, hair and hands. As the societies developed, so did the art, which is certainly the case seen with ancient Greek and Roman sculptures, which portray realistic detailing of the figure, and features of the face and body. This simple difference in the way the statues were created provides vast knowledge of our own understanding, and leads us to wonder if the statues and monuments of today will provide the same learning tools to our future generations.
Regardless, statues have long since sought after for a variety of reasons, but one of the main being that they add a visual focal point of elegance to nearly any setting. It is understandable that one could be somewhat wary of purchasing a statue, and the figures can range greatly in size and appearance, and choosing one out of such a large selection can certainly seem daunting. However, the statues offered here are made of a marble and resin composite that makes the pieces not only more durable, but also somewhat lighter than their natural predecessors. That is not to say that these statues are any less elegant than the natural pieces, for they still provide the same classic appearance that marble statues are famous for. For those interested in the basic information on ordering a statue, below are some things to consider when buying a bronze statue or a marble statue.
We will add to this list on occasion. Please send us any suggestions or ideas of what we could add, or what you would like to see listed in this information; we always love to receive feedback from our customers.
Delivery Information:
Statues under 24 inches tall are sent via United Parcel Service (UPS) to your home or business address. Statues over 24 inches will likely require special freight delivery. Bronze statues are very heavy and can, therefore, be shipped only to businesses or cemeteries. Delivery time for marble statues is usually between 5-10 business days, depending on your location. These statues are all hand-crafted pieces, and sometimes do require a longer time before they can ship. If you are interested in a statue, but need it by a certain date, please feel free to contact us and we will be happy to look into the statue of choice right away; all of our contact information can be found on our Help page. For bronze statue deliveries, the shipping time can be up to six weeks. These statues are manufactured in Europe and arrive in the U.S. by ship, in Houston, Texas. When they reach the Houston harbor, they are inspected by customs and released to our shipping facilitator, who then send the selected sculpture on its way, to your address. Before we deliver a statue to a cemetery, we check with the office to authorize delivery.
Installation Information:
If you are planning to install a statue in a cemetery or other public place, such as a park or commercial business, please check with the official office of the location before ordering, to make sure your statue will follow their rules and/or reg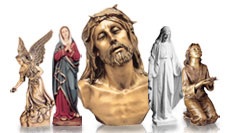 ulations. Cemeteries will often install the statue for you, or may even be able to recommend a professional installer to handle the placement. We do not sell bases for our statues, so, if you need a base, you should check with a local marble or granite dealer or mason. Even a local monument company may be able to provide, or construct, an ideal base for the piece. To ease installation, we can have marble statues pre-drilled with a dowel, which can accommodate a pin, in the bottom. There is an additional charge of $19.95 for this service, and this option is offered to you directly, as an option on the page featuring the statue, when you place your order.
Bonded Marble Information:
All of our marble statues are made of a substance known as bonded marble, which is a mixture of marble powder and a resin solution. Bonded marble, once dry, is much stronger than natural marble alone. For more information on the process used to create these wonderful pieces, please read our Marble Statues article, which is provides some information on where the statues are created and the manufacturing process involved. We do not sell natural marble statues at this time, as they are much more expensive and more fragile than bonded marble, which makes them difficult to ship. If you do prefer a statue that is made of natural stone, the Granite Statue section features a wonderful selection of statues that are crafted from pure granite.
Manufacturer's Reputation:
Our marble statues are made in legendary Carrara, Italy by one of the finest manufacturers in that country. Our bronze statues are made in Spain by one of the leading manufacturers of bronze art. The provided link above (Marble Statues) also has more information on our statue manufacturer, as well as the location of where the statues are crafted.

Quick Bronze Statue Question and Answer Section:
Where are they from?
The bronze statues are manufactured in Spain by one of the leading European bronze artist manufacturer.
How are they transported?
The bronze statues are shipped from Spain with large freight Ship's. Once they arrive here in the harbor they are transported with cranes to the railroad or per truck. When they arrive at the cemetery or business they will be unloaded with a crane or by simple man power depending on the weight of the individual bronze statue.
What is the delivery time once I order?
The delivery time for bronze statues is up to 6 weeks. Some of the statues are in stock others will be ordered directly from Spain.
How heavy are the bronze statues?
This depends on the size of the statue. Please call us at 800.511.5199 for any question on the weight of the bronze statue.
Will the cemetery accept delivery?
Before we ship any statue to the cemetery we will check with the cemetery and get their approval.
Can I ship them to my house?
The bronze statues can only be shipped to a cemetery or business. The weight is very heavy and our freight companies will not deliver to private households.
How is the bronze statue made?
The bronze statue is made using the "lost wax casting" method. Please click here and read a step by step guide on making a bronze statue.
Can you mail me a catalog?
Yes, we can. Please click on support@memorials.com to request a catalog.
Is there any guarantee on the bronze statues?
Yes, our guarantee is if a bronze statue should arrive broken, dented, missing parts or with any defect at all, we will replace them for free at no additional cost to you.

Quick Marble Statue Question and Answer Section:
Where are the statues manufactured?
Our bonded marble statues are produced in Carrara, Italy by one of the best manufacturers in the world.
How do they come to the US?
The statues are packed in wood creates and are shipped by boat to Houston, Texas. Once they reach the Houston harbor they are inspected by customs and released to our shipping facilitator.
Bonded Marble?
Bonded marble is a mix of marble powder and a resin; it is a composite material. The marble powder is from real natural Italian Carrara marble. The mix is put in a mold of a statue. The resin makes the statue harder than the natural stone.
How much is resin?
Approximately 75% of the statue is marble powder and 25% is resin, to make the statue stronger.
What is the difference between natural marble and bonded marble?
The main difference is in the color and durability. Bonded marble has a more white color to the statue, while the natural marble is not as white. Additionally, as stated above, bonded marble is more durable than natural marble.
Can I buy a base for the statue from you?
We do not sell any bases for the statues.
How do you ship them?
Statues under 24" in height are delivered by UPS and can be delivered to your home or business address. Most statues over 24" may require freight delivery. Delivery time is from 5-10 working days depending on where you are located.
Who does the installation?
Our recommendation is to contact the cemetery for the installation of the statues.
Can you mail me a catalog?
The website is our catalog; we do not have a printed version. This is how we are able to keep our prices low and offer free shipping.
What is your guarantee on statues?
Yes, our guarantee is if a marble statue should arrive broken, dented, missing parts or with any defect at all, we will replace them for free at no additional cost to you.
See all your Marble Statues choices