Back to Info Center
Purchasing Tips for Memorial Rocks
Garden Memorial Rocks Information, Guidance & Tips
Garden Memorials such as memorial rocks are a wonderful way to pay tribute to any loved one's well lived life. Their ease of installation and versatility of use make them the perfect product for just about any memorial need.
The installation of memorial rocks is simple enough that the services of a professional installer are rarely required. (Though many customers wish to hire one anyway, just for convenience sake, and, in such cases, since the installation is quite easy, the professional will often simply charge his or her minimum fee. We should also note that, for best results, the services of a professional are certainly recommended when installing a large "memorial boulder.") To install a memorial rock simply requires moving the rock to the location in which it will be displayed and setting in place. The weight of the rock will usually immobilize it even in the most harrowing of weather conditions, and it will discourage theft as well. Moving a piece of several hundred pounds will take considerable effort, and, even though each piece is considerably lighter than a natural rock would be, most would be thieves are going to be discouraged by looks alone. (All of that said; memorial rocks are all shipped with a heavy-duty metal eye bolt that can be changed to the ground -- usually with the help of an experienced installer.)
Another thing that makes memorial rocks easy to install is simply their status as a look-alike for a natural rock. Landscape designers do not usually have to make any special accommodations for a memorial rock because it looks exactly like a natural rock. While many cemeteries will not allow memorial rocks except perhaps in special designated areas, most other types of landscape designs will naturally accommodate a memorial rock in just about any way. Memorial rocks have even been known to be installed deep in forests -- even along public hiking trails -- without ever causing concern from property owners, visitors or anywhere else. This makes memorial rocks the perfect product for memorializing a loved one who lived a great life out of doors.
Garden Memorials have a myriad of uses, and not always do they simply memorialize a person who has died. Many corporations and educational institutions have designed memorial rocks to commemorate special anniversaries or unique programs. These memorial rocks can often be found adorning entrances to buildings or, in at least one case, an entire ranch. Likewise, entire neighborhoods have used memorial rocks to mark the main entrances to their subdivisions. In general, memorial rocks are appropriate for just about any purpose for which one might create a bronze plaque. The plaque is at the heart of the design, and, whatever it says it what the rock will pay tribute to -- and the sky is the limit to what the plaque can say. Bronze plaques on memorial rocks can have up to 10 lines of text with as many as 40 characters per line. But customers do not have to use all of that space for text. Many customers simply request, say, the name of a building and, perhaps, a company logo to be placed on a plaque. (It should be noted, however, that not all art work and fonts can be translated into a bronze plaque. Printing on bronze is a unique art form and some shapes and designs simply cannot be done physically for a variety of tec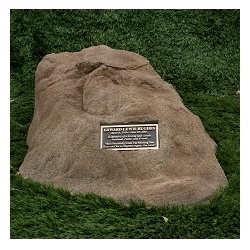 hnical reasons.)
But, of course, memorial rocks do also work quite well for their originally intended purpose: memorializing a person. One customer, for example, wrote to say that the memorial rock was the only appropriate "headstone" that would suffice for his family member who was a rugged individualist and spend most of his life outdoors with nature. Using a memorial rock as a headstone is clearly not the best choice in every case, but, in a good number of cases, family members will say it's the only choice.
Throughout history, mankind has utilized large stones or structures made of stone to commemorate special events and people of their time. Some of the most noted structures left from days past are created from stone, such as the Great Pyramid of Giza, which was made of limestone and granite in honor of the Egyptian Pharaoh Khufu over 4,000 years ago. Or perhaps the mysterious Stonehenge, made of bluestone and dating back to possibly 2000 B.C. In this case, the bluestone is actually dolerite that has been cracked or split by frost. For the sake of this purpose however, we focus on the symbolism of the material, which, in essence, is rock. Rock is very important in the fact that the steadfast nature of this durable natural material has held the secrets of ancient societies, erased by the relentless passage of time. It stands to reason then, that we utilize rock now to commemorate important events in our own lives and era. Today, it is common to use boulder style rocks to commemorate special events, such as the opening of a park, a dedication to a special person or event, or even as a tribute to the passing of a loved one. Natural stone, while beautiful, can be somewhat troublesome in the fact that it is more expensive cargo to transport due to the size and weight of what would be considered a decent size memorial. Not only that, natural stone is somewhat vulnerable to the elements such as heavy rain, winds, snow, and to an extent, even sunlight.
Memorial Rocks offer a unique alternative to natural memorial boulders, in the fact that they not only have the elegant and rustic appearance of natural stone, they are more lightweight to transport, and can even be more resilient to the elements. These beautiful memorials are crafted from grade GFRC (glass fiber reinforced concrete) cast stone to not only withstand the rain, wind, and even freezing conditions, but retain a wonderfully natural appearance that is actually even enhanced with the passing of time. These beautiful rocks can be used to simply a accent to a lawn or garden, or even as a tribute to a special event, such as a dedication piece that is placed in a public park or in front of commercial buildings. Regardless of the use, these extraordinary tribute boulders will elegantly accent any landscape they are set in.
These beautiful rocks can even offer families a new way to create a wonderful and peaceful resting place for a loved one. For those looking for a wonderful alternative to displaying a loved-one's ashes in a traditional urn or columbarium, as these boulders feature a cast bronze plaque that will hold written text. The discreet cremation chamber will safely house cremation ashes. There is even a companion option to extend the cremation chamber to hold two sets of ashes. The opening to the memorial chamber is hidden underneath the plaque, and is made of durable PVC material to hold and protect the contents within. The chamber, when extended, recedes into the earth, and is actually air and water tight, when properly sealed, to protect the contents from the natural elements. Both the standard and the cremation rocks are popular for use in memorial parks, cemeteries, cremation gardens, nature trails and even gardens in private residences. They are perfect for those looking for a more natural, and even spiritual, display option than traditional urns and memorials provide.
Process & Color Options
Since the molds for our memorial rocks are carefully replicated from actual rocks found in nature, our customers expect that the color processes we use match the realism of our castings. Their demand for quality is met by skilled craftsmen who enhance the GFRC cast stone with permanent natural shades using a proprietary coloring technique that requires no special maintenance in the future. In fact, our customers should be pleased to learn color of the replicated memorial rocks will actually appear more lifelike over the years with the helpful effects of the natural elements such as the sun, snow and rain. Some of the most popular color options include slate gray, sandstone, and granite, and the surface of the stone responds to the elements by gaining a more rugged and natural appearance, as the colors deepen and adjust. These rocks are crafted by highly skilled artisans who use a unique coloring technique that makes the rock look as realistic as possible. No maintenance is required to keep the rocks looking natural for years, even decades, to come. In fact, many customers have noticed that the rocks actually begin to appear even more lifelike as time goes by, and as the Earth's elements work their magic. Our memorial rock samples article offers a few examples of these realistic stones in a natural setting.
Durability of Garden Memorial Rocks
Memorials.com line of memorial rocks are molded from real rocks and, accordingly, are as durable and resilient as real stone. The rocks are able to withstand the harshest of Earth's elements for year after year, and they can support more than 9,000 square inches of pressure. The rocks even hold a few advantages over real rocks, in that they weigh between 70 and 140 pounds, while their real-life counterparts can weigh up to 1000 pounds or more. Not to mention the interior cremation chamber accommodates and protects cremation ashes, or other precious mementos. These beautiful memorial rocks will indeed pass on precious memories for many years to come.

Sample Memorial and Boulder Rocks
Creating a beautiful tribute that honors a certain person or even is definitely easier said than done. Even those individuals that have an idea of what they want the plaque to look like may have a few reservations when actually jumping into the process, as just the thought that this piece is going to be a permanent remembrance is certainly intimidating. Those concerns are actually well founded, as of course, when creating a tribute to any person or event, it should be a piece that is as beautiful as it is dignified. These beautiful stones definitely help in that aspect, as they are not only made from a durable material, designed to withstand the elements, but also feature designs that help give them a naturally regal air. They are ideal for those that are marking an area in honor of a certain event, such as the opening of a new park, or even to thank an individual or group for their commitment to a certain cause. For example, we have had families who created a garden to thank an individual for their countless contributions to their foundation, and a stone was set in place in her loving memory. On the other hand, many families have used the rocks not necessarily as just a tribute, but as the final resting place for their loved one. One of the most amazing features of these pieces is that they contain a PVC cremation capsule, which will not only hold the remains of a person, but also protect them from the elements. The ordering process of the stone is made as simple as possible, to help ease the acceptance of the delivery, as well as the installation of the piece. These rocks do include a complimentary bronze plaque, but it is limited in size. Those that are interested in a plaque that will hold more information are always welcome to contact us with their inquiry and we will be happy to confirm with the designers to verify if a plaque can be specially made to fit the requested text.
For those who feel hesitant in creating such a tribute, we would like to assure that the process is quite simple. The hardest part that many do face, in fact, is simply deciding what goes on the plaque that the memorial rock holds. There are also a few articles that can help with this problem as well. One of which being the Memorial Rocks Epitaphs article, which provides a list of verses that are appropriate to place on the plaque. These verses can either be used as a source of inspiration, or even be placed on the plaque to help create a touching tribute. However, often what really helps is for the individual to reach out to family member who may help in creating a befitting verse to honor the loved one. For those creating a tribute stone that will honor an event, the process of generating what the plaque will say is usually a little less complicated, as the topic is, for the most part, straight forward.
While these pages can help decide, or inspire, what goes on the stone, some may still feel hesitant in regards to deciding the final verse. What many find helpful are visual examples of the memorial rocks, especially those where the rock is displayed in it's final destination. Here we will show you a page with Samples of our work:
Sample 1: Ceramic Picture in a Memorial Rock installed. This rock depicts the ceramic directly in the rock. We can also accommodate some ceramic photos on the bronze plaque, which can provide a more 'neat' appearance. Here, the family has also utilized a granite vase and solar lamp, to further emphasize the memorial created.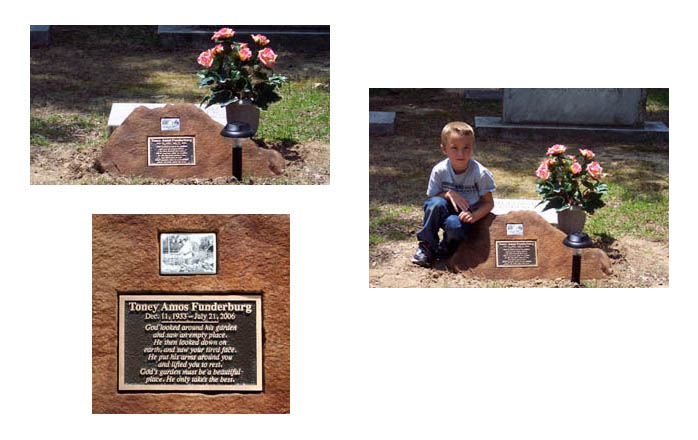 Sample 2: Ceramic Picture and bronze plaque installed on a sandstone Memorial Rock. This is also a wonderful example of a memorial cremation rock used to honor a lost loved one.

Sample 3: Bronze Picture (Bass Relieve) in a Memorial Boulder (Large Rock) installed (only by price quote). The left clay form is hand made by one of our artists.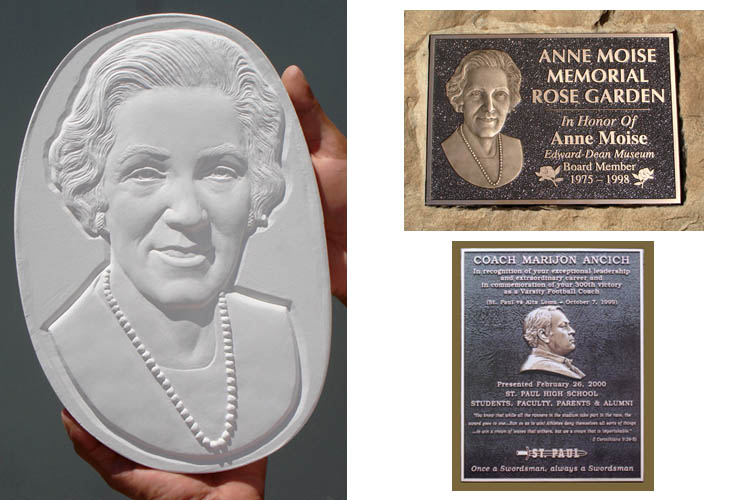 Sample 4: Here is a Memorial Rock created to honor two individuals. Also shown here is a glimpse of the packing material utilized to safely transport the rocks.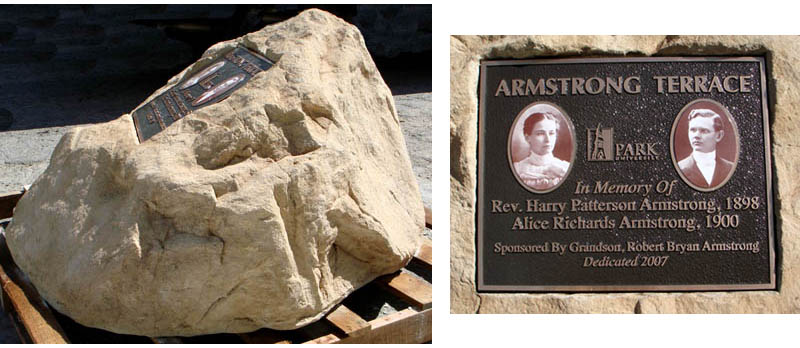 Sample 5: Memorial Rock with a logo on a bronze plaque installed in the final destination.

See all your Memorial Rocks choices