Back to Info Center
Reasons to Memorialize your Pet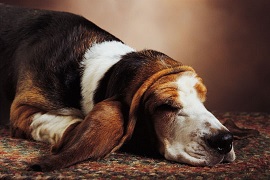 Why do we adopt pets? In our day and age, it is not uncommon for families to accept both traditional and exotic pets into their homes, and hearts. According to the Humane Society of the United States, 67 million U.S. households have a pet. This trend has surpassed many, many decades, since the first days of the, arguably, controversial 'domestication' of the wolf. While pet owners are often bashed for their strong bonds with their furry (or scaly) friends, owning a pet can have many benefits in ones life, both emotional and even physical. We bond with our pets because they offer a constant source of both companionship and comfort. Many can agree that there is no greater joy than coming home after a long day, to be eagerly greeted by a happy pouch, or to curl up on a couch with a soft, warm cat on a dreary day. Our pets fill in the voids in the day when we may, otherwise, feel lonely, and they can even be very empathetic to our needs. What is really more perplexing than our ability to bond with a pet is their ability to be so perceptive of our state of mind, and to react accordingly. Moreover, studies show that children that grow up in homes with pets are often less likely to have respiratory illnesses or allergies, as their immune systems naturally condition themselves to defend against the dust and dander that pet's usually carry. Even the simple act of taking a pet out for a walk can introduce a small, yet important, amount of physical activity into our daily lives. A pet can truly be a welcome addition to any family, and the responsibility of caring for them is, for many, greatly outweighed by the love and comfort they provide us. These are just a few benefits of owning a companion animal, which are also valid reasons as to why we can become so attached to a pet, and why many greatly grieve the loss of such a friend.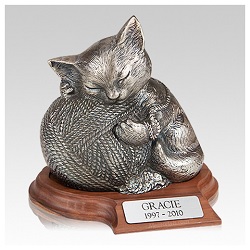 Just a few years ago, an internet blogger wrote that finding memorial products for your pet was very difficult in most parts of the United States. Today, however, a quick search of the internet will yield at least dozens of companies, such as Memorials.com, who offer pet urns, pet headstones, cremation jewelry for pets, just to name a few of the number of other pet memorial items. The vast majority of these companies make most of their memorial products sales via the internet because, well, the demand for pet memorials has not quite reached a level to justify brick-n-mortar stores in most cities. While this is true, many funeral homes are now offering a small line of memorial products to honor the memory of a lost pet, as the demand for such only keeps growing. While this is true, many pet owners that have suffered pet loss do not create a tribute to the pet, and many do not even properly mourn the loss for fear of judgment. Often, because the loss is that of an animal, an individual can feel that it is wrong, or us plain silly, to allow themselves to grieve for an animal. Just as many non-pet owners assume, because the loss is of an animal and not a person, grieving them would be inappropriate. While this is the main conception, it is still incorrect. Experts acknowledge that pet loss is just as valid as any other loss, and therefore, it is not only appropriate, but necessary to grieve, to help maintain healthy living, both physically and (especially) mentally. We feel such a strong blow upon the loss of a pet because they are true friends, companions in life, and therefore, we should both acknowledge and honor their life and loss. Here are just a few reasons why it can be very comforting, both during and after the mourning period, to memorialize a lost companion animal:
As many a commentator on the Internet has noted (often with disappointment), it is common today for families who have lost a pet to simply pay a "disposal fee" to a municipality or veterinarian office and, well, be done with it. Often, a pet owner will take a sick animal to a veterinarian, learn in a phone call that the pet's condition is terminal, order an euthanasia, mail a payment for the disposal fee and then simply never see his or her beloved friend again. This is scenario has become routine in the United States today, but it can have some sad emotional consequences for the pet owner and his or her family who are never afforded a proper opportunity to say goodbye, which can be a very important step towards healing. Many pet owners who stumble upon pet cremation jewelry, pet grave markers and other such products, even many years after the death of their pet, bemoan the fact that they did not create, what they felt, is an adequate pet memorial.
That is just one reason why even experts in psychology today have begun to seriously recommend that pet owners establish some form of memorial for their lost pet. "Grieving over a beloved pet is perfectly natural and should never be minimized or dismissed", they advise.
But, for those who remained unconvinced of the benefits of building a memorial for an animal, stories of what at least sometimes happens to the bodies of pets who are not properly may be chilling: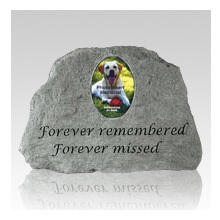 Investigative reporters across North America have made a number of attempts to find out just exactly how dead pets are disposed of, and some of their results are startling: some reports say that many bodies of pets end up in rendering plants where they are mechanically stripped of their fur and flesh (sometimes while still wearing their collars and other such items), and each part ground up and churned into a variety of other products, ranging from fertilizer to, even pet food. While these reports are usually denied by leaders of the rendering industry (which does recycle farm animals), they are so numerous that they seem plausible at least in some cases. Even if the bodies are not sent to a rendering plant, however, they are typically unceremoniously cremated – often in ovens with many animals at once – and the ashes are informally disposed of in a simple dumpster or even open air outside the crematory. This is not to say that your local veterinarian disposes of lost pets in the manners stated above, but the idea of not knowing what has happened to the friend that so long was at our side, can be very troubling.
This is just a small example of why it is important to properly dispose of, and even memorialize, a pet who has, unfortunately, passed away. Some are able to bury a pet, especially if they live on their own property, but for those that are not so fortunate, there are pet cemeteries across the states that hold grounds specifically for pet burial. On the other hand, having a pet cremated opens up the possibility of dispensing the ashes in a number of ways. Some individuals scatter the remains in the pet's favorite place, place them in a pet cremation urn, or even, bury the remains in an appropriate area. One could even go further as to obtain a pet grave marker or headstone, such as that to the left, to commemorate the area where the pet is laid to rest. Even a simple and inexpensive memorial can be greatly comforting to anyone who wishes to celebrate the life of the pet. Creating a permanent tribute can be a great tool in the healing process, as it both honors the life of the pet, and offers us a permanent area that we know is dedicated to their memory. These are just a few ideas of how handling the disposition of a cherished companion, no matter how painful it may seem, can be for the best outcome.