Back to Info Center
Shopping for Cremation Urns
Shopping for cremation urns is, of course, a task that few will look forward to, let alone, relish doing. Whether the urn is for yourself or a loved one, the need for the urn alone is enough to make anyone feel emotional. Even today's huge variety of urns can make the job seem daunting, but armed with a little basic knowledge, consumers can turn shopping for a cremation urn into a surprisingly comforting experience. Many, in fact, have even told us that they found themselves a step closer to closure after finding an urn that they felt perfectly suited their needs. Knowing your options for obtaining an ash vessel is also very important, as many find themselves restricted to the urns offered by a local funeral home, which are often of a small selection that is highly priced. Our website is an excellent source for all your cremation urn needs, as we offer an extensive variety of urns that are at an unbeatable price. Below is some information that will be very helpful when searching for the perfect cremation urn.
Funeral Urn Size:
The first thing to take into consideration when selecting your urn is the size that you will need. In general the average body creates 1 cubic inch of ashes for each pound that the person weighed. So basically, an individual weighing 180 pounds in their healthy weight will need an urn that holds at least180 cubic inches. While it is very (and we do stress very) important to find an urn that holds the minimal amount of cubic inches necessary for your loved one, it is common for an urn to be larger than necessary. For example, most individual urns made for adult ashes hold around 200 to 220 cubic inches, so it goes without saying that the individual weight 180 pounds will have ample room inside an urn of this size. So when looking for the size of the urn, remember, it is better to have a little extra room, than not enough. For more information on sizing a cremation urn, the urn sizes article can be of great interest.
Funeral Urn Pricing: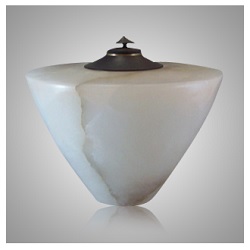 Prices for cremation urns will vary greatly depending upon the intricacy of design, construction, and the availability of materials. Hand-made urns made from rare materials, such as the hand-turned alabaster urn to the right, can cost thousands of dollars, and urns made via an automated process from relatively common materials, such as brass, will often cost less then $100. There are even urns that are made of beautiful natural materials, such as marble or granite, that are reasonably affordable, it is just a matter of searching through to see what stands out to you and is in your price range.
Consumers should be careful about letting price considerations sway their decisions. More expensive does not, necessarily, mean "better." To reach the best results in shopping for a cremation urn: Set a "high-end" amount that you are willing to spend on an urn, and select the urn the strikes you hardest within that price. Today's urn retailers have an almost endless variety, and you will certainly be able to find "the perfect urn," even if your budget is less than $100. In fact, you will find that, the higher your price range, the more difficult the choice will be. Also bear in mind that with the endless personalizations options that are available for most urns, even a plain urn can become a beautifully fitting tribute to your beloved. Do not be bashful about selecting an urn that is less expensive than you had expected. There is no shame in finding a bargain, even for a cremation urn, and this is exactly why we have worked hard to bring forth an amazing collection of ash vessels at affordable prices.
Funeral Urn Types:
Today, urns are available in huge variety of shapes, sizes, and styles, but there are three basic urn types, based off sizes, that are described below. For those who would like a greater in-depth look at the wide variety of styles, the article what different urn styles are there is very informative.
Individual urns are designed to hold the ashes of one person. These urns usually range between 200 to 220 cubic inches for the capacity.
Urns for two are designed to hold the ashes of two (or more, in some cases) people. Some of these have one large compartment; some have two compartments, and still others have removable "walls" to make them interchangeable. Although these urns are usually intended to hold the remains of more than one person, many companion urns are stylized to look like a single urn, so they can even be used as an 'oversized' urn.
Keepsake ash vesels are designed to hold a small amount of ashes. Families often buy several of these urns so they can share the remains of their loved-one. Many keepsake urns are also made to be used as children, or youth urns, as they typically hold between 3 - 60 cubic inches.
Again, many families are troubled with the idea of having to find an urn for a loved one, which is definitely understandable. Many people are now even selecting or purchasing an urn for themselves so their family can rest assured that the urn is what the deceased would have wanted. This pre-need planning of the cremation urn can greatly help a family at the time of loss. In any case, wether pre-need or at-need, searching for a cremation urn can be a fullfilling experience for those who are prepared for the task at hand.
Cremation urns are part of one of the oldest traditions known to human history. Although there is no record of the first civilization to use a vessel of any type to hold the cremated remains of a departed person, it is documented that cremation or cinerary urns were used to memorialize important figures in ancient societies, such as the Roman and Greek civilizations. This means that since our earliest days, we have been prone to leave our mark, to let our predecessors know about our time in this world. This stands true today, if not more so, because we memorialize all lost loved ones rather than just important political figures. Luckily, to meet this demand for those that choose to have themselves or a loved one cremated, cremations urns today are available in a variety of color, styles, materials, shapes, sizes and so much more. No matter what aspect of a cremation urn you are interested in, nearly everything is customizable, allowing even the most cost conscious families to create memorials befitting the personality of their precious loved ones. Here is a summary of the options one can keep in mind when choosing the perfect cremation urn.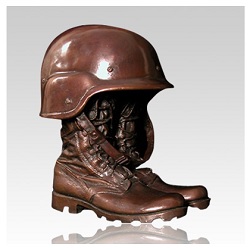 What do I need to know about the Cremation Urn Size:
Cremation ash vessels are available in any number of different sizes, each suitable for a different type of use. Very large cremation urns usually hold 400 - 500 cubic inches worth of remains and are suitable for the many couples who are comforted by the thought of spending eternity together in one urn. Some of these large urns are designed to have the option of a single or double compartment, so they could even be used as 'oversized' urns if a family so wishes. Although most urns in this large size are described as 'companion urns' or 'urns for two', a good number of them are designed to look like a single vessel. Standard sized cremation urns typically hold 170 - 350 cubic inches worth of remains and are the usual choice for most people. But, that said, these "individual" sized cremation urns can vary a great deal in the exterior size and shape. For example, some urns feature a rather large sculpture, in which the cremated remains would be stored in the base of the piece, while others that may also look more like a sculpture than an urn, are smaller as they are designed to hold the ashes in the body of the piece, rather than in the base. While the individual or standard sized urns can range from 170 - 350 cubic inches, the average size of most full-size or adult urns is approximately 200 cubic inches. Finally, the smallest size of cremation urn, known as "keepsake" urns or youth urns, typically hold anywhere from a teaspoon to 60 cubic inches of remains. This small size of urn is usually utilized by those who have had the misfortune of losing a child, and are not intended to hold the entire set of remains of a single adult person. The small size urns are also perfect for families who want to divide the ashes of a loved one amongst several locales or family members, or for those who wish to keep a small portion of ashes that are otherwise scattered over some special place.
Is the Cremation Urn Color important:
Cremation urns are available in a variety of colors that span the rainbow, and can set any sort of tone for a memorial that a family can desire. Whimsical, playful personalities can be remembered through the ages with a bright color, or even mixture of colors on an urn, whereas more studious personalities are best memorialized with urns that feature a serious or even earthtone color. The design of an urn can even be completely set by the colors selected, and the pattern that they are placed in. In fact, one wood urn artist is well known for creating colorful, dimensional designs not from paint, but rather by using pieces of rare wood that are a multitude of different colors. The natural coloring of materials such as wood or marble, or even bronze can even be enough to apease the needs of many.
What Materials are Urns made from:
Cremation urns are made from all sorts of materials, ranging from long-lasting natural substances such as marble and granite to biodegradable materials such as gelatin or rock salt. This vast array of choices for materials means that cremation urns can be used for just about any memorial service imaginable. Studier materials, such as steel and bronze are suitable for placement in a niche or for direct burial of remains, while the less hearty materials such as glass or wood can become beautiful additions to any interior decor. One surprising choice of cremation urn material that is fairly popular is paper. Yes, it's true that many people today desire to have an attractive urn at a funeral service but do not intend to keep the ashes stored in a single place for a long period. So, for these cases, biodegradable urns, relatively inexpensive, urns made from paper or cardboard are the perfect choice.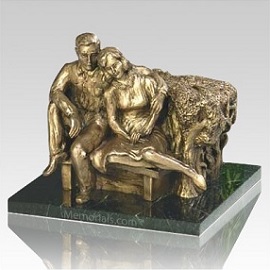 Are there different Urn Designs:
The most amazing thing regarding the diversity of cremation urns may just be the availability of multitudes of designs. Those who think of cremation urns as simple, vase-like cylinders will likely be surprised at what else earns the name cremation urn these days. Traditional "Grecian" urn designs, such as the urn to the left, are still quite common and popular, of course, but that is just the start. Beautiful urns are now available today that take the shape of jewelry boxes, kitchen ware, sporting goods, and even motorcycle gas tanks. It's not uncommon today to see urns designed to be part of an outdoor memorial display -- such as in a hollow "memorial rock" that is installed in a garden of some sort. And, with the explosion of creativity in the memorial industry in recent years, elaborate or unusual designs of urns do not necessarily have to be custom ordered from an artist (though many people still do that). Plenty of ready-made, off-the-norm, and traditional designs are available from retailers at any time and can be shipped, in most cases, within a week. Funeral urns for ashes featuring baseball gloves, hunting scenes, and even a ball of yarn are among the many unique designs that are available for immediate purchase these days.
In conclusion, it is important to capture the history we make so our future generations can know where their ancestors were from, and how they lived. Anyone who does not have the priviledge of a well documented family history will tell you that it is important to be able to learn about the roots that we have grown from. With the mulititude of options available for cremation urns today, we can create cherished and unique memorials that will carry accross the essence of our loved ones for all eternity.
What do Cremation Urns weigh:

The weight of an urn will vary from urn to urn and depends on the material used to make the vessel, as well as the size. The weight of every urn is listed in the 'Product Detail' section of the page featuring that item.
How do I get the ashes in the funeral urn?
For the most part, a lot of families are able to transfer the ashes from the temporary vessel into the urn of their choosing on their own. Usually, the funeral home places the ashes in a plastic bag that can be taken out of the temporary box and placed directly in the permanent urn. For those who do not feel comfortable handling the ashes, we recommend speaking with your funeral home, as they may be able to transfer the ashes into the urn for you. Some families even have the urn shipped directly to the funeral home, so the ashes can be placed directly in it, instead of the temporary vessel. If your family is planning to make this type of arrangement, we do strongly recommend letting the funeral home know of your plans, so they are aware that the urn is to be delivered to them.

How do I know if all of the cremation ashes will fit?
Our basic rule of thumb regarding the capacity of an urn is 1 cubic inch (a little less) per 1 pound of body weight. For example, if your loved one weighed 200 cubic inches in their healthy weight, they would need an urn that held at least 200 cubic inches. Typically, an adult person would need an urn that held at least 170 cubic inches.
How do cremation urns open?
The opening of an urn depends on the design of the urn. For example, a vase-shaped urn may have a top opening threaded lid, whereas an urn that is box-shaped may have a back or bottom opening plate that attaches with screws. The opening of the urn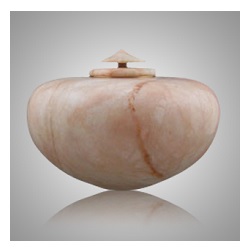 is listed at the end of the description of the page featuring that specific item.
Do you recommend sealing the funeral cremation urn?
Some urns have openings that are very secure, for example a bottom opening threaded plug, in which case further sealing is optional, but not usually necessary. For those who have an urn on which the lid just sits, or simply wish to further secure their urn, we recommend a small amount of silicone-based adhesive, which is usually available at your local hardware store (i.e.: Wal-Mart or Home Depot).
Can you tell me what a keepsake urn is?
A keepsake urn, also known and a token urn, is a small urn that is intended for only a very small amount of remains. These small urns are perfect for an office or if you scatter the ashes and would like to keep a small amount for yourself. Customers who decide to split the ashes up amongst siblings or family members would also use a keepsake-sized urn. With a keepsake urn you can create a small, personal memorial for your loved one.
How do I know which urn can be engraved by Memorials.com?
Any urn that can be directly engraved will list an option for engraving on the page featuring that item. For those that cannot be directly engraved, or if you would simply prefer to personalize the urn but not directly, there is a link under 'Helpful Links' on each page, that will take you the personalized engraving plaque and easel options.
Who would you recommend for engraving my urn?
In certain cases where an urn is engravable, but we do not have an engraver at that location, or if you have purchased and received your urn but did not opt for the engraving at that time, we would recommend checking with your local trophy shop or even jeweler to verify if they are able to engrave the urn.
Can you send me a funeral urn catalog?
Our only urn catalog is the one listed online. We do not keep printed catalogs as we are constantly adding and updating our items, also this helps us keep our prices as low as we can and helps reduce paper waste. We do try to list all of our items with as much information as possible, but if you come across an item you have further questions on, just give us a call and we will gladly answer any questions you have.
Is there any guarantee on the ash urns?
We guarantee the urns to be without any defects otherwise we will take the funeral urn back or if personlized replace the funeral urn.