Back to Info Center
What Urn Types are there?

What Different Funeral Cremation Urns are available
Cinerary urns come in a wide variety of shapes and sizes, and Memorials.com has one of the largest selections available on the Internet. Below is more about all the Cremation Urns offered here within. Before we begin, however, we would like to stress the importance of understanding the basic rule of thumb in regards to the size of the cremation urn needed. Funeral urns are suitable for display during a funeral. The name "funeral urn" often creates confusion among people who may assume that only a particular type of urn can be displayed in a funeral. That is not the case. In fact, any urn can be thought of as a "funeral urn. But urns that are formally labeled Funeral Urns are designed with the specific idea that they will be seen by loved ones during a memorial service. For more information on sizing an urn, please see our Cremation Urn Sizes article.

Keepsake Cremation Urns
Many families who have lost a loved one know the profound comfort found in holding onto a personal belonging of the deceased. Many families keep personal mementos, such as jewelry, favorite articles of clothing, even locks of hair can bring a feeling of soothing peace. Usually, the more personal the item, the more comfort is gathered from it. Keepsake cremation urns can be a great comfort to many, because they hold a small amount of cremation ashes, or other small articles for families who chose not to cremate. While holding onto a personal belonging of a person does bring great comfort to many, others are finding that actually having a small part of the person - their essence more or less - is an even greater comfort than just a personal belonging. A couple of the many reasons that many are finding more comfort in being able to have a small amount of the remains for themselves is that the bereaved feels that the loved one that has passed is there with them in a way; others find that having something new to hold, that is still as much a part of the deceased as anything else, is easier to cope with than a personal belonging, that may in fact be more of a reminder that the person is gone, than it is a comfort.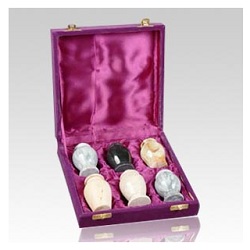 Today keepsake urns are used for many different reasons. Keepsake urns are vessels that are usually smaller than most average-sized cremation urns, and are made to hold a small amount of cremated remains, the locks of hair, or even dried funeral flowers or earth from the grave site. While almost any small memento can be placed into these urns, the most popular use for keepsake cremation urns are to hold a small amount of ashes of the person they are meant to memorialize. Often times, families will even utilize keepsake urns to share a small part of the cremation ashes with fellow family members. For example, siblings could purchase a few keepsake urns, or even a set of keepsake cremation urns, such as the set to the right, so that each person can take a small part of the ashes. On the other hand, family members that are scattered around the states, or even around the globe, can divide the ashes into keepsake urns that each family member can take, rather than have the ashes in one large urn, that can only stay, of course, with one person. For those who are scattering the ashes, keepsake urns can be used to keep a small portion of the person's remains close. This is a great comfort for many, especially when the remains are to be scattered or even interred, as the keepsake can serve as a reminder that the person who has passed will never truly be lost, because they are here with us in our hearts and memories. Because of their small size, often families who have a large urn sometimes purchase a few keepsakes so that they can place them around their home, or even in other locations, such as their office. Being able to have a small, visual remembrance of their loved one is enough to bring comfort to the family, so they keep a small keepsake urn in different areas of the home, usually places the deceased favored, such as in a den, living room, or bedroom. Sometimes keepsake urns are even used for small pets, if a person cannot find a pet urn that suited the personality of their late companion.
Keepsake urns come in a variety of different styles, and are made from all types of materials. Smaller, less expensive keepsakes can be made from materials such as brass or even native woods. Other keepsakes are made of expensive materials, such as bronze, alabaster, or even rare woods like burl or poplar to name a few, but these of course, are usually significantly more expensive. Some keepsakes are even hand made by artisans from materials such as glass or ceramic, while others are made from biodegradable materials such as paper or rock salt, for those who are planning on keeping a majority of the cremated ashes, and scattering just a few in places that the deceased loved. The styles of keepsake urns is as versatile as the materials used to make them. There are keepsake urns that are made to look like miniature versions of their full-size counterparts. These usually feature classic designs, such a s a vase shape or plain square or rectangle. Other keepsakes are made to look like small sculptures rather than urns, and can feature ornate carvings or pristine details. Other keepsake urns are made from materials that are made to take personalization, such as cultured marble for example, and can be etched or engraved with a small image, verse, or simply a name or initials. For those looking to personalize their keepsake urn, it is important to take not of the size of the vessel and whether or not it can be personalized, because a lot of these keepsake urns tend to be quite small. For those keepsake urns that cannot be directly personalized, there are easels that can hold engraving, and be displayed beside or in front of the keepsake urn.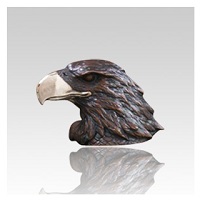 Choosing a keepsake urn can be as daunting as selecting a full size urn for many. The best way to select an urn that you feel will full fill your needs is simply to take into account your own personal preferences, as well as the personality of the person the keepsake is to memorialize. Take into account the deceased's favorite colors, hobbies, events, or even their personality. For example, for a person that loved the beach or maritime sports, there are several urns that feature nautical themes, from a baby turtle hatching from an egg, to a wooden keepsake with a scene of a sailboat gracefully passing by. For those who were more patriotic, there are keepsake urns for you too! The urn to the left is a wonderful example of a keepsake urn that is made to suite a patriot, while still looking elegant enough to be displayed in any location. This urn is also a wonderful example of a keepsake urn that looks like a sculpture, rather than a cremation vessel. For those who were more serious, a simple plain keepsake would be ideal. Usually keepsake urns made from natural materials, such as wood, marble, or materials that are stylized to look like natural materials, such as cultured marble, are quite affordable, and hold an air of dignity. Handmade keepsake urns usually feature vibrant, highly ornate colors and designs, making them perfect to memorialize anyone who was of a free spirit and open mind. We have even had customers in the past who select a keepsake urn that blends in well with their present decor, making the keepsake a visual remembrance of their loved one that is easy to see, but still not a heavy reminder of grief or sadness. As said before, keepsake urns are made out of a variety of different materials, and feature a great selection of different designs. Because of the vast selection to choose from, it is safe to say that almost anyone will find a keepsake urn to suit their needs.
Religious Cremation Urns
When a loved one is lost, there is a strong sense of negative emotions that most people feel, emotions like anger, regret, sadness, and possibly fear. Many people turn to, and successfully find, a fountain of comfort when they turn to religion in these troubling times. Religious cremation urns are, perhaps, the best style of urns for families struggling with the, sometimes, difficult decisions surrounding cremation. By capturing a loved-one's religious spirit with uplifting, heavenly scenes, religious urns can help ease the discomfort that some family members can feel when a loved-one has decided to be cremated. Religious urns are available in a variety of styles, from Jewish religious urns to Catholic religious urns, and designed to assure those whose loved ones have chosen to be cremated, that eternal rest in heaven is certainly available for all souls. Moreover, even if the surviving family members are not as religious as the deceased, there is a certain sense of comfort in knowing the selection of the urn has met the person's final wishes.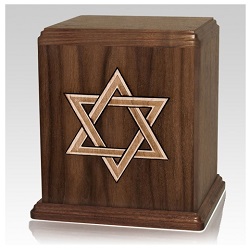 Religious urns, along with cremation itself, were once the subject of much controversy among the faithful of many of the world's religions. On of the many reasons was that cremation was not a suitable disposition of a human body, and some even saw it as sacrilegious. This all changed drastically over time, as many saw that there were several benefits to cremation, ranging from financial, to emotional, and during troubling times such as when the Black Death that struck Europe during the 14th century, cremation proved to be the most hygienic way of disposition. These are just few of the reasons cremation is widely accepted today, and in the latter part of the 20th century, cremation came to be accepted by the majority of religious establishments across the world. A common misconception is that the Catholic faith, for example, prohibits cremation. This is not true. The Vatican has approved of cremation since 1963, and many religious urns are now available in themes particularly related to the Catholic faith. The same is true of the Jewish and Muslim faiths, as can be seen in the urn to the right. (On a side, yet interesting, note, some faiths, such as Hinduism, cremation has long been commonly practiced and, in some regions of the world, even mandatory. Religious urns for these religions have long been a part of the culture. Although, in many cases, most of the ashes of a person are scattered across some sacred place, religious urns often house small bits of the ashes that can be permanently displayed as a memorial to the beloved person.) While religious caskets, or coffins featuring a religious theme, may seem to make more sense, or even seem more common, religious cremation urns are certainly become a noted staple of the memorial industry.
Nevertheless, many practitioners of those faiths that have now come to accept cremation as an appropriate form of final disposal remain uncomfortable with cremation for a number of reasons. Therefore, when one family member chooses cremation, his or her loved-ones may have an exceptionally difficult time with the grieving process. Religious urns can help with those feelings. Adorned with spiritual messages, pictures and themes, religious urns can serve as a reminder that most modern religious leaders have considered the question carefully and have come to the conclusion that cremation does not have a negative effect on the soul. In fact, because many religious urns are adorned with nature themes, as well as scenes that are blatantly religious, religious urns can often serve as reminders that cremation, despite its negative, frightening connotation – is as environmentally healthy as it is religiously acceptable. Religious urns often are designed to specifically capture the "ashes to ashes" theme that, for many, is as much an environmental concern as it spiritual.
Even the search for a religious cremation urn can be a great comfort for grieving families, as this process is one of closure. Families find great comfort when they come across the urn that they feel best encompasses the spirit of their loved one. The urn, in itself, whether displayed in the home, or in a niche, will forever stand as a pillar of faith, for we know that the person that has passed away is in a place where there no pain, or worry, or grief, but only peace.
According to several recent industry studies about attitudes toward cremation, many people are still afraid of cremation because they worry that a body feels pain from the burning, or that the soul is somehow destroyed in the cremation fire. Religious leaders say, today, that these worries are simply unfounded, and religious urns, have, accordingly, become one of the most popular types of cremation urns available in the memorial industry today, thanks largely in part to the changes brought on by the Funeral Rule. Regardless of how the industry evolved to offer these special vessels, they are more than appreciated by many families and individuals who have found great comfort in selecting a religious cremation urn to honor the final essence of the dearly departed.

Companion Cremation Urns for Two
With cremation becoming more popular throughout the world, the variety of cremation urns is the most extensive that it has been in history. Almost every year a new concept for a cremation urn is available, offering families a broad range of ways to commemorate their loved one's who have passed. One the most innovative concepts is an Urn for Two, also known as a Companion Cremation Urn, which is a vessel that has a capacity large enough to accommodate two sets of cremation ashes. These vessels provide loved ones with a way to spend eternity together. Most of these cremation urns are usually large enough to accommodate two people that are around 200 pounds in their healthy weight, and some even feature different designs, from a single, vase-shaped vessel with no compartments, to urns with compartment options, and even highly detailed sculptural urns such as the urn above. These urns not only provide a way to keep two sets of cremation ashes together, but also provide many with peace of mind in knowing that they will remain together long after they have gone from this world.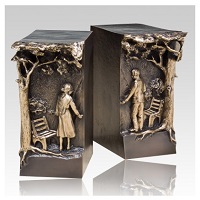 Companion cremation urns are made from a variety of materials, and into a variety of different shapes, sizes, and designs, and the selection is almost as extensive as that of individual sized urns. The styles of the urns can usually be broken up into three main categories: Single vessels, vessels with compartment options, and split vessels, in which the to individual vessels come together to create the image of one cremation urn. A great example of a split vessel companion urn is shown on the left. There is no rule of thumb regarding the compartments in an urn. Most families are happy to put both sets of the cremation ashes together into a single compartment cremation urn, while others prefer to keep the sets of cremation ashes separated. This is entirely a matter of personal preference. The urn to the left is a great vessel for those that wish to keep the cremation ashes separated, but would not be ideal for those who wish to mix the cremation ashes. When deciding how to place the ashes into the urn, always remember to honor the wishes of the dearly departed before making a final decision.
While many think that urns for two can only be utilized when both persons have passed away, that is simply not true. Many people who have lost their significant other are comforted by the idea of a cremation urn that is ready to accept their ashes as well, when the time comes, of course. The thought that they will one day be forever united with their beloved can bring great peace of mind, and may even help in the grieving process. Urns for two can also help many families through their grieving over lost parents or grand parents, and, with that in mind, they are reminiscent of two very relevant quotes from famous thinkers of days gone by.
First, the legendary Helen Keller said the following of memorials: "What we have once enjoyed, we can never lose … All that we love deeply becomes a part of us." This is a testimonial for urns for two (although inadvertent, however, because urns for two are a relatively new creation of the modern memorial industry; In Keller's day, urns for two – or urns and cremation in general -- were not as commonplace in Western societies as they are today). In many companion cremation urns, a couple's ashes are mixed directly together, allowing the couple to be, truly, together forever. This is a beautiful way of assuring that "all that we love," truly does "become a part of us", thanks to urns for two. Couples who are united in a companion cremation urn are, indeed never lost upon from each other. This beautiful concept, again, can be greatly reassuring to those facing the loss of a loved one, and eventually, the inevitable.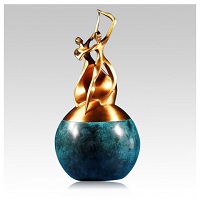 Our second quote is more in reference to the survivors of the deceased. Late nineteenth and early twentieth Austrian writer Franz Kafka discussed in his diaries that children are often interested in thanking their parents properly for a job well done. Urns for two can help with this final show of gratitude to those who gave their all for us.
"Parents who expect gratitude from their children (there are even some who insist on it) are like usurers who gladly risk their capital if only they receive interest," Kafka said. That quote expresses, perhaps, a bit of capitalistic cynicism about the relationship between parents and their children, but it nevertheless gets to the heart of the spirit that urns for two are made for. By memorializing their parents forever, together in a companion cremation urn, the children and grandchildren of any beloved couple can indeed, pay back, with eternal interest, some of the love that their elders poured into their upbringing. It goes without saying that a family will feel great comfort in knowing that their loved ones will be forever united, as most children wish their parents to be. This is also a wonderful way to pass on that shared love to future generations, as most companion cremation urns inevitably become family heirlooms. To pass down such a wonderful tribute not only passes on our heritage, but also the hope for everlasting and eternal love.
Urns for two are a special way of keeping loving couples together forever. Most urns for two can be personalized to serve as tributes to the individual lives of each member of the couple, while also highlighting the fact that, together, the memorialized couple was at its spiritual and most sacred best. With a cremation urn for two, you can not only memorialize your lost loved ones, but also the love that they shared.
These beautiful oversized ash vessels are a special, mystical tribute to those all important words that every married couple repeats on its wedding day: "Until death do us part." Thanks to urns for two, even death can amount to only a temporary parting for those couples truly in love. One can argue that urns for two are truly the most touching of all cremation urn styles.

Hobby Cremation Urns
Hobby urns are particularly interesting cremation ash vessels that are taking the world by storm these days, as a number of influential newspapers – ranging from USA Today to the Milwaukee Journal - Sentinal – have published intriguing features about the phenomena. Simply put, hobby cremation urns are specially designed cremation vessels that allow a person to be remembered forever according to what he or she loved to do best. Hobby urns are a relatively new product in the memorial industry, and the most popular of hobby urns to date appears to be the motorcycle-themed hobby urns. Motorcycle hobby urns are quickly becoming famous for their distinct shapes, the most popular of which is formed into a motorcycle gas tank, and they are designed with a colorful, fun look that is appropriate for any home's recreation room. Many motorcycle enthusiasts have been known to, upon seeing these unique hobby urns available for a reasonable price, quickly purchase one and display it proudly in their homes, even before their deaths. "That is where I'm going to end up," they happily tell their friends and family who come by for a visit and see the empty hobby urn on a shelf. It goes without saying that those individuals are comforted by the thought of knowing that they have found the perfect final resting place for themselves.
One interesting note about motorcycle hobby urns, one of America's first distributors and manufacturers of these unique urns has, according to the Milwaukee Journal-Sentinel, approached motorcycle manufacturer Harley Davidson about including the Harley Davidson logo on the hobby urns. So far, Harley Davidson has declined to make a deal. So, for now anyway, motorcycle urns, as with nearly all other hobby urns, remain simply generic designs without any loyalty to particular brands or companies. One imagines that, as hobby urns begin to grow in popularity, this trend will certainly change. While there are no trade-marked symbols on these hobby urns so far, the attention to detail in the design is just as vigorous as it would be on an actual motorcycle gas tank.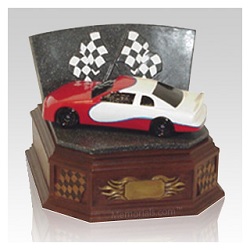 While motorcycle cremation urns are among, if not, the most popular of hobby urns, there are several other themes that are equally as creative and interesting. The racecar-themed hobby urns, for example the urn to the right, are also popular sellers in these relatively early days of hobby urns. The hobby urns feature race track symbols and, the urn to the left showcases a racecar center stage, which can be switched out for a favored collectors piece. These urns are also particularly popular among families who have suffered the tragedy of losing a child. Young boys, of course, are often fond of building model cars that they daydream of one day of racing in, say, the Daytona 500. And these hobby urns assure that, despite the tragic loss, those dreams may live on forever. These types of hobby urns, as with all hobby urns, are, accordingly, a great comfort for grieving friends and family members of the deceased. Aside from that, the whimsical design of the cremation urn itself is enough to put a smile on the face of even the most upset of grievers, as they can also find comfort in the fact that the urn memorializes the passions of the deceased.
Hobby urns are more than just a fad; they are among the several interesting new memorial trends that have come about in recent years thanks to increased competition in the memorial industry, with much thanks due largely in part to the Federal Trade Commission. While motorcycle and racecar hobby urns seem to be the best selling hobby urns so far, manufacturers are sure to capitalize on their popularity and begin producing many other styles in the coming months and years. Already the memorial industry offers hobby urns related to sports such as baseball and football, outdoor activities such as fishing and hiking, and even needlework such as crocheting and knitting. But that is just the start of what is possible. The world is filled with hobbies that become a life's passions for thousands – or even millions of people. It's just a matter of time, then, before the memorial industry begins offering hobby urns for just about any hobby one can think of.
Hobby urns not only give us the ability to properly memorialize our loved ones, but also can be utilized in a memorial service to the deceased. It is easy to see most hobby urns presented in almost any memorial service because of their highly decorated features. Not only would the highly personalized memorial urn look wonderful, it would also give the loved ones left behind one final and befitting farewell to the dearly departed, considering that the urn would most likely remind them of the person. The hobby urns offer a way to feel connected to the person that has passed because it reminds us of the person's passions in life. These whimsical urns could even uplift the spirits because of their charm, and may even help soothe a person during the grieving process. We have had many families let us know how their hobby urn makes them smile every time they walk by it, and that is certainly understood! While hobby cremation vessels may seem somewhat 'outthere', they are only a small offering of the various different urn styles available in the market today. The hobby urn's features remind us more of the fun and happy memories of the person, rather than the pain and grief felt at the time of their loss. With a hobby cremation urn, you will not only create an unforgettable tribute to your loved one, but also properly celebrate the life they lived.

Military & Veteran Cremation Urns
When we think of those who serve our country, no one better characterizes our feeling for these selfless individuals than the famous quote by U.S. Army Officer and author George S. Patton, Jr.. Patton states, "The soldier is the Army. No army is better than its soldiers. The Soldier is also a citizen. In fact, the highest obligation and privilege of citizenship is that of bearing arms for one's country". As Patton states, there is no higher honor of one serving for their country, and there is truly no higher privilege for civilians than being able to say that these heroes are part of their family. When one of these brave individuals is lost, it goes without saying that a strong sense of responsibility is felt, to memorialize that person, and many are not sure how to do so. This is one of the many reasons why Military & Veteran cremation urns are the perfect patriotic tribute to the brave Americans who have devoted their lives to keeping the country, and the world, free and safe. Military and veteran urns bring to mind another the famous quote, which has gone on to become an informal motto among many in the military, from America's first president George Washington: "To be prepared for war is one of the most factual means of preserving peace."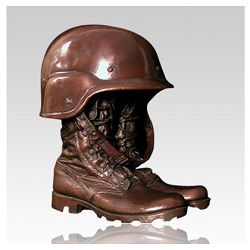 America's military prides itself on being ever-prepared for war, and that's a big factor in why Americans can rest comfortably most nights. It is a true shame that we often forget to give thanks for these individuals that have made sacrifices that most people will not be willing to make. The peace of mind that comes from a strong military is truly deserving of eternal devotion and respect. Military & Veteran urns provide just that, and so much more. These vessels for ashes are made from a variety of different materials ranging from wood to bronze, and into an array of different styles. While these ash urns usually do feature a military theme, the styles widely range from simple and elegant box-shaped urns that feature a military insignia, to elaborate yet stunning sculptures, such as that to the right, that bear no resemblance to a traditional cremation vessel. Simple cremation ash vessels create a honorable and dignified tribute, while the sculptural urns provide an elegant and discreet memorial. Other styles even feature a religious emblem along with the military insignia, which are perfect for those who selflessly held God and Country above all else. Whether you select a simple or elaborate military cremation urn, the urns are all made with a definite pride in knowing that it will one day have the honor of memorializing a true, modern day hero.
It is not unusual for families to wish to incorporate more remembrances with the earthly essence of thier lost loved one. In fact, many prefer to combine the two, being the final remembrances of the beloved, such as the burial flag, awarded medals and military coins, or even news clippings or letters. There are a variety of ways to create a memorial tribute that future generations can look through to learn of their heroic predecessor. Medallion Cases and military chests are one of our most popular tributary pieces that will allow the families to preserve many treasured remembrances of the lost individual together. For those who are looking for a final tribute that is a little more simple, such as the burial flag and cremation ashes, there are also many options available. Many of our flag cases can be elegantly displayed on a matching pedestal, which actually serves as a cinerary urn, and discreetly holds a set of remains. This offers a wonderful way protect and preserve both the final remembrance of the lost hero, as well as the beautiful burial flag. These are just a few more options to creating an unforgettable tribute to a lost soldier or veteran.
It is no coincidence that one of the more popular lines of military and veteran urns is named after George Washington, who achieved much of his fame as a General during the American Revolutionary War. These military and veteran urns are tall and white, reminiscent of the famous Washington Monument that now anchors one end of the National Mall in Washington D.C. This line of military and veteran urns also, of course, reflects Washington's overall attitude (as described in the above quote) toward the military. Once in office, Washington made establishing a strong military one of his chief objectives. He knew, as his quote suggests, that, even though Americans were not under necessarily an immediate threat from foreign powers just after the revolution, a strong military would be required to maintain the status quo. The military and veteran urns adopt that same idea. They are strong, simple structures that are eternally ready to promote the patriotic spirit of the solider within.
Military themed cremation urns are, of course, the perfect memorial for soldiers who have been casualties of war, but they are fitting as tributes to men and women who devoted large portions of their lives to the military. These special Veteran remembrances easily become a touching part of any memorial display aimed at capturing the undying patriotic spirit of a soldier. (And we all know, of course, once a solder, always a soldier.) Not only do these wonderful vessels conserve the memory of our fallen heroes in the present time, but they also become treasured heirlooms that are passed down from generation to generation, along, of course, with the countless tales of bravery and courage that accompany. There are even some urns that not only hold cremation ashes, but also display the burial flag for the soldier. Other models even feature extra room for medallions, photos, or any other memorabilia awarded to the soldier. These not only make excellent memorials of our loved ones, but hold and preserve all that they earned for the future to come.
Families, of course, want only the most fitting products by which to remember their lost loved-ones, and military and veteran urns, like all urns, certainly do that job well. But, further, military and veteran urns also are a touching memorial to the part of every soldier that all Americans can appreciate: the patriotic spirit. This brings to mind another of Patton's famous quotes: "It is foolish and wrong to mourn the men who died. Rather, we should thank God that such men lived." By capturing a soldier's love for his country and preserving it with his or her spirit forever, military and veterans urns do just that, making them, perhaps, the most important memorial product available in today's memorial industry.

Children and Infant Cremation Urns
There is nothing more tragic or painful in life than losing a child. Parents are torn with feelings that can vary from of course grief, to anger. With the loss of a child, we almost feel as we have also lost hope for the future, and the thought of living without them is no less than unbearable. This all stands with great reason. Infant and children cremation urns capture a spirit that was, perhaps, best put forth in the book Let Us Now Praise Famous Men by famous American writer James Agee. Not necessarily talking about infant and children urns, but nevertheless, saying something very relevant to them, Agee eloquently notes: "In ever child who is born, under no matter what circumstances, and of no matter what parents, the potentiality of the human race is born again: and in him, too, once more, and of each of us, our terrific responsibility toward human life; toward the utmost idea of goodness, of the horror of terror, and of God."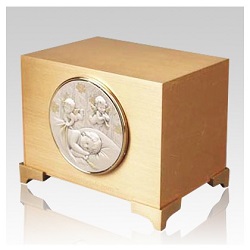 Infant and children urns are perhaps the most tragic product offered by the memorial industry, but they are also, probably, the most necessary. It is often mor than tempting to focus on the loss and, sometimes, the child's loved ones can even lapse into an anger toward God Himself. This is well understood, as the family is looking for a reason for the loss, or at least to understand why. While in some cases these questions cannot be answered, it is an inevitable and sad fact of life that time cannot be reversed to change our fate. As noted before, the pain is certainly justified, but the search for a proper child urn can greatly help not only the parents of the departed, but also their whole family. While we may feel that there is no comfort in any aspect of handling the affairs after losing a child, many actually find that looking for a child cremation ash vessel can bring help bring a sense of closure, or at least distraction from the grief at hand. A properly selected urn will help a parent feel like the child can be laid to rest in a dignified and peaceful final resting place. Alternatively, the design of these specially made urns reminds us of the child, which helps with the fear of feeling like the child will be forgotten over time. While a person can have this initial fear, the urn's design can serve as a strong and unwavering symbol of the child or infant. Infant and children cremation urns come in a variety of designs, and many can find an urn that suites even the age of the child. The designs range from sweet teddy bears, to elegant floral themes, to even simple yet dignified vessels that are properly sized for a younger person. A peaceful design, such as that featured on the urn to the right, will help soothe the spirit by reminding us that the child no longer feels any pain, or fear, and is in a place of peace, even though they cannot be here with us. Furthermore, adding an elegant memorial quote or verse to an urn is quite possible for many of the designs, and can help us remember that we should not mourn the loss of the child, but instead, fell blessed that they were ever in our lives to begin with, even if only for a fleeting moment.
Infant and children urns can help people avoid that misdirection to feelings of only grief and misery, and instead, help us focus on the things that Agree talks about. It is certainly true that every birth of a child is, in effect, a hopeful rebirth of the human race. And an early, untimely death does not change that. It's the latter that is sometimes difficult for some grief stricken souls to remember. But, nevertheless, it's true, and infant and children urns can help serve as a constant reminder of that true love that will survive throughout the ages.
Most infant and children urns are decorated in the playful, hopeful scenes of childhood; the same scenes that, in other contexts, capture the most uplifting spirit of man. By juxtaposing those happy scenes filled with hope and love into something that might, at first glance, appear to be a reflection of a tragedy, infant and children urns serve as a constant reminder of Agee's contention that mankind is born again with great potential at every child's birth. The designs of these urns are truly meant to remind us of the brilliant spirit, unending love, and ultimate connection that a parent feels with their child, rather than the tragedy of losing them. If a child has to be lost, it is our duty to remember and pass on the positive memories of that child, and the designs of these charming urns are meant to do just that. So, the infant and or child's untimely death need not be tragic after all. Infant and children urns remind us that, even though a child has lived a shorter life and most everyone would have liked, his or her coming into the world even if only briefly forever changed mankind in a positive and hopeful way.
Mankind has, as Agee notes, a "responsibility" to remain focused on this hopefulness in the wake of the tragedy that makes most infant and children urns necessary. And infant and children urns are a great help in keeping the focus on that. If man delves into the desperate anger toward life, or even God Himself, that is often tempting at the loss of a child, then he is not focusing on The Truth. And The Truth is that, every part of life even the most difficult of circumstances such as the death of children and infants can be more hopeful than tragic. With their uplifting, happy themes, then, infant and children urns can always keep us on track, reminding us that, even in the darkest days, a hopeful light is always with us if we just focus upon it.

Outdoor and Sports Cremation Urns
Outdoor and sports urns are the perfect way to memorialize any person who has spent his or her life with Nature. Several famous quotations from some of the world's greatest thinkers and naturalists are relevant to outdoor and sports urns. One example comes from Swiss Born American naturalists Louis Agassiz who lived in the nineteenth century. "The study of Nature is intercourse with the highest Mind," he said. "You should never trifle with Nature."
This connection between the outdoors and God is especially poignant in terms of outdoor and sports urns. Outdoor enthusiasts, of course, are very close to nature and, what better way to remember them than with outdoor and sports urns that eternally capture Agassiz's famous idea that nature and God are one, and that those who love the outdoors also, by nature, love God.
Outdoor and sports urns are among the most creative and unique urns currently available in the memorial industry. Far from the traditional Grecian-style urn, outdoor and sports urns are molded into special shapes that reflect nature scenes. One of the most popular outdoor and sports urn models currently available features a deer frolicking playful through a beautiful forest. Outdoor and sports urns with nature scenes such as that are a great way to memorialize any nature lover, whether the person be a hunter, fisherman or even a birdwatcher or hiker. Many outdoor and sports urns feature scenes of people fishing, hiking through mountainous terrain, or simply sitting quietly in a beautiful, natural surrounding.
Outdoor and sports urns also, of course, celebrate the lives of other types of sports enthusiasts, too. An incredibly popular new style of outdoor and sports urns is aimed at motorcycle hobbyists, for example. These colorful, unique outdoor and sports urns are shaped as motorcycle gasoline tanks, and have already been known to give many people reason to smile after losing a loved-one. The idea of a family member who was intrigued by motorcycles being able to spend eternity inside of one is a welcomed, happy thought for many grieving families. And it is brought about, of course, by outdoor and sports urns.
Another type of outdoor and sports urns is the very popular racecar style. This style of urn has already proven to be of great value to families of young children who have died unexpectedly. Young boys, especially, often have a favorite pastime of building model cars and dreaming racing on the legendary tracks in Daytona or Indianapolis. The outdoor and sports urns that feature model cars and checkered flags, then, are perfect for assuring that the young dreams stay alive forever.
Agassiz, probably did not have motorcycles and racecars in mind when he made his famous observation about nature and God. But – since even man-made things are, in effect, created by God -- his comments can certainly apply to any hobby. To study anything seriously, is, certainly, to connect with the mind of God. So, more and more families are finding that it is a good thing, then, that the memorial industry has found a way, through outdoor and sports urns, for all who are passionate about a hobby to be remembered eternally in connection with that thing.
Urns for Airlines:
Many urns are unsuitable for travel on airlines because airline security X-ray machines cannot see through them. This requires that they be searched manually and, once an urn has been filled, this is not usually a desirable thing to do. (In fact, many airlines prohibit their employees from this practice altogether.) Urns for airlines are beautiful, hearty pieces made from felt or some other non-metalic material that can be easily X-rayed by airport machines.
Art Urns:
These urns are works of fine art that have been designed to include a storage place for cremation ashes. Some art urns are commissioned well in advance of a death to reflect the personality of the deceased precisely. But, even in cases in which the urn is selected from pre-made pieces, a family is sure to find an artistically amazing work that captures the loved-one's personality perfectly.
Sculpted Urns:
The term "sculpted urn" is often used interchangably with "art urn," and that is perfectly acceptable. Sculpted urns are simply beautiful mini-sculptures that have been designed to accomodate cremation remains. And, since sculpture is a fine art, it is appropriate to think of these urns as being art urns as well.
Nature Urns:
Anyone who has enjoyed spending time out of doors will be perfectly suited to be memorialized with a nature urn. These beautiful pieces reflect the natural world in a large variety of ways. Some nature urns are sculpted in the form of something natural, such as a rock or a butterfly, and still others include a beautifully crafted, painted scene of the natural world.