Back to Info Center
Urn Types

What Different Cremation Urn Types are available

Cinerary urns come in a wide variety of shapes and sizes, and Memorials.com has one of the largest selections available on the Internet. Below is more about all the Cremation Urns offered here within.
Before we begin, however, we would like to stress the importance of understanding the basic rule of thumb in regards to the size of the cremation urn needed. For more information on sizing an urn, please see our Cremation Urn Sizes article..
Keepsake Urns: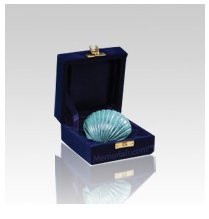 These small urns are useful for families who live far from one another but wish to share the ashes of a loved-one. Families also use keepsake urns to keep a portion of the remains of a loved-one whose ashes have been otherwise scattered. Keepsake Urns have a variety of uses and we have a large selection from which to choose the urn that perfectly matches the personality for whom it is meant.
Decorative Urns:
These urns have two main purposes. First, they can serve as a temporary urn when a family needs an urn for a cremation ceremony but has not decided upon a permanent urn for a loved-one's ashes. Decorative Urns are also often used for displaying urns in a columbarium niche or an urn garden.
Wood Urns:
These are made from every type of wood on Earth, but the most common are made from cherry, maple, pine, oak, walnut, and poplar. Some of the more exotic woods used for wood urns include mahogany, paduk, yellowheart and zebrawood. Generally, urns are stained and often adorned with inlays, and laser etchings. Most are hand assembled by some of the best carpenters in the world.
Ceramic Urns:
These urns are hand crafted from porcelain or clay that is burned in a special stove. The result is a glass-like finish that is covered with a hand painted glaze. Artists can use the paint to create beautiful scenes that fit the personality for whom the urn is intended. It should be noted that ceramic urns are very fragile. Ceramic ash holders are one of the oldest forms of cremation ur
Marble Urns:
These urns start off as block s of natural limestone that are then highly polished and processed into beautiful marble products. Marble is, aside from being one of the most intriguingly gorgeous stone products on Earth, also one of the world's most sturdy materials. Marble urns are designed to withstand the elements for generations.
Metal Urns:
The most popular metal material for urns is bronze, but metal urns can also be made from brass, copper and pewter. Metal urns are machines crafted and then polished and lacquered to become a durable, beautiful home for a loved-one's ashes. Metal urns are often used when the ashes are to be buried, but metal urns are also commonly displayed in homes. Cloisonné Urns: These are highly detailed work of art. Handcrafted out of brass and enamel, each cloisonné urn begins with the forming of a shape and is followed by many steps until the urn is gilded and polished to a perfect, bright and shining, finish. The cloisonné process dates back many centuries. Chinese artisans used it as early as the 14th century.
Biodegradable Urns:
These environmentally friendly urns are quickly becoming among the most popular in the industry today. Biodegradable urns are most commonly used when ashes are to be scattered, especially at sea. They are hand made from non-toxic paper and meet all government requirements, and their careful construction prevents ashes from being haphazardly scattered by wind. For sea dispersions, biodegradable urns will be fully degraded within two to three days of being placed in water. These biodegradable memorials offer a way to honor the beliefs of a loved one, as well as our natural environment.
Discount Urns:
These urns are among the best sellers mostly because of their economical prices that make them some of the best memorial values available. But, the low prices do not require a sacrafice of elegance and prestige. Some of these beautiful pieces, most made from cast brass, have even been featured on national television dramas and even in at least one film.
Religious Urns:
These urns are available in a variety of styles and materials, but they all have one thing in common: they feature scenes and words the relate directly to the spiritual realm. People of all faiths will be able to find a religious urn that will reflect the devotion they have spent their lives showing to their heavily pursuits.
Bronze Urns:
These urns feature the long-lasting beauty of bronze sculpture. Bronze vessels for ashes are suitable for burial, of course, but, because of their elaborate beauty, many customers choose to include them in some sort of outdoor memorial display. These marvelous pieces stand up well to the harshest of elements -- and develop a luxurious and valuable patina as they age -- and that makes the fit for just about any memorial purpose imaginable.
Companion Urns:
These very special urns allow loving couples who have spent their entire lives together to remain together for eternity. Two main types of these models are availalbe: double or single compartment. Many couples wish to have their cremation remains mixed together, and the single compartment urns do just that. Double compartments allow the ashes to be stored seperately within the same piece.
Glass Urns:
Glass blowers across the world are becoming more and more proficient at producing these colorful works of are that are suitable for memorial displays. Today's innovative memorial industry thinkers have even begun offering a surprising twist on glass vessels for ashes: some pieces can be made using tiny amounts of the deceased's cremains itself. They are simply mixed into the hot glass while it is being blown and can be made to be visible in the final product.
Cloisonne Urns:
The ancient Asian art of cloisonne uses wire casing on a ceramic piece to create colorful, and realistic pictures and designs upon a sturdy, beautiful work of art. The production process used in these urns combines the best a variety of arts that have been in use for centuries.
Infant Urns: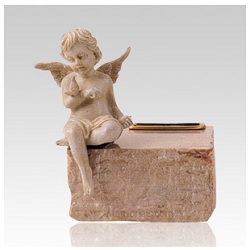 These urns can be a great comfort to families who have suffered the loss of an infant or a child (or even those who have suffered a stillborn death). Infant urns are available in a large variety of styles and designs, and many are specifically built to bring about the carefree, playful themes of childhood, in an attempt to keep the young spirit alive for the ages.
Sport Urns:
Sports urns are specially designed to capture for the ages the spirit and personality of any person devoted to the outdoors. Many of these urns feature scenes of fishing or hunting, but they also can be shaped in the form of balls or other sports equipment. Any athlete or sports fan can have the memorial of his or her dreams with a sports urn.
Hobby Urns:
These are much like sports urns, (and in fact, in some cases, the names can be interchangable), but they also include a few hobbies that may not be included in traditional "sports" realm. Those who are fans of needle crafts, for example, may be nicely memorialized with a beautiful metal urn shaped like a ball of yarn.
Military & Veteran Urns:
These urns pay tribute to the heroes of America's centuries-long defense of freedom. Military & Veteran urns are available in a wide variety of styles and designs, but all are careful to reflect the great ideals upon which American soldiers base their lives.
Funeral Urns:
Funeral urns are suitable for display during a funeral. The name "funeral urn" often creates confusion among people who may assume that only a particular type of urn can be displayed in a funeral. That is not the case. In fact, any urn can be thought of as a "funeral urn. But urns that are formally labeled Funeral Urns are designed with the specific idea that they will be seen by loved ones during a memorial service.
Urns for Airlines:
Many urns are unsuitable for travel on airlines because airline security X-ray machines cannot see through them. This requires that they be searched manually and, once an urn has been filled, this is not usually a desirable thing to do. (In fact, many airlines prohibit their employees from this practice altogether.) Urns for airlines are beautiful, hearty pieces made from felt or some other non-metalic material that can be easily X-rayed by airport machines.
Art Urns:
These urns are works of fine art that have been designed to include a storage place for cremation ashes. Some art urns are commissioned well in advance of a death to reflect the personality of the deceased precisely. But, even in cases in which the urn is selected from pre-made pieces, a family is sure to find an artistically amazing work that captures the loved-one's personality perfectly.
Sculpted Urns:
The term "sculpted urn" is often used interchangably with "art urn," and that is perfectly acceptable. Sculpted urns are simply beautiful mini-sculptures that have been designed to accomodate cremation remains. And, since sculpture is a fine art, it is appropriate to think of these urns as being art urns as well.
Nature Urns:
Anyone who has enjoyed spending time out of doors will be perfectly suited to be memorialized with a nature urn. These beautiful pieces reflect the natural world in a large variety of ways. Some nature urns are sculpted in the form of something natural, such as a rock or a butterfly, and still others include a beautifully crafted, painted scene of the natural world.
It certainly goes without saying that selecting a single cremation urn to memorialize a lifetimes worth of memories can certainly seem like a daunting task. That is why we at Memorials.com have compiled a large selection of cremation urns of all styles, sizes, and functions, to help ease the search, and allow families to find the urn that will best suite their lost loved one. For more information on our cremation urns, or questions on a particular item, please contact us, and a representative will be more than happy to help.
See all your Cremation Urns choices