Back to Info Center
Urn Vaults

Frequently Asked Questions about Urn Vaults

It certainly goes without saying that the loss of a loved one is a very emotionally difficult time that everyone must endure at one point or another. While we know this is a fact, it still does not lessen the blow felt when a beloved friend or family member passes away. Grief is something that is not fully understood until one has to go through it themselves, and the grieving process is different for everyone. For many, memorializing a loved one is a wonderful way to cope with their loss, as it helps ensure that they will not be forgotten. It is part of our nature to not only hold on to the memory of our loved ones, but to preserve it as much as possible, not only for ourselves but also for our future generations. This practice is quite beneficial, even necessary, as we have learned an insurmountable part of our human history from the discovered remains and memorials of predecessors. This just enforces the fact that the memorials of today will be the parts of history that our future generations will learn from, which makes them an important part of the traditions and practices surrounding death today.
It is not exactly clear when man began utilizing vaults to store and protect interred cremation urns, but it is thought that, in one form or another, vaults have been around since cremation began. Centuries ago, the cremated remains were buried in the same cinerary vessel in which they were stored, directly in the ground. It is interesting to note that materials such as ceramic, and even glass, that were used to create these ash vessels have lasted for decades upon decades, even when not placed in any additional container. While in these early days, cremation urn vaults were not utilized, the urns were placed in a large collumbarium to protect the vessels. Some can even argue that these collumbariums were the earliest form of urn vaults (even though to this day, collumbariums are used to house cremation urns in cemeteries). However, history, and more likely the rising popularity of cremation as a form of disposition, have made the urn vault popular and given it the appeal it has today. In fact, many cemeteries may require an urn vault for the burial of any cremation urn. In other countries, it is common that they will not let you bury the urn without an urn vault because of environmental concerns. Urn Vaults come in many shapes and forms and are made from many different materials non-biodegradable materials, such as metal, polystyrene or ABS plastic, and even cultured marble, to name a few.
The Purpose of Urn Vaults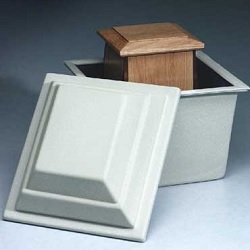 The purpose of an urn vault is to provide protection against water or other natural elements that may affect the composition of a cremation vessel. A growing number of cemeteries are beginning to insist on the use of urn vaults because of their strength and their ability to provide structural integrity, thus preventing the grave from settling, and eventually, con caving over the area where the urn is interred. This is especially true for urns that are made of softer materials, such as wood. One of the many reasons why this issue is prevalent is that, over the years, cemetery operations have changed dramatically, so that the use of heavy equipment is now more common. This means that if a piece of that heavy machinery that is working over a grave, the pressure and weight it exerts on the earth can even cause the urn within to break down, and thus the ground to practically implode. However, cremation urn vaults provide the strength and resistance necessary to ensure that the remains interred will remain not only intact, but undisturbed for many, many generations to come. Urn vaults also provide an advantage for vessels that are crafted from biodegradable materials, such as wood, that also need to be interred.
Materials Used For Urn Vaults
Cremation urn vaults come in following variety of materials, such as cultured marble, plastic (polystyrene or ABS), and stainless steel. The materials used to create the cremation urns, as well as the design of the pieces, help ensure a complete seal that will protect against moisture from the earth. Some cemeteries insist on the use of concrete, which we would recommend against, as they are not airtight or watertight. If the cemetery insists on concrete we recommend using a natural urn like granite, marble, or even a cultured material, as other materials may rust and/or deteriorate over time. Another great alternative, not only for urns that are to be interred in concrete, but for cremation vault use in general is cultured marble. Cultured marble or stone is usually made of marble powder and a resin mixture, and is extremely durable, more durable in fact, than natural marble. Many families who select cultured marble cremation urns bury the urn directly, instead of placing it in an additional vault of any kind. Because of it's resilience, cultured marble is an ideal urn and vault combination, and it is even available in a variety of colors that simulate the veining and striation seen in natural marble stone. However, for those who select an urn that is made of a material that may break down over time, a cremation urn vault is a wonderful alternative.
Urn Vault Information
Many of the urn vaults offer different exteriors, as well as interiors. The vaults, regardless of the exterior style, often have either smooth finished interiors, or they may have textured interior walls; the textured wall is often a "spray coat flock interior". Additionally, the may have a simple, smooth interior that is painted. This is especially important for families who are displaying the urn in its vault for a service. One of the most comforting options that these vaults offer is that they allow families to place some mementos inside the vault and seal it in with the urn. On a side note, we have even had a few customers purchase the vault, but instead of using it to inter a cremation urn, they use it to create a 'time capsule' in which they place mementoes of their present day lives, to be re-discovered at a much later date. There are a few options for sealing the urn vault, but the most popular method is the "tongue in groove" fitting, which allows the lid to fit perfect on the base of the vault. An adhesive material, such as butyl tape, or a strong liquid adhesive, is used to seal the lid to the base of the urn.

Quick Urn Vault Question and Answer Section:

Which urn vault is the most durable one?
All urn vaults have the same basic durability.
Do the urn vaults have enough space to include a personal mementos?
You may be able to include a small memento in the urn vault with the urn, depending a little on the size of the urn and the interior size of the vault.
Can the urn vault be engraved?
The urn vaults cannot be engraved. We recommend an engraving plate on the outside which should be installed with adhesive not screws.

How do I know that the urn will fit into the urn vault?
The urn vault has the measurements written beside it; switch to the urn you are looking at and the urn has the measurements written on the side as well. Please compare both with each other and you will see if the urn you selected will fit in the vault you selected.
What is "spray coat flock interior"?
It is to coat the inside of the vault. It is more like a textured wall than a smooth finish.

What is the benefit of a "tongue in groove" attachment versus adhesive material?
"Tongue in groove" is a groove for the lid to fit on. The tongue in groove is made so the lid will fit perfectly on the vault. Adhesive material is for the top to be sealed to the bottom. Even when buying the tongue in groove type we recommend putting a sealant on it; sealants can be found at Wal-Mart or Home Depot.
Which urn vault has the best moisture proofing capabilities?
The vaults with sealer are the best for moisture proofing.
Why do I need an urn vault?
Urn vaults are recommended if you are planning to bury the urn. This will protect the urn far better than if the urn were buried as it.
Can you mail me a catalog?
The website serves as our catalog; we do not have a printed version. This allows us to keep our prices low and offer free shipping.
Is there any guarantee on the urn vaults?
Yes, our guarantee is if they should arrive broken, dented, missing parts or with any defect at all, we will replace them for free at no additional cost to you.

See all your Urn Vaults choices