Back to Info Center
Water Burial
Options for Scattering Remains Over a Body of Water
Water burial has long been the choice of people have spent their lives at sea. Ship captains, sailors, naval officers and even pirates across the world have made it known for centuries that, upon their death, their strongest desire is that their deceased bodies be disposed of in the high seas, where they spent their most adventurous times in life. Sometimes, of course, a sea burial is not optional as in the case of tragic boating or swimming accidents in which a person drowns and his or her body is never seen again by a human. But, in the most noteworthy of cases, burial on the water is the fulfillment of a long-held desire by the deceased himself, it could even be thought of a as a fulfillment of a legacy.
In the earliest years of this memorial tradition, water burial usually involved simply wrapping a body in some sort of dignified shroud and lowering him or her into a body of water in some remote and deep spot, where there would be little chance of the not-fully-decomposed remains ever making their way ashore. It was generally a fitting and deeply traditional manner of saying final respects to the heroes of the seas.
In today's world, with the advent of cremation, water burial has taken a new form. While it is certainly true that traditional, full-body water burials are still quite common (especially among the world's seafaring souls), it is also the case that many water burials today involve the remains of people who spent very little time out at sea.
No statistics are currently available on this topic, but, as anecdotal evidence on blogs and in death-care publications comes in about the prevalence of water burial in our modern culture, one of the newest urns are sea salt urns which will break down over time on the bottom of the ocean. we see that scattering ashes over water is probably the most common thing that comes to a person's mind when one brings up the topic of water burial today.
Most Common Water Burial - Scattering Ashes
In this day in which family ties during life are sometimes scattered across many miles and years, traditional funerals and burials are increasingly finding themselves displaced by cremation. And, upon a cremation of a loved one, the question always comes up: what are we to do with the ashes. Often it is the case that the deceased himself has left detailed instructions with a family member that his or her body be cremated and that the ashes be scattered across a special place (or in many cases, several places). It is not uncommon in these instances for a specific body of water be singled out of this event. Or, even if the deceased has not gone through the trouble of preparing a list of spots in which his friends or relatives are to scatter the remains, the loved ones will often naturally choose a body of water that was meaningful in his or her life.
A long-time resident of the area along the Gulf of Mexico Coast, for example, requested that her family scatter her ashes over a favorite fishing hole, and she left no further instructions. But, when her friends and family began comparing notes about her fishing habits upon her death, they realized that she had many favorite spots, and they were scattered almost the entire length of the gulf, from Texas to Florida.
So, left to decide on their which spot was her very favorite, the friends decided to do what one family member called a "punt." They simply placed the woman's remains in a series of biodegradable water cremation urns and set the urns loose in about 10 different spots along the Gulf of Mexico's Intercostal Waterway. From that great canal that traverses the coastline, the friends and family presumed, the woman's ashes would eventually find themselves mixed in – one way or another – with the elements that comprised her favorite fishing spots. The experience of water burial for this woman was a blessed time for all, the family members have reported on various blogs written about the occurrence.
Because scattering cremation ashes does not carry with it the threat that a body will wash ashore in a gruesome, grotesque and undignified manner, this type of water burial has become the most popular in recent decades. Even some sailors have taken to compromise on their instructions to family members about what to do with their bodies: whereas many years ago, they might have been adamant about having their entire body simply lowered into a far-off sea, today they are often quite comfortable with the idea of being set adrift in ash form upon a body of water that is closer to land – and therefore more accessible for those who might like to be a part of the burial ceremony at seas.
Ways to Scatter Ashes over Water
It might seem to be common sense that the most popular method of scattering cremation ashes over water would be to simply pour the remains over a body from the desk of a boat of some type. Or perhaps they could even be scattered into the wind from a vantage point on a cliff that overhangs a body of water of some type.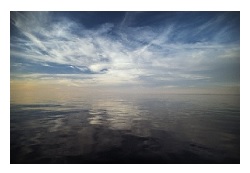 Well, that type of water burial is done, indeed, but it carries with it big risks that many families and friends charged with scattering a person's ashes are simply not willing to accept. So it's not as popular a method in today's world as it once was. The main concern that this method of ash scattering brings about is that the ashes will blow back into the faces of the ones who are attempting to scatter them or, worse, that they will settle upon spectators who have gathered to witness the scattering. This unfortunate scenario has been depicted many times humorously in films, but, if it were to occur in an actual ceremony, it would be an incredibly awkward – perhaps even horrifying experience for all who are present.
So the method we described above in the case of the woman whose ashes were scattered in the Intercostal Waterway seems to be the method of choice for most people these days. In a nutshell, this method of disposing of a loved one's ashes is clean, convenient, safe and even entirely meaningful to all involved. It can be done from shore or it can be done off the deck of a boat. In one or two cases, it has even been reported to have been done from an airplane or helicopter.
The biodegradable cremation urn method works as follows: families first purchase one or more biodegradable urns (often a single person's remains can be scattered with 10 or more urns) from a retail outlet that offers cremation urns for sale. (Though funeral homes and crematories sometimes offer these urns for sale, we recommend families search the many online stores that make them available as well. Prices are usually much lower and selections tend to be much larger.) Once the urn (or urns) has arrived from the retailer the family then schedules a ceremony for the scattering and arrives at the site on the pre-determined day. Before the ceremony, a family member will transfer a small portion of the deceased's remains (often still in the temporary urn that was presented to the family by the funeral home) into the biodegradable urn and place the urn in a spot for safekeeping before the ceremony. Many family members are uncomfortable handling the remains of a loved one for this transfer into the biodegradable urn. It is worth noting that many funeral homes will offer free help on this in many cases. Also some biodegradable cremation urns come from the manufacturer with tools and instructions designed to help family members make the transfer without ever seeing the actual remains and certainly not touching them.
On the appointed day of the ceremony, a single family member then simply tosses (or otherwise releases) the biodegradable urn into the water, and all present may gather around to participate in a few brief words about the deceased as the urn gracefully floats on the waves. Within a short time – usually 10-20 minutes – the urn's material will become saturated by the water and will slowly begin to sink. As it fades out of side beneath the special body of water, many family and friends have reported this to be a deeply emotional and moving moment. Depending upon the depth of the water, the urn will typically hit the seafloor within less than an hour of it being lowered onto the surface, and within two days or so, it will naturally degrade, releasing the precious ashes to mix the sea in their almost microscopic form. Family members can be assured that their loved one's remains will be forever a part of this special, watery spot that he or she loved so well in life.
Though, as we say, there are many ways by which a person's body can be buried in water at sea, the biodegradable urns available today make the process as fitting, and as comforting, a memorial tribute as families who have lost a loved one can experience. There are many options for water burial, some include sea shell cremation urns which are able to float and will sink within the hour.

Water and Ocean Burial at Sea is an old Tradition
Burials at sea are a tradition steeped in history. But it is also a tradition open to more than just sailors and those who have spent their lives on the water. Burial at sea is available to people of all walks of life, and it is done in a wide variety of ways. In some cases, the sea burial is done using cremation ashes and a specially made biodegradable urn; in others a weight is attached to the foot of a shrouded body which is then ceremonially dropped overboard from a ship; and still in others, a body is placed in a very green casket and lowered into the water from a boat. And, while famous celebrities such as Robin Williams and Dick Clark have indeed been buried at sea, the tradition is open to anyone. A special attraction to sea burial for many people is that a funeral director need not necessarily be involved and, in fact, so long as a certified ship captain is aboard, the burial need not meet any special requirements. (And, in cases in which cremation ashes are scattered over a body of water, even the requirement of a captain is not necessary in most jurisdictions. The scattering can be based on a shoreline, even, making use of a boat unnecessary.) We have assembled a brief list of topics that will be of interested in burial at sea.
What Religions Say About Burial At Sea
Religions across the world generally express no major objection to burial at sea. Most that address the topic directly in their various official texts and teachings indicate that, while their preference is for burials to be done on solid ground, there is nothing inherently bad, either for the individual or humanity, about burial at sea. The reason ground burial is preferred has, mostly, to do with memorials. Having a permanent spot in which mourners can return for ceremonies every year (or just visit as the emotional need permits) can be an emotional boon for those who want to remember their friend or relative in style. While this may be a valid point, it is fortunate that the leaders of the world's great religions – Christianity, Buddhism, Judaism, and Islam – also recognize that a permanent memorial such as a headstone, monument, or even a simple plaque can be just as effective as a full grave site for the c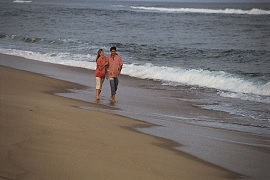 eremonial purposes of memorializing a beloved friend, colleague or relative.
Laws Regarding Burials at Sea
So long as burials are done well off of a coast, there are very few restrictions on how a burial at sea can be conducted. Generally speaking, law-making bodies want to assure that sea burial will not result in a body being washed ashore, and, other than concern, there is little to interest a local, state, or national government in sea burials. And, to top it off, once a vessel is more than 12 miles away from land, it is considered to be in international waters where complex maritime law takes precedent and, sea burial having been a seagoing tradition for as long as man has been afloat on the seas, there is little chance that law made by sailors will ever prohibit the practice. There has certainly been no move toward that to date.
So make matters even more favorable for sea burial, there are very few laws that prohibit the scattering of cremation ashes over an inshore body of water. (Entire bodies are another matter in this case, of course.) Many people have been known to transfer the remains of their loved one's cremation into a special, biodegradable, floating urn designed to float peacefully on the water's surface for 10 to 15 minutes before gradually sinking to the bottom of a body of water where it breaks down relatively quickly allowing the remains to scatter to the four corners of the Earth. This is entirely legal in just about any body of water, provided the participants break no laws in their ceremony at the surface of the water (such as in trespassing over private property, for example).
Famous Sea Burials
Probably the most famous sea burial in the history of the United States is a notorious one: that of slain terrorist Osama Bin Laden. It may be surprising to note that many articles about sea burials have noted that Bin Laden's burial at sea – administered by United States Military personnel who wanted to be sure that a land burial site for the terrorist would not become a pilgrimage spot for future decades of followers – has not led to a decrease in the number of people who have been buried at sea. Other sea burials of note have been actor Robin Williams, film maker H.G. Wells, numerous victims of the sinking of the Titanic, Nazi war criminal Adolf Eichmann, singer Janis Joplin, musician Stan Getz, actor Vincent Price, Astronaut Neil Armstrong, and Atholl McGregor, an internationally known justice from Hong Kong.
So, as we say, burials at sea have been a tradition for centuries, and they continue to be a popular form of disposal for a deceased person's body. In this day in which many people automatically assume that a person who has died will either be buried or cremated, it is important to remember that there is another option, laden with patriotic tradition, in fact. It may seem, at first glance to be a tradition best suited for those few who have spent their lives on the water – and it is certainly well suited for that – but the land-lubbers of the world can rest assured that the sea has plenty of space for them too.