Wood Caskets

The Comeback of the Wood Caskets

Throughout history, wood has been a popular material for the creation of caskets and coffins. Many feel that wood is an ideal material for caskets as it is rustic in appearance, and of course, a natural material that tends to give the effect of a person 'returning to nature', which is, understandably, very comforting for many. Another reason for the popularity of wood in use for manufacturing caskets is vast number of different wood specie, resulting in the huge diversity in the appearance of the wood. These differences are often impressive, ranging from soft, peaceful light maple, to rich and regal dark walnut wood colors, and even elegantly reddish rosewood finishes. Wood caskets are not only made for traditional, and permanent, burials, but are also available for use as cremation caskets, in which the wood is usually left unfinished, and no noncombustible material is used. These caskets, as the name implies, are intended to be used in cremations, as they break down almost entirely. Natural wood caskets can also be utilized for natural burials, in which no non-biodegradable material can go into the earth. While the latter may sound unbelievable to some, this trend is becoming more and more popular as society is becoming more earth and environmentally conscious. While metal and steel casket popularity has been on the rise in recent years, wood caskets have made a comeback as a popular choice for burial container, especially for those who are planning on having traditional memorial ceremonies or green burials. There is also an economical side to the renewed interest in wood caskets. Since about 1973, environmental concerns as well as the dramatically increased number of cremations have helped wood caskets to regain their place at the top of the most popular types of caskets.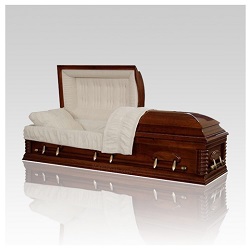 Until the early 1800's, wood caskets were, by far, the most common type of caskets used for any memorial service. Consistent with the Biblical idea of "dust to dust," inexpensive wood was considered the most appropriate casket material for many generations. Then, as the industrial revolution took hold across the Western world, people began turning to metal, and eventually steel, and wood caskets began their unfortunate century-long decline in popularity. Manufacturers of wood caskets responded to the competition by finding ways to make wood caskets more durable and sturdy all throughout the 1800's and early 1900's. Most of today's wood caskets, unlike the very simple wood caskets of old days, are made of hardwoods, which make them quite heavy and more durable, and they are always crafted with as much care as expensive home furnishings. This attention to detail can still be seen today in the gorgeously shaped caskets, such as the one to the left, which features ornate corners and elegant carving along the edge of the lid. And this tradition in wood caskets has its roots in the manufacturers of the late 19th and early 20th century trying to make their wood caskets appeal to customers wanting longer lasting steel caskets instead.
But despite the manufacturers efforts, wood caskets eventually all-but disappeared from the Western World by the time of World War I. During World War II, however, steel came in high demand by armies across the world, so its use for creating metal caskets became impractical and expensive. Also, because of the need to conserve as much metal and steel as possible for use by the military, it sometimes was even impossible to manufacture caskets made from the metals. As a result, suddenly the hardwood, or heavy wood caskets, were considered the best option available, and wood caskets returned to the memorial market in droves. In fact, many of the soldiers who lost their lives serving in World War II were buried in these wood caskets.
But the popularity of wood caskets was relatively short lived, as the end of the second World War came about, and metal was no longer in such a high demand. By 1948 the demand of steel had decreased dramatically, and manufacturers almost immediately returned to using steel to manufacture most caskets again. By 1953, wood caskets had been almost completely replaced in the market once again, as many were more interested in the newly available steel caskets, especially considering that, again, steel was relatively low in cost, which was reflected in the price of the steel caskets. That's not to say that cost is the only reason that steel began to replace wood for the use of caskets. Some simply were drawn to the change in appearance, and many were understandably drawn to the smooth, sleek, and peaceful appearance that only steel was able to produce.
With the renewed rise in popularity of metal caskets, wood once again took the back burner, so to say, in the memorial industry. While the popularity of metal and steel caskets was on the rise for quite a number of years, they began to raise environmental concerns, not only for their displacement of the earth and overall effect of the natural elements, but also because of the rise in pollution due to the actual production of these metal caskets. As cremation became increasingly popular, especially in later years, and as environmental concerns over burial of steel caskets became more prevalent, wood caskets came back to the market again in about 1973. As mentioned above, now in days even bodies that are to be cremated are commonly presented in memorial services, in beautifully crafted wood caskets that are then incinerated with the body in the crematory. For this purpose however, many prefer cremation caskets, or caskets specifically made to be able to be used as the cremation container. And many people, going back to the "dust to dust" tradition, are most comfortable with the idea of burial in wood caskets that will degrade much more quickly than steel caskets.
All in all, steel caskets still remain the most popular choice today, but wood caskets are an increasingly common choice.
Wood caskets can be made from a huge variety of woods. Among the most popular woods, however, are mahogany, walnut, cherry, maple, oak, pecan, popular, and pine. A good deal of consumer information about wood caskets (particularly wood caskets that are to be cremated) can be found through the Cremation Association of North America.