Back to Info Center
Creating Pet Memorials
An Important Family Tradition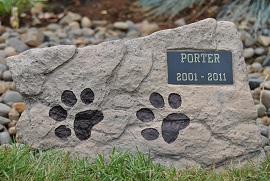 Pet memorials are an important, if sometimes unsung, part of any family's history and traditions. Many, especially those who are not fortunate enough to have owned pets, are under the assumption that a pet should not be greatly mourned, and even that the pet can be easily replaced. This form of thinking is not only completely inaccurate, it can also be hurtful to a friend or loved one who has lost a pet, as it can seem to downplay the grief they feel from the loss. The fact is that a pet can be one of the greatest friends that can be made. Whether it is a dog, cat, or perhaps a more exotic animal, such as a parrot or turtle, these animals provide us with much more than merely entertainment. They offer a companionship that is unfaltering, and can be a wonderful source of comfort. Studies have shown that owning a pet can greatly help with emotional issues, such as depression or anxiety, but they can also provide us with physical benefits as well. Especially dog owners, who have to walk the pooch outside throughout the day, will find that their activity level is greatly increased. Homes with children and pets find that the kids may have less issues with allergies or even asthma, as the natural dust and dander that the pet carries exposes them to allergens, and in turn, helps them build natural immunities. These are just a few examples of how owning a pet can greatly improve one's life and outlook. It also goes to show the various ways that owning a pet affects our lives, and in turn, a few reasons that they are so greatly missed when their time comes.
Often, when we lose a companion animal, one of the greatest distresses is the thought that the pet will eventually be forgotten with the passage of time. Creating a permanent remembrance of a pet can help capture and memorialize their memory for all time. Moreover, it provides an area that is dedicated solely to the memory of the pet, which can be very comforting both during and well after the mourning period. This is because we not only pay tribute to the pet, but provide ourselves with an area where we can go and feel close to the pet, or calmly reminisce over the wonderful moments shared with the companion. The remembrance can also provide a way to incorporate the memory of the pet into special days. For example, during the holiday season, a toy can be taken to the resting place of the pet, and left next to the remembrance, which tells the world that while the pet is physically gone, they are certainly not forgotten in the hearts and memories of those who loved them.
Just as there are a variety of memorialization options for us individuals, pet memorials can come in the form of pet cremation urns, pet coffins, pet cremation jewelry and even pet headstones. While they are a wide variety of ways to commemorating the life of a pet, the memorials all have one thing in common. That is that they are made with the same care and precision that is taken with creating any memorial tribute. This is because the artisans that create these vessels or remembrances understand that pets are typically an extension of most people's traditional family, so losing a pet can be a difficult, mournful experience. Pet memorials are designed to be as elegant, dignified and precious as memorials designed for humans. This tributes often serve to help families who have lost their special friends remember what an old legend says about the afterlife of an animal. Legend has it that, when a pet dies, it travels across the legendary Rainbow Bridge, and ends up in a beautiful meadow where it frolics endlessly with all of the world's other deceased pets. When the pet's owner dies, then, his or her first stop on the way to heaven is across this same rainbow to the same meadow, where he or she is reunited with the pet. The two companions travel to heaven together then, where they can laugh and play for eternity. A beautiful and inviting pet memorial, no matter its form, will help bring this legend to life for a grieving pet owner, reminding them that as he or she buries the special friend, the two will, one day, be together again.
Because pet memorials can create associations like this, they can be an important part of the healthy grieving process that any animal lover experiences at the death of a beloved pet. Experts say it is important to recognize that the difficult emotions associated with losing a fur ever friend are as valid as any other human feeling, and confronting them is important for healthy living. This is why it is especially important not to suppress the emotions that accompany the grief, regardless if the loss is that of an animal or person. While it is important to allow ourselves to experience this grief, it is more important to not allow ourselves to dwell on the situation longer than our bodies feel they need to, or rely on substances, legal or otherwise, to dull the pain of the loss. It is normal to be moved by the loss, and to relive it in our minds, especially if it was traumatic, but eventually, our minds will remember the happy moments we shared with them, rather than our loss. When that happens, one should allow themselves to feel the happiness of the memory, and not feel bad that they are no longer as sad as they were at the onset of the grief. Some even find that creating a tribute to a pet helps them gain closure, even if only slightly. Everyone grieves differently, and accordingly, the mourning period length is different for everyone.
While most pet memorials are displayed and stored as part of a private residence, many are also made part of America's growing number of (sometimes elaborate) pet cemeteries. Pet memorials are treated at these cemeteries with the same amount of grace and respect that one should expect from a human cemetery. Perhaps the most famous collection of pet memorials in the United States today is at the Los Angeles Pet Memorial Park in southern California, and, like others of its kind, this park has special sections devoted to the display of pet urns. The wide variety of beautifully designed pet memorials, from urn gardens to statues to headstones, help make the Los Angeles and many other similar cemeteries across the world, a top attraction for tourists from around the world. This is evidence that pet memorials, besides being a perfect way to preserve the loving memories of any pet, can also be beautiful, even important, works of art.
For many people, the idea of staging a memorial for your pet may seem strange or even comical. Decades of television comedy shows have made light of the tradition, for example, casting characters who are upset about the death of a pet in an off-beat light, sometimes suggesting that even mental instability may be at hand. TV shows occasionally go as far as to portray a funeral for a pet, but it is almost always done with the clear signal that most of the characters are participating only so that they can patronize the imbalanced one. While many may take these, obviously, fictitious proceedings to heart, they are no more true than the same type of shows making light of funerals for humans, where a mishap causes the entire ceremony to seem as more of a scene straight out of a 'Three Stooges' comedy act.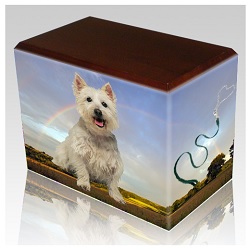 When it comes to real life mourning of a beloved pet, experts say just ignore all that. If you feel compelled to hold a memorial service for your pet - complete with a casket, a headstone and a cemetery plot – then by all means do so. Invite your friends and family, display your favorite pictures of your pet, say a prayer or two, even encourage a eulogy from supporting friends and family. The fact is that the loss of a pet affects one as deeply as any other substantial loss, and the grief that ensues is our body's normal reaction to the situation. For this reason, it is very important to grieve in the way that we see fit, even if it means scrutiny from those who don't understand. One note that has helped many individuals is that, no matter what type of loss one is grieving, there will almost always be someone to criticize the way we react, and just as we do with other types of loss, we should carry one and ignore that negativity. It certainly goes without saying that there is no shame, and certainly nothing comical, in grieving for a lost companion animal, as they play important roles in our lives. Here are a few ideas to consider when facing the loss of a pet.
First, talk to a veterinarian. He or she has surely had plenty of experience helping console the owners of pets who have died, and may even be able to offer a few ideas for you. In fact, most veterinary medicine school curricula today include a good deal of discussion (if not an entire course or two) on ways to help pet owners cope with their loss. If consulting a veterinarian is not practical because of distance, finances or any other reason, the University of Illinois College of Veterinary Medicine may able to help. That school hosts a toll free telephone hotline for people who need help coping with the loss of a pet. The phone is answered by trained volunteers, students and even members of the faculty who are schooled in the stages of grieving and can offer advice on how to memorialize your pet in a way that will best deal with your grief. (While a veterinarian may be able to help with the loss of a companion, one should still take special care to remember that your veterinarian is not trained in matters of human psychology. So, while his or her ideas may be of use, they should not be confused for sound medical advice regarding any mental illness you may be suffering.)
The University of Florida school of veterinary medicine lists a large number of memorial ideas on its website. Here is just a few: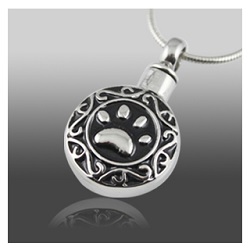 Stage a full fledged funeral or memorial service for your pet. The affair need not be expensive or dramatic, but some sort of ceremony acknowledging the meaning that your pet brought to your life and others can be healthful. A back yard gathering with a few lawn chairs and a table with a guest book and some photos may be a wonderful step to down the road of healing. Just seeing several friends and family show up to share memories and stories may be all that a pet owner needs to understand, accept, and ultimately, deal with the grief of loss.
The UF website also suggests that you consider writing an obituary for your pet and asking a local newspaper to print it (or perhaps post it on an Internet site). Tribute memorials is a wonderful website where one can create a small online tribute, which can be shared with friends and family. Individuals can post images, share stories of the pet, and even create a guestbook for supportive friends or relatives to leave a few words of comfort. You can also plant flowers that will bloom during a certain time of year that may have been important for your pet. There are special pet sympathy cards that one can obtain and hand out to friends and family members in honor of the pet. What makes these cards so unique is that they are made of pressed paper, which contains floral seeds that, when planted, will bloom into a living memorial. This is especially heartwarming as the grieving individual can rest assured that the memorials will flourish year after year, carrying along with them the memory of a truly special friend.
Another valid option to consider is a permanent memorial such as a pet headstone or cremation urn. Creating a permanent remembrance to a pet not only honors their memory, but also provides us with a place of repose, in which we can pay our respects, or simply remember the beautiful memories they left behind. There is even the option of pet cremation jewelry, which can help create a 'portable' tribute to the lost companion, which can be reached for at all times. The latter is especially comforting in healing the void that is felt upon losing a pet, and hold a small portion of their essence close can be a gentle reminder of their memory.

Keeping Pets Memorial Discreet
In today's world of complex human interactions, many people have come to develop deep emotional ties to their beloved pets who, often, exhibit the kind of unconditional love that most everyone - even subconsciously - craves. A pet can bring us a sense of emotional stability, as they offer comfort when we need it, and joy and laughter at almost every other moment. Indeed, they can They become a true member of our families who carry their own weight in their own way, as they offer us companionship at virtually all times. So, when a pet dies, great heartbreak is often be the result, regardless of the circumstances. While that is so, our modern society - being what it is - the pet owner often feels obligated to bear his or her pain privately, or not at all. It is not uncommon for pet parents to suppress their grief, as they are under the false impression that it is inappropriate to mourn for an animal, regardless of how close they may have been with them. While that is the main misconception, experts in psychology and other related fields say it is quite normal and healthy to grieve mightily for the loss of a pet, and it is also normal, from a sociological perspective, to feel self conscious about that grief. Fortunately, to help resolve this difficult discrepancy, there are many options available today for keeping pet memorials discreet.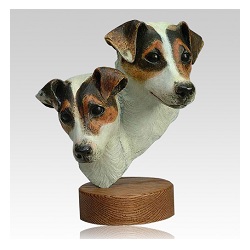 Cremation urns intended for pets are often perfect for keeping pet memorials discreet because many are designed with the look of just about any other indoor decorative ornament. It is often the case that, unless an owner wishes to personalize a pet cremation urn with a name plaque or some other feature that specifically identifies it as an urn and memorial tribute to a pet, a pet cremation urn can rest discreetly in a residence - even displayed prominently and admired routinely by visitors - without anyone besides the pet owner realizing it's true function. A line of metal pet cremation urns, such as the urn in the photo to the right, for example, resemble elegantly detailed sculptures that many people choose to enhance the interior designs of their home. These beautifully designed pieces crafted from the durable bronze metal are sure to draw attention and compliments from anyone who happens upon them. But, especially at first glance, they do not resemble an urn in the least. In fact, in many cases it is not apparent that the pieces have a hollow opening in which pets remains could be stored. An owner who is not necessarily interested in keeping pet memorials discreet could easily set a wooden memorial plaque in front of these pieces as a stylish tribute to a beloved pet. Or he or she could, in most cases, attach a metal plaque to the front of the piece. But, regardless of the pet owner's choices, these urns will retain their beautifully crafted design and are a great choice for those who would be most comfortable keeping their pet memorials discreet.
An even more intriguing form of pet memorial is animal cremation jewelry. These luxuriously designed pieces, usually made from sterling silver or even gold, are crafted with the look of any other fine jewelry. Yet they contain small crevices in which a teaspoon or so of a beloved pet's cremation ashes can be stored. Pet owners interested in keeping their pet memorials discreet can wear cremation jewelry underneath their clothes in many cases, but even if the piece is too large to be worn like that, the pieces themselves - like many of the pet cremation urns mentioned above - usually offer no hint of their real purpose to those who will likely admire them. A typical line of pet cremation jewelry offers pet owners a selection of dozens of pieces ranging from a quarter inch to a full inch in length. Each of the pieces is a beautiful gold and/or sterling silver design - usually of something recognizable such as a hummingbird, or a fish, or a dog house - that is hollowed so that a tiny bit of cremation ashes can be inserted. The smaller of these pieces can be worn as a pendant discreetly underneath a blouse or a shirt, but the larger ones would likely not be suitable for this purpose. But, even if worn outside the clothes, the typical viewer of one of these pendants would likely express a great deal of surprise if the owner told him or her that it contains a portion of a beloved pet's remains. So, if a pet owner desires to keep his pet memorial discreet, he or she most certainly can -- even when wearing the pendant in public.
Finally, there are a great variety of outdoor pet memorials that will certainly help honor the memory of any lost companion. These range from elegant memorial rocks, to garden stones, and even a few yard sculptures that hold the ashes of the beloved pet. In fact, many of the pet memorial rocks can hold a full set of pet ashes (depending on the size of the stone and pet) and can be set in the pet's favorite lounge spot. These beautiful memorials offer a little of everything; Form pieces that obviously memorialize the pet, such as a pet cremation headstone that holds the companion's photo and information, etched into the stone, to a rustic rock that holds a small plaque, and ashes within. There are also many garden stones that do not hold remains, for those that are uncomfortable with that idea, but that feature a theme that gently reminds one of the pet. There is a bone that holds a marble plaque, which can be engraved with the dog's name or a short verse, as well as a piece that has a cat in relief, and comes with the pre-cast message, "Cats leave paw prints on our hearts". Many find that yard memorials are very ideal when discretion is necessary, as they can easily blend in with the other yard ornaments.
Regardless of which pet memorialization method is used, it is important to create even a small tribute to a companion animal. This act can greatly help in bringing closure to the loss, and will be very comforting down the road, as it will help us remember that the lost companion is - and always will be - alive in our memories and hearts.