Back to Info Center
Emblems on Headstones

The Significance of Symbols on Memorials

The use of emblems, or small personal images, on headstones has been seen since the 18th century. Often these emblems were symbols meant to remind us of death, such as skulls, winged cherub heads, or even urns or shovels and picks. As time moved on, more elaborate emblems were used to signify the individual's personality, rather than the passing of the person. People began using emblems to symbolize the the trade the person was in, in order to give an idea of the life they lived. This transition is still seen in our grave markers and monuments today. Special emblems on tombstones can indicate several familiar themes in the Christian faith, as well as several other religions. What that is so, the most common use for emblems today is to add a touch of the beloved individual's personality to their final remembrance.
While, traditionally, emblems were added to a memorial monument to give an idea of their trade, or area of work, the emblems today are available in a large variety of different images,styles, and even sizes. This allows the memorial to be personalized in a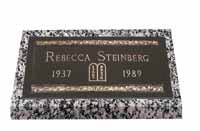 way that were never possible before. The emblems available today range form sleek and simple, to elegantly ornate, and have a little of everything in between. Some of the most popular emblems depict a hobby the person was interested in, such as crocheting, cooking, reading, and there are even some to depict outdoor sports. Some of our most popular emblems depict scenery, such as a lighthouse on a rocky coast, or a beautiful chapel in the vale. These, of course, are just a few examples of the variety that emblems bring to the memorial market, and specifically, to the options available for most tombstones and memorials.
While emblems are very popular to simply add a personal touch to the memorial, they can also be utilized to create a completely different design. For example the flower emblems can be added to the corners of the headstone, to create a more personalized theme. While this is so, families who are interested in utilizing an emblem to create a distinctive design are urged to contact us with their requests. We are always happy to help in the creation of an unforgettable final tribute, and all of our contact information is readily available on our Help page.
Often, families add an emblem to the tribute of a loved one for a touch of elegance and personality, but there are a few emblems that may have a deeper meaning. Admittedly, many of the emblems can be interpreted in a variety of ways, but images such as a wreath or cross, for example, often have a specific symbolism that may have been established historically. With that said, here are a few examples of emblems that can be added to a grave marker, as well as what they symbolize:
Anchor - Steadfast hope
Arch - Rejoined with partner in Heaven
Birds - The soul
Cherub - Divine wisdom or justice
Column - Noble life
Broken column - Early death
Conch shell - Wisdom
Cross, anchor and Bible - Trials, victory and reward
Crown - Reward and glory
Dolphin - Salvation, bearer of souls to Heaven
Dove - Purity, love and Holy Spirit
Garland - Victory over death
Gourds - Deliverance from grief
Heart - Devotion
Horseshoe - Protection against evil
Hourglass - Time and its swift flight
Ivy - Faithfulness, memory, and undying friendship
Lamb - Innocence
Laurel - Victory
Lily - Purity and resurrection
Mermaid - Dualism of Christ - half God, half man
Oak - Strength
Olive branch - Forgiveness, and peace
Palms - Martyrdom
Peacock - Eternal life
Poppy - Eternal sleep
Rooster - Awakening, courage and vigilance
Shell - Birth and resurrection
Six pointed star - The God
Skeleton - Life's brevity
Snake in a circle - Everlasting life in Heaven
Swallow - Motherhood
Broken sword - Life cut short
Crossed swords - Life lost in battle
Tree trunk - The beauty of life
Triangle - Truth, equality and the trinity
Shattered urn - Old age
Weeping willow - Mourning, grief
See all your Headstones choices